HOORAHS & WAZZUPS: WHO WENT ALL IN AT LAS VEGAS AND WHO FOLDED THEIR HAND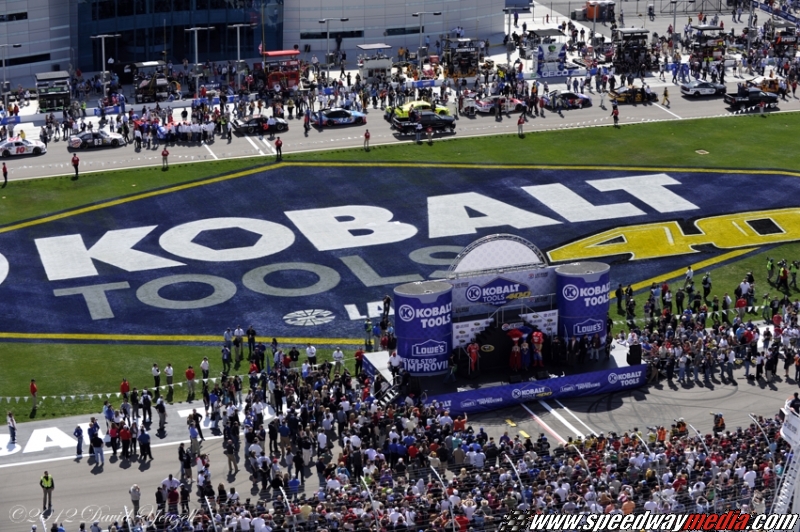 There was "Smoke" in victory lane at the Las Vegas Motor Speedway following the conclusion of the Kobalt Tools 400. A five time champion overcame adversity again and helped raise a lot of money for charity. There were early race heart palpitations from the "Junior Nation" and it also seems that NASCAR's most popular driver has an unusual hobby. With those thoughts in mind, let's begin with:
HOORAH to Tony "Smoke" Stewart who scorched the competition with some outstanding late race restarts to claim his first ever win at Las Vegas. The event also marked Stewart's 45th win in 467 NASCAR Sprint Cup starts. HOORAH to Steve Addington, the winning crew chief, who scored his first win with Stewart in only three starts.
A HOORAH, for making chicken salad out of chicken do do, goes to race runner up Jimmie Johnson who did everything he could to win this race. Johnson, once again, found himself dealing with pre race adversity when he crashed his primary car during a Saturday practice session. The team had to roll out a back up car which meant they had to start in the rear of the field instead of their original sixth place starting position. Despite that setback, it was game on for this team. He drove his way to the top ten by lap 59 and then, by lap 99, took the race lead. He's well on his way to eradicating the points hole that was created by the penalty from the failed tech inspection at Daytona. Following two consecutive top five finishes, Johnson has moved from 44th to 23d in the points standings.
HOORAH to team 48 for prepping that back up car in approximately 28 minutes which allowed their driver to get  some very valuable Saturday practice time.
HOORAH to Roush Fenway Racing's Greg Biffle. His third consecutive top five finish at Las Vegas has now put him on top the Sprint Cup points standings.
HOORAH to Clint Bowyer, and especially crew chief Brian Pattie, for taking a Las Vegas style gamble. With 39 laps remaining in the race, a caution flag came out and they made the decision not to make a pit stop and rolled the dice on fuel mileage. Some additional caution flags played in their favor late in the race and the result of that gamble was a badly needed sixth place finish. They even picked up a bonus point for leading a lap.
HOORAH to Dale Earnhardt for generating a lot of "Junior Nation" excitement especially in the early stages of this race. Earnhardt's Chevrolet was strong in the early going and led a total of 70 laps. By the way, Earnhardt led more laps on this afternoon in Las Vegas than he did during the entire 2011 season. But a tight condition developed with the car in the later stages of the race but he was still able to finish tenth. He left Las Vegas fourth in the points standings.
WAZZUP with the fuel misfortunes with the Penske Racing Dodge teams? The teams hit triple snake eyes at Las Vegas that hit them hard, both in the NASCAR Sprint Cup and Nationwide Series events. The fuel pick up issues began in the Kobalt Tools 400 when driver A J Allmendinger spent a lengthy amount of time in the garage while his team swapped the car's entire electronic fuel injection system. The result was a disappointing 37th finish.
Brad Keselowski's fuel WAZZUP came during a restart following a lap 246 caution flag when his Penske Dodge simply would not respond. His fuel pick up issues resulted in a 32nd place finish.
It turned out to be the second fuel WAZZUP of the Las Vegas weekend for Keselowski. During the Sam's Town 300 NASCAR Nationwide Series race, Keselowski's Dodge again experienced fuel pick up issues which found him coasting down pit road. By the time the engine re-fired, Keselowski was three laps down. Adding injury to insult to this WAZZUP was the fact that Keselowski received a penalty for entering pit road too fast despite the fact that he was coasting. He ultimately had to settle for a disappointing 23d finish.
WAZZUP with two blown engines from the B K (Burger King) Racing Toyotas? Travis Kvapil was the first to suffer engine failure, on lap 123, and had to settle for a 39th place finish. Team mate Landon Cassill was the next to lose an engine, on lap 240, which led to a 36th place finish. It's certain that this had nothing to do with Burger King's policy of flame broiling. (Yeah I know, that was bad.)
*********
HOORAH to Ricky Stenhouse Jr for winning the Sam's Town 300 NASCAR Nationwide Series race at Las Vegas. The young driver's Roush Fenway Racing Ford claimed the lead coming off of pit road, following the final stops of the race, and then led the final 54 laps. Stenhouse finished a strong 4.785 seconds over runner up Mark Martin. The event marked Stenhouse's first win of the year and his third career win in 76 starts.
HOORAH for runner up Martin's typical candid comments after the race when he said "that was a serious beat down he put on me during the last run. I mean just a beat down. I kept up with him for awhile and about wrecked four or five times and that was it. I'm not ashamed to say it wasn't even close."
Let's give another HOORAH for making chicken salad out of chicken do do to Elliott Sadler. After leading the first 26 laps of the race, Sadler's car developed a serious vibration, believed to be related to a portion of the front splitter scraping the ground. The team rolled the dice, with the full support of team owner Richard Childress, and came in for a lengthy stop to make repairs. Childress came over the radio and expressed his confidence in his driver to charge back to the front. Sadler delivered with a third place finish and left Las Vegas leading the series' standings by 15 points.
WAZZUP with the future of driver Trevor Bayne in the Nationwide Series? Despite a hard charging fourth place finish at Las Vegas, despite leaving Las Vegas fourth in the points standings, plus having the title of Daytona 500 champion on his resume and being one the most popular drivers in the NASCAR garage, the sponsorship money has run out and it looks like the #60 Roush Fenway Ford may be parked until another sponsor is located.
**************
In some final thoughts, HOORAH to Lowe's Home Improvement Stores, and the Hendrick Motorsports' #48 team, for their very generous donation to the American Red Cross Disaster Relief Fund to support victims of the recent tornadoes that hit in the central and southern areas of the country. Lowe's Racing For Relief Program pledged to match Jimmie Johnson's earning, from the Las Vegas race, with a minimum pledge of at least $100,000. Additionally, team owner Rick Hendrick and Johnson pledged an additional $48,000 to the worthy cause. Johnson second place finish netted the Red Cross a donation of $281,776. The donation from Hendrick Motorsports raised that donation to $329,776.
Finally there's a reluctant WAZZUP to Dale Earnhardt regarding his hobby of collecting badly wadded up race cars. The WAZZUP is reluctant because it's actually rather funny. It seems that Earnhardt likes to collect these destroyed cars and place them in the woods, like an unusual art display, that borders his Cleveland, North Carolina home. It was revealed that Earnhardt is now the owner of the Chevrolet that Juan Pablo Montoya was driving when he accidentally turned a jet dryer into a massive ball of blame during the Daytona 500. You can find the latest addition to Earnhardt's art collection adjacent to his replica of a genuine western town, located on his property, that he calls Whiskey River.