Ryan Newman Reflects on Martinsville Victory a week later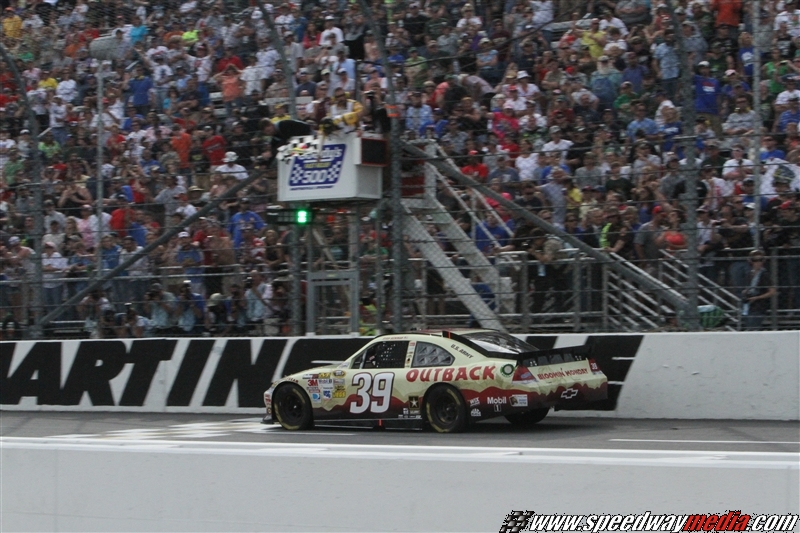 The final laps last week at Martinsville Speedway produced one of the most exciting, craziest finishes of all season. Ryan Newman, the eventual race winner, knew that there was a good possibility Jeff Gordon and Jimmie Johnson would not get a good start due to staying out while the rest of the leaders pitted.
"My intention was to get a run on Clint (Bowyer), which I did," Newman continues. "Then having the entirety of him blocking me and getting down and getting a run on 24, because I couldn't see that. Once he did, I just kind of backed off, and I gave him, I guess, enough courage to try to stick his nose up in there. It didn't work for him, and it worked for us. So that was just the sum of it."
After Bowyer, Gordon and Johnson all spun, that left Newman in the lead over A.J. Allmendinger for another green-white-checkered restart.
"I remember coming out of turn two and hit the radio button and said listen, guys you've done a great job today," he says. "If I don't bring it back, I just want to tell you beforehand. Just because I know that anything can go or anything usually does go at Martinsville when it comes to restarts."
On the restart, Newman was able to hold Allmendinger off to score his first Martinsville career victory.
"I didn't know how A.J. was going to race me, if he'd try to take me out or anything," Newman says. "You never know. You can never anticipate that emotion. But I knew I had purposely raced him clean and never got up and leaned on him because I didn't want to. I didn't want him to race me that way. I figured we had plenty of racetrack to work with. We both needed a good finish, and we both got that. Somebody has to win, and we were fortunate with our Outback Chevrolet to do that."
Looking back at the accident, he says he doesn't blame Bowyer for it as it's just a product of racing.
"I'm not blaming Clint for the product of three-wide at Martinsville," he says. "I could say it was just as much as Jimmie and those guys down as it was Clint and the pack getting in there. But that's racing. It happens at Martinsville. It happens at every short track across America.  There is a time when somebody will go three-wide and it doesn't work."
Newman getting himself in position to have a chance at winning was a battle enough as he had a pit road speeding penalty, falling a lap down, getting the lucky dog and working his way back to the front.
"The guys did a good job of fixing the balance of the race car first and standing behind me and having good pit stops and things like that, and using the right strategy at the end of the race to put ourselves in position to be in contention," the Stewart-Haas Racing drivers says.
The win means a lot to Newman just because it happened at one of the hardest tracks to win at it.
"There was a sense of relief there, but the emotion was, man, we did it. I've tried so many times there, and I enjoy short track racing," he says. "I enjoy Martinsville, and I didn't used to. So it made it more sweet for me than maybe another racetrack."
It also means a lot after the defeat last year in the spring at Martinsville when they had a good car and lost a cylinder.
"Just not getting what we felt like we deserved," he adds. "We had been so good there at times. I think the previous fall or spring, I think we ended up running fourth because we got booted out of the way. And that's why it was so bittersweet and nice to be on the flip side of the coin, and be able to go through those green/white/checkers and get the victory. That was a true relief."
It also marks the 11th different race track that Newman has won at it his career.
"The fact is I enjoy most all racetracks," he says. "There are tracks that I prefer over others, but there are no tracks that I truly dislike. It's not like I say I hate going to this racetrack this weekend. So I think that helps in giving me an opportunity to be successful at most, if not all of them. Just from a driving standpoint, I always said that one of my heros was A.J. Foyt. The modern day A.J. Foyt is a guy that can drive anything, anywhere, anyplace.
"So, hopefully, I can create enough stats and increase the 11 of 16 into like 20 of 40 or something like that. So we'll keep working on it. I like all kinds of different racetracks. I haven't won on the road course yet, and in the Cup Series and in the Nationwide Series, but it's something I'd love to do this year."
Many have said that the win puts him up there with teammate Tony Stewart, who has won seven of the last 16 races. Though Newman says he doesn't compare himself to Stewart or anybody else.
"All I know is I can go out there and do the best job that I physically, emotionally, and mentally can," he explains. "If that gets us to victory lane, then it does. If it doesn't, we need to sit back and figure out how to be better. Comparing yourself doesn't get you anywhere in my opinion."
So what's the secret to Stewart-Haas Racing winning three of the first six races this season?
"We actually found a genie in a bottle," Newman jokes. "My first wish was for unlimited wishes, and we've used up three of them now. So we should be good for another little bit."