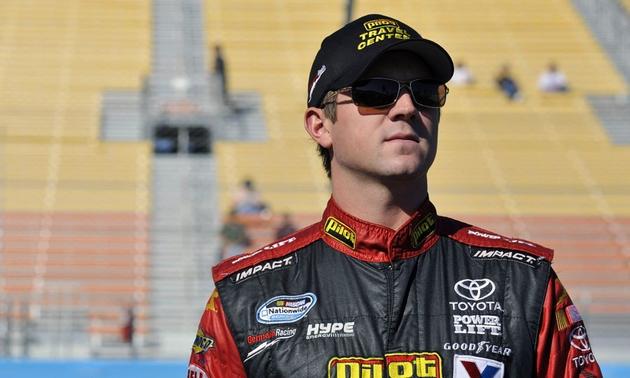 This coming Friday night, Michael Annett is going to make his fourth career Nationwide Series start at Darlington Raceway. His best finish on the 1.366-mile speedway came in 2010 when he finished 11th.
"I always look forward to going to Darlington," Annett says. "It's one of the most historic tracks that we go to all season. 'The Lady in Black' is definitely challenging because you have to run next to the wall every lap and as a driver, it leaves a small margin for error. I really like running at night under the lights, so a Friday evening race always add more excitement."
Crew Chief Philippe Lopez says Darlington is tricky because of how close Annett has to race to the wall throughout the entire race as a result of the track design.
"The biggest thing we need to be careful of is not hitting the wall, if we brush the wall once or twice it's probably not going to damage the car, but if we get up into it six or seven times, the car will start slowing down, and it will be difficult to pass the rest of the field," Lopez adds. "It's like racing on an ice rink right next to the wall, and we'll just have to take care of the Pilot Flying J Ford so we can still be racy at the end of the night."
Lopez adds that qualifying is also important due to how tricky it is to pass.
"The driver who sits on the pole is going to have it the easiest because all they will have to deal with is passing lapped cars," he continues. "The driver who starts in the back with a fast car may end up using it all up before they make it into the top-10. We've really got to concentrate on having a good qualifying run this weekend, and if we do it will help us out tremendously throughout the race."
In his three previous starts at Darlington, Annett has started outside of the top 15.
Richard Petty Motorsports will be taking chassis No. 613 to Darlington, which is the same car that they ran at Las Vegas earlier this season when Annett finished 13th after starting 21st.
So far this season, Annett has finished in the top 15 in all the races, except for the two restrictor plate races as he crashed in both of them. As a result, the driver of the No. 43 Pilot Flying J Ford Mustang sits sixth in points.
"My team has worked really hard to give me good cars all year at difficult tracks, so I know my Pilot Flying J Ford Mustang will be good this weekend in Darlington," Annett adds.
The Help a Hero 200 is slated to start at 7pm EST on Friday May 11 and will be shown live on ESPN.