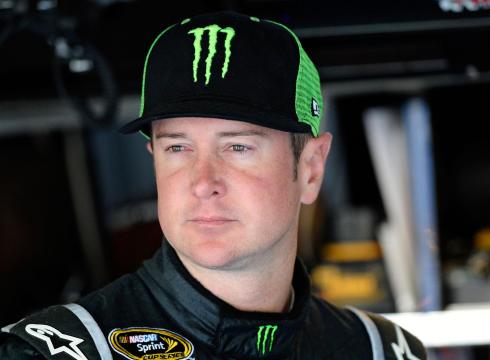 By Nathan Butler – NathanButler@OnPitRoad.com
NASCAR suspended Kurt Busch until June 13 for violating his probation when he had an altercation with a member of the media this past weekend at Dover International Speedway.
The suspension came from Busch's comments toward Sporting News reporter Bob Pockrass following Saturday's NASCAR Nationwide Series race at Dover International Speedway. Busch had been asked about racing hard against Justin Allgaier and whether being on probation caused him to exercise restraint.
Busch responded, "It refrains me from beating the [expletive] out of you right now, because you ask me stupid questions. But since I'm on probation, I suppose that that's improper to say as well."
Following NASCAR's announcement, Busch released a statement through his Phoenix Racing team, "I accept NASCAR's decision. I put them in a box. They had to take action, and it's my fault for putting them in this position. I apologize for the comments I made to Bob Pockrass."
Busch was already placed on probation after the Southern 500 at Darlington Raceway on May 12, where he did a burnout through Ryan Newman's pit box and got into a shuffle with crewmembers following the race.
Several have come out with strong words for the former NASCAR Sprint Cup Series champion.
"Kurt Busch's suspension is long overdue, and that is coming from someone who learned his lesson after sitting out a race for punching him a few years ago," said Jimmy Spencer who once served a suspension in 2003 after having an altercation with Busch at Michigan International Speedway. "Kurt has been given plenty of chances to right his wrongs and put himself back on the right path, but he has failed to take advantage of any of those opportunities.
"Speaking from experience, I can say that my suspension was extremely upsetting to me, but it made me a better person off the track. That's what Kurt needs now, and I hope this helps him. It seems to have straightened his little brother, Kyle, out, and I hope the same is true for Kurt."
Official Press Release (courtesy of NASCAR):
DAYTONA BEACH, Fla. (June 4, 2012) – NASCAR has suspended driver Kurt Busch until June 13 of this year and extended his NASCAR probation until Dec. 31 for his actions following the NASCAR Nationwide Series race June 2 at Dover International Speedway.
Kurt Busch violated Section 12-1 (Actions detrimental to stock car racing; violation of probation; verbal abuse to a media member) of the 2012 NASCAR Rule Book. Kurt Busch had previously been placed on NASCAR probation May 15 for his actions during the May 12 NASCAR Sprint Cup Series event at Darlington Raceway. That probation was originally scheduled to end July 25 but has now been extended through the end of this year.
Video of altercation following Saturday's NNS race at Dover: