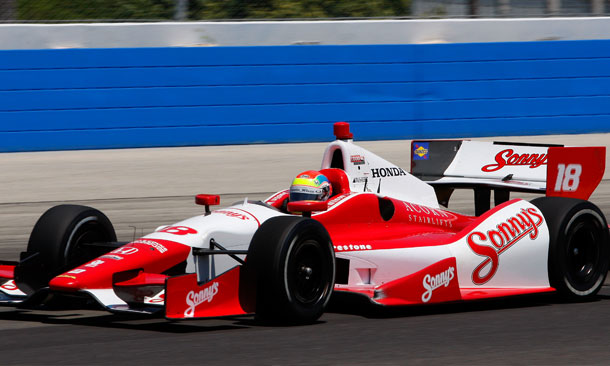 In the initial practice for the IZOD IndyCar Series at the Milwaukee Mile, rookie Josef Newgarden topped the charts with a quick lap o 22.0232 seconds in his No. 67 Sarah Fisher Hartman Racing car.
"Milwaukee is a very difficult track physically because you're constantly turning at a very short radius," Newgarden said earlier in the week. "There's a lot of load put on the driver because of how much downforce we run. There's also no banking at Milwaukee so setting up the car will be difficult to master because it's unlike any other oval we go to."
Helio Castroneves was second at 22.1095 seconds while E.J. Viso was third at 22.2776 seconds. The top 21 cars were separated by less than a second.
In the second practice, last week's race winner Justin Wilson was quickest with a lap of 22.1744 seconds. Newgarden was second at 22.2438 seconds while Castroneves was third. Rubens Barichello, who enters his rookie season in IndyCar after racing Formula 1, was sixth quickest.
Defending race winner Dario Franchitti was 11th in the morning session and 18th in the afternoon session. He won the race last year after starting on the pole.
"With all the problems, it looked like we weren't going to be coming back to Milwaukee," Franchitti says. "But we're back here because of what the IndyCar Series and Michael Andretti and his team did to put this together. It's great to be back at Milwaukee and this track is one we all love. There's so much history.
"In order to get Indy car racing back to where it needs to be, we need to be at these places. There are so many things going on for the fans and I think Michael and his team have done a good job and it should be a good event."
Points leaders Will Power and Scott Dixon both changed motors, therefore suffering a 10-grid starting spot penalty for Sunday's race. Power was 19h and 13th in the two sessions while Dixon was 10th and ninth.
Single-car qualifications for the Milwaukee IndyFest Presented by XYQ at 5 p.m. (ET). The race is scheduled for 1 p.m. (ET on ABC) June 16.