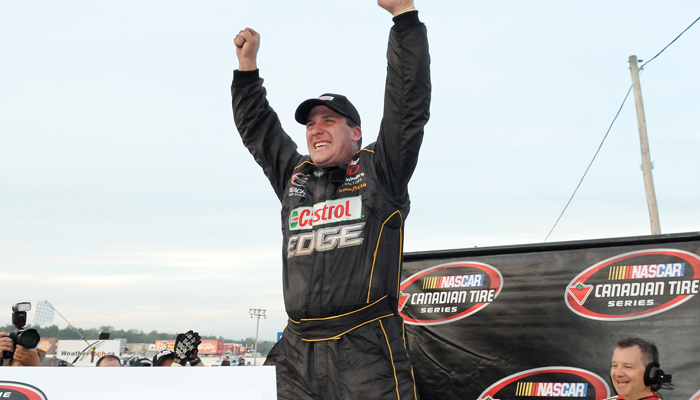 While normally on the short tracks its all about track position, D.J. Kennington proved on Saturday night that wasn't the case at Canadian Tire Motorsport Park as he charged from the back of the field to win the Clarington 200. It marked his first victory of 2012 and his 12th series victory overall. He also became the fifth different driver to win on the half mile oval in Bowmanville, Ontario.
Kennington had qualified fifth during the qualifying sessions, however he had to drop to the back after making unapproved adjustments to the car.
"We didn't let the penalty bother us," the St. Thomas, Ontario driver says. "The race was 200 laps and pit strategy was going to come into play. There was plenty of time to get to the front. Everybody raced great tonight. There were some inexperienced drivers in the field and they did a super job."
Kennington put his No. 17 Castrol Edge/Mahindra Tractors Dodge in the top five on lap 27, before taking the lead a quarter way through the race. The only time he lost it was during a round of green flag pit stops.
"My car was great all day long. I was able to rotate it in the corners and get right back on the throttle," he says. "And it stayed like that. My crew gave me a fast car. It was a pleasure to drive."
Mark Dilley would come home second in his season debut behind the wheel of the No. 02 PartSource/BDI/Leland Ford. He is splitting the season with fellow series veteran Kerry Micks with Micks running the road courses while Dilley runs the ovals.
"It's a little bit of strange deal Kerry and I have going this season," Dilley comments. "It was very difficult sitting out those first two races and I'm sure Kerry was going through the same thing tonight. But it was great to jump right into it and get a great finish."
J.R. Fitzpatrick finished third to score his third straight top-three finish to start the season.
"I think we could've done better, but it was another solid finish for the Equipment Express Chevrolet," Fitzpatrick says. "Consistency is the key in these points battles and we've done that so far."
Both Jeff Lapcevich and Jason Hathaway scored their first top fives of 2012, as they finished fourth and fifth. Steve Mathews finished sixth, followed by Andrew Ranger, Ron Beauchamp Jr., Steve Cote and Noel Dowler.
Last year's race winner Scott Steckly ran into mechanical problems before the race started, and they just continued throughout the day, leading him to a 14th place finish.
Pete Shepherd III, who sat on the pole with a record time, also experienced mechanical problems and finished 16th.
In the point standings, Fitzpatrick has just a single-point lead over Kennington with Ranger six points off the pace in third.
The Clarington 200 will be telecast by TSN on Sunday, June 24 at 1 p.m. ET and the RDS2 premiere is set for Wednesday, July 11 at 10 p.m. ET.
The NASCAR Canadian Tire Series is right back on the track on Saturday, June 23 at Delaware (Ont.) Speedway for the EMCO 200 presented by Niagara Plumbing Supply and McKeough Supply.