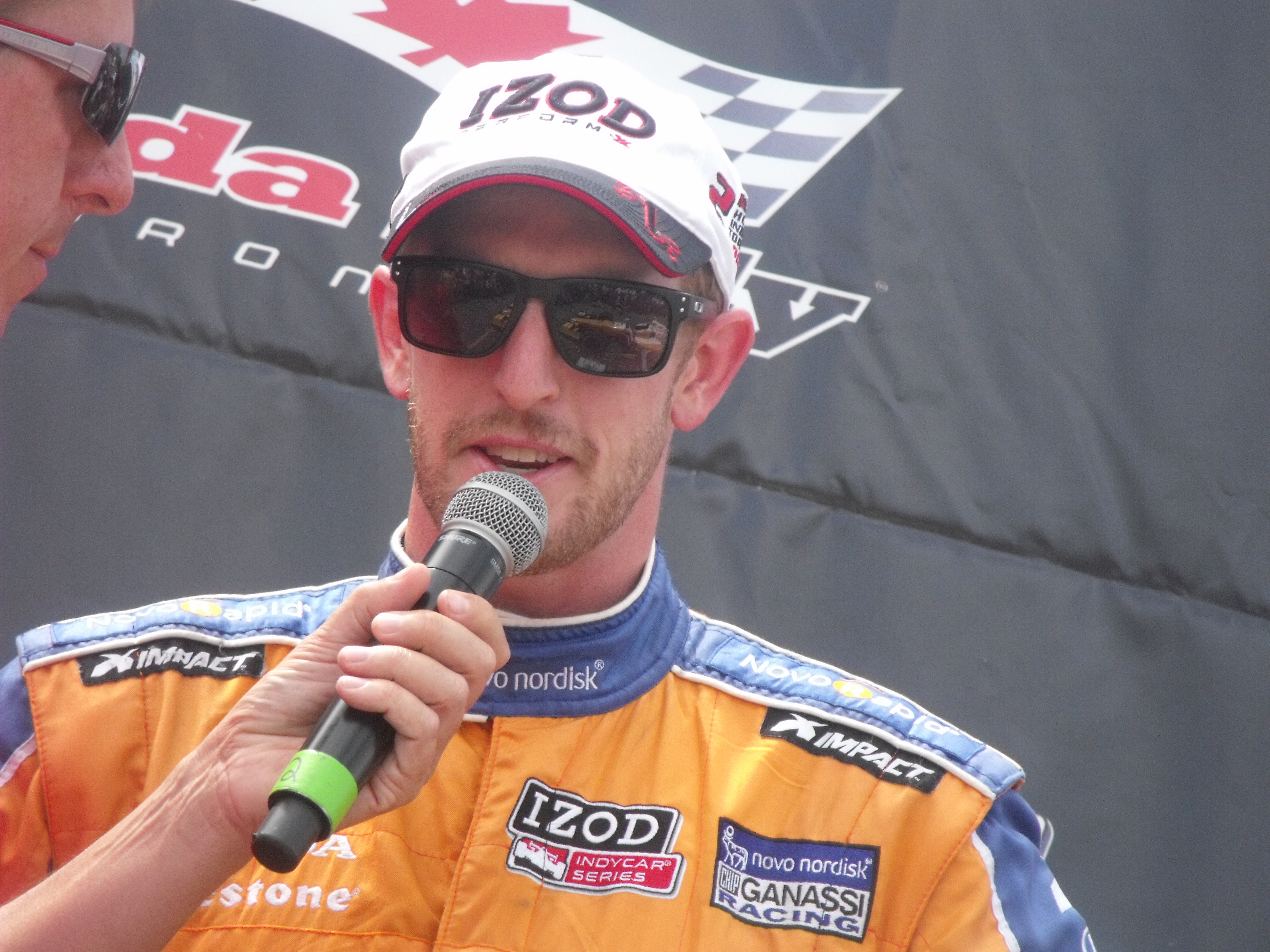 At the end of the Honda Indy Toronto, Charlie Kimball crossed the line in second place for his best career finish. He made his first start in Toronto in 2011, where he finished 25th.
"It was a long, fun day, to be honest," Kimball says. "I love racing here because it's a great event. The fans are awesome. Mike (Conway) pointed out how great the crowd was today. You can feel that in the car. From the start we had really good car, making spots up. I think we put ourself in a good position set-up wise and strategy-wise."
The goal coming into the race was to gain as much points as possible, as team owner Chip Ganassi said gaining points was important in the pre-race meeting.
"I'm disappointed not to come out with maximum points obviously, but second is a lot better than 13th, where we started, or even eighth where my previous career best was," he says. "It's great to put the 83 here in Canada on the podium, represent not just Americans, but also with Type 1 Diabetes and diabetes around the world."
Kimball started the race from the 13th position after missing the top six by a 10th of a second, but that actually helped him.
"We had a couple extra sets of tires to play with," he continues. "That came into play towards the end of the race."
It wasn't all easy for Kimball throughout the day as he had to bounce back following contact with teammate Graham Rahal on lap 24, which resulted in Rahal making contact with the turn one wall.
"I made a move on Graham knowing we were pitting that lap hoping I could clear him and just help myself out a little bit getting into pit lane," Kimball says. "Ended up not working out. Sort of bounced off the tire wall to be able to keep going."
Kimball made his way down pit road to put new tires on and the caution came out at the perfect time with him being on pit road and having completed his stop.
"It worked to our advantage, for sure," he comments. "But we had the car to be able to run really competitive lap times and save enough fuel so the end of the race we were able to be super quick and make the mileage we needed."
At the end, Kimball was able to keep the car going despite making contact with Sebastian Bourdais in the final corner, which saw Bourdais say that Kimball didn't deserve a podium finish.
"I think everybody was in a bit of a tight spot there because they didn't sweep," Kimball says. "We were all in the marbles coming through the last corner, at least those of us that tried to pair up and get offline, get next to the cars ahead of us. Sebastien got a good run and followed Ryan (Hunter-Reay) to the outside. I used the draft and the overtake button, caught up, went down the inside, and Mike (Conway) steamed up the inside of me. I didn't think there was room without using the pit lane for Mike to get up inside of me."
Kimball says that when they got to the apex of the corner, Conway made contact with his side pod, causing Kimball to slid out and get into Bourdais.
"I was reasonably surprised when we came around and he was still stopped there," Kimball adds. "I think that's more of a function of the restart and trying to do a two-side restart after such a long green run without working on the marbles. I think race control and the drivers association need to discus with five laps to go, trying to finish under green, maybe we go for a single file restart instead of sweeping two-wide, because that way we can have a race, give ourselves an opportunity to go racing. I don't think it's safe to ask the drivers to attempt a double-wide restart without sweeping the marbles."
Kimball says being able to finish second is good for his and the team's confidence as they continue to build their team with not only his program, but Rahal's program. Now it's about continuing to build their program as they head to Edmonton.