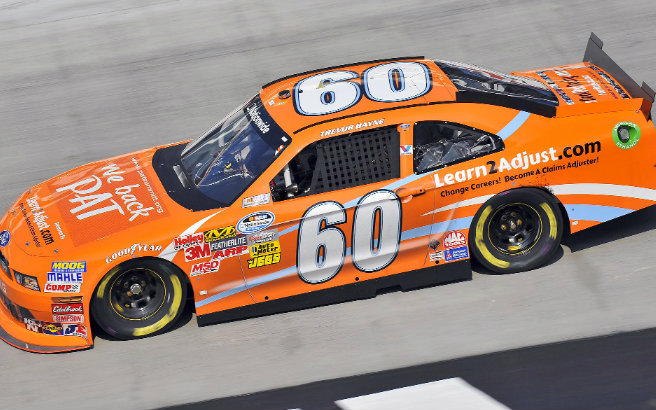 Trevor Bayne is making his return to the Nationwide Series in style.
After setting the fast lap during the one and only practice Friday morning at Bristol Motor Speedway, Bayne backed up his fast lap in qualifying by winning the pole for Friday night's Food City 250.
Bayne's lap averaging 121.190 mph circled the half-mile Bristol Motor Speedway in under 16 seconds was enough to beat the No.18 of Joey Logano for the top spot in the session.
"I can't smile any bigger after that. It was so awesome to get out there. Feels about like a win to me not being out here for so long," said Bayne after winning the pole.
"Just to get out here and run fast with these guys, not being a full-time team. These guys, I can't say enough about them.
This is the fifth pole of Bayne's Nationwide Series career and his first of the 2012 season. By winning the pole at Bristol, four of Bayne's five Nationwide poles have come at short tracks (tracks less than a mile in length).
"I'm shaking right now, that means it was on the edge a little bit," Bayne continued.
"I didn't know if it was a pole run or not. I came down the back stretch after I took the white flag and I saw the 60 'P1″. There was nobody after us so I thought about shutting it down. But I thought, I don't get many of these opportunities so I got to make another lap."
Current Nationwide Series points leader Elliott Sadler, who won the 300 lap race at Bristol earlier in March, will start the Food City 250 tonight in the seventh starting position.
46 drivers attempted to qualify for tonight's 250 lap race under the lights at Bristol, but two drivers will not see the green flag in the race.
Morgan Shepard, Blake Koch and Stephen Leicht failed to make the 43-car starting field for the Food City 250.
Food City 250 Starting Lineup
1: Trevor Bayne
2: Joey L0gano
3: Brian Scott
4: Austin Dillon
5: Ricky Stenhouse Jr.
6: Justin Allgaier
7: Elliott Sadler
8: Brad Keselowski
9: Sam Hornish Jr.
10: Kyle Busch
11: Nelson Piquet Jr.
12: Ryan Blaney
13: Kevin Harvick
14: Mike Bliss
15: Kasey Kahne
16: Joe Nemechek
17: Jeff Green
18: Michael Annett
19: Cole Whitt
20: John Wes Townley
21: Jeremy Clements
22: Erik Darnell
23: Tayler Malsam
24: Josh Wise
25: Scott Riggs
26: Jason Bowles
27: Josh Richards
28: Timmy Hill
29: Johanna Long
30: Kevin Lepage
31: Chase Miller
32: Joey Gase
33: Mike Wallace
34: Danica Patrick
35: Tim Andrews
36: Fain Skinnker
37: David Starr
38: Benny Gordon
39: Eric McClure
40: Rick Crawford
41: Brad Teague
42: Robert Richardson Jr.
43: Carl Long