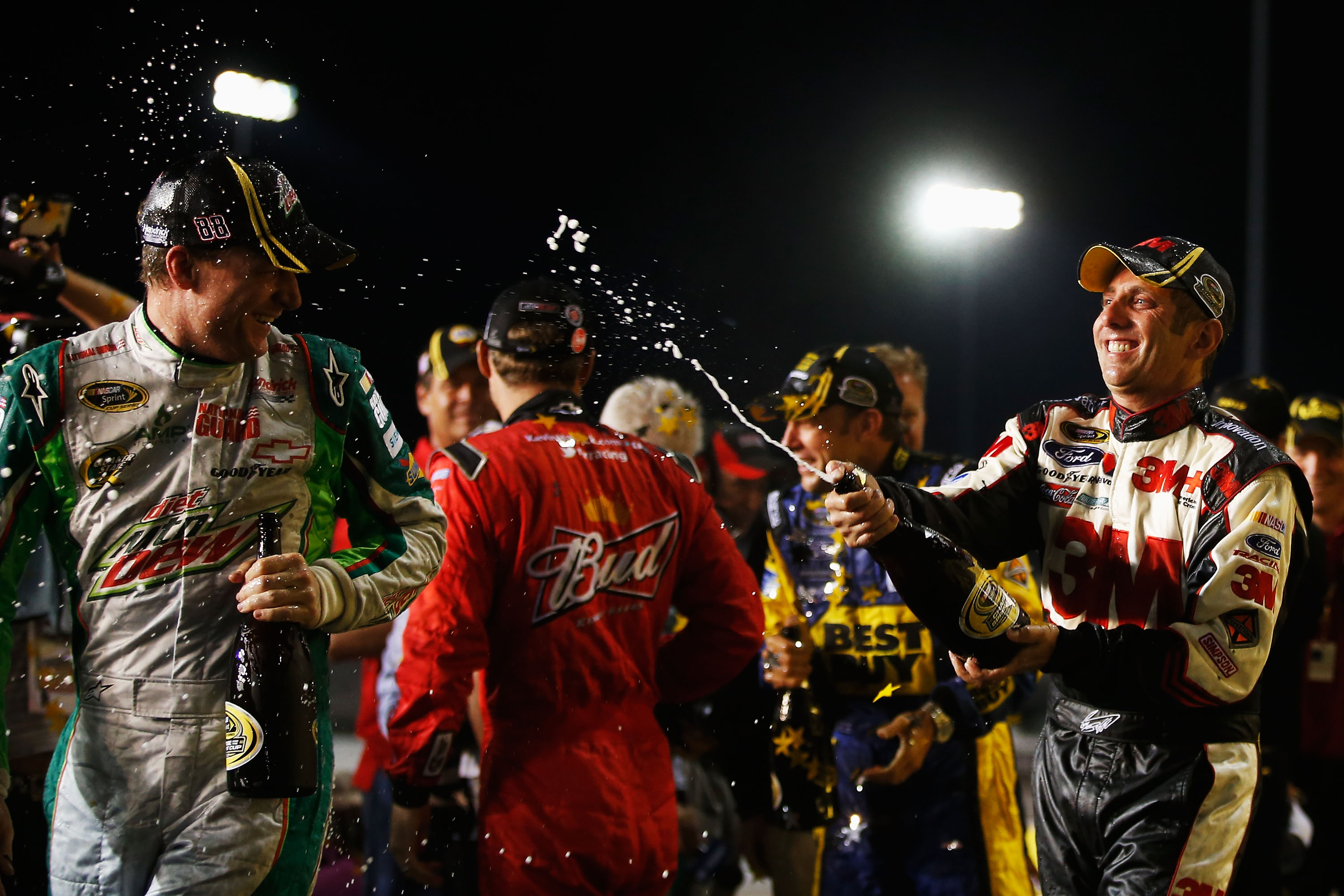 The first edition of OnPitRoad.com's Chase power rankings spot, Brian Wiggins gives you his rankings of the top-12 drivers entering Sunday's GEICO 400 at the Chicagoland Speedway.
1: Denny Hamlin- Following his four victories, two of which came in the last three races, Hamlin is the top seed in the Chase heading into Sunday's race at Chicagoland. Although his season has been filled up ups and downs, the No.11 team has seemed to step up their game at what very well good be the right time. Showing strength this year at tracks where tire management is key, that only makes Hamlin more of a threat on Sunday.
2: Jimmie Johnson- Although the No.48 hasn't won since Indianapolis in July, the team has the driver that everyone fears for the championship behind the wheel—Jimmie Johnson. Everyone knows the dominance the Hendrick Motorsports group has shown in 2012 on the 1.5-mile tracks and there's no reason not the think that will carry over the Chicagoland. However, Johnson has never won at Chicagoland in his previous 10 starts in the Cup Series at the track. To get the Chase started off right, that will need to change.
3:Martin Truex Jr.- He may not have a win in 2012, but Truex Jr. has been running well enough to take a victory. Having one of the strongest cars at Michigan to leading in the closing laps in Atlanta, the No.56 team is about ready to kick the door down for their break-through victory. Being the flagship car at Michael Waltrip Racing comes with pressure, and this team seems to handle it well. Much like Hamlin, Truex Jr. has shown strength on worn-out tracks, making him a driver to watch Sunday.
4: Jeff Gordon- After his drive late Saturday night at Richmond, that may be the momentum Gordon needs to contend for his fifth Sprint Cup championship. It's no secret his season has been filled with bad luck, but Gordon his ready for the Chase and to prove he still has it. Not to mention, Gordon is a past winner at Chicagoland. He knows just about as much as anyone how far a win in the first Chase race could go.
5: Dale Earnhardt Jr.- For the first time since his 2004 series campaign, Dale Earnhardt Jr. is being seen as a legitimate title contender. Sure, he's made the Chase in recent years, but this year it's more like he's running in rather than jogging. The No.88 team has shown one thing all year that may play into their hands well; speed. With five 1.5-mile tracks on the Chase schedule, speed is a key factor in getting to victory lane. While Jr. winning the title may be a long shot, it's still his best chance in years.
6: Brad Keselowski- If not for the wave of momentum Denny Hamlin has been on as out late, Keselowski may just be the best pick outside Jimmie Johnson for the championship. Coming into the Chase, the No.2 has had good results, no getting around that. But their runs to getting those results haven't looked as though they are ready to make a run in the early part of this Chase starting Sunday at Chicagoland. In the past, Keselowski has had a history of proving people wrong. This could be another case of that.
7: Kevin Harvick- Call me crazy, but I think Harvick is in prime position to pick up a win Sunday at Chicagoland. Since getting his former crew chief, Gil Martin, back on top of the No.29 pit box, there's been a fire under Harvick we haven't seen since the early part of the 2011 season in which he won three of the first 12 races. With two wins at Chicagoland, we could be seeing Richard Childress Racing in victory lane for the first time in 2012 in the Cup Series.
8: Clint Bowyer- Yes, he is the most recent winner on the circuit. But lately we haven't seen the same "mojo" out of Bowyer and his team that we did earlier. Struggling in Atlanta, the No.15 team came to Richmond having a fast car, but didn't have any confidence. And lets be real here; Michael Waltrip Racing is new to the Chase. Everyone knows there are growing pains come this time of the year for new teams in that position. Bowyer's crew chief, Brian Pattie, hasn't been in the Chase since Juan Pablo Montoya got him in back in 2009. What can be expected Sunday? I just don't know with this team.
9: Greg Biffle-  After his win at Michigan back in August, Biffle regained the point lead and the swagger he had been lacking over recent weeks. Although I see Biffle as a major threat to win the championship, sub-par finishes in the last three races can't be helping his confidence. If it's any consolation; Biffle has been one of the best in 2012 at the 1.5-mile tracks such as Sunday's Chicagoland Speedway.
10: Tony Stewart- Through the first five races of 2012, people were quick to say Stewart would repeat as Sprint Cup champion. Normally a strong driver in the summer months, Stewart hasn't shown us anything outside his win at Daytona that would show us he's ready to win another race. He did it last year, but I don't think that's repeatable.
11: Matt Kenseth- He's mister consistency, but there's no denying Kenseth has an uphill battle. Leaving Roush Fenway Racing at the end of the season, it's been showing in Kenseth's recent performances. Although he says it won't affect anything, it's hard to believe that won't happen as things progress. For now, I have Kenseth probably lower than he should be, but it's more less where he will be than where he should be.
12: Kasey Kahne- The ladies love him about as much as he loves 1.5-mile tracks. In case you didn't know, that's a lot. Kahne's ready to win with his new team. The biggest holdup for Kahne for Sunday's race at Chicagoland is the way the team ran in Atlanta. With Chicago's surface being one of the roughest on tires outside of Atlanta, you have to wonder how the No.5 team will fair under those circumstances.