Sylvania 300 preview— New Hampshire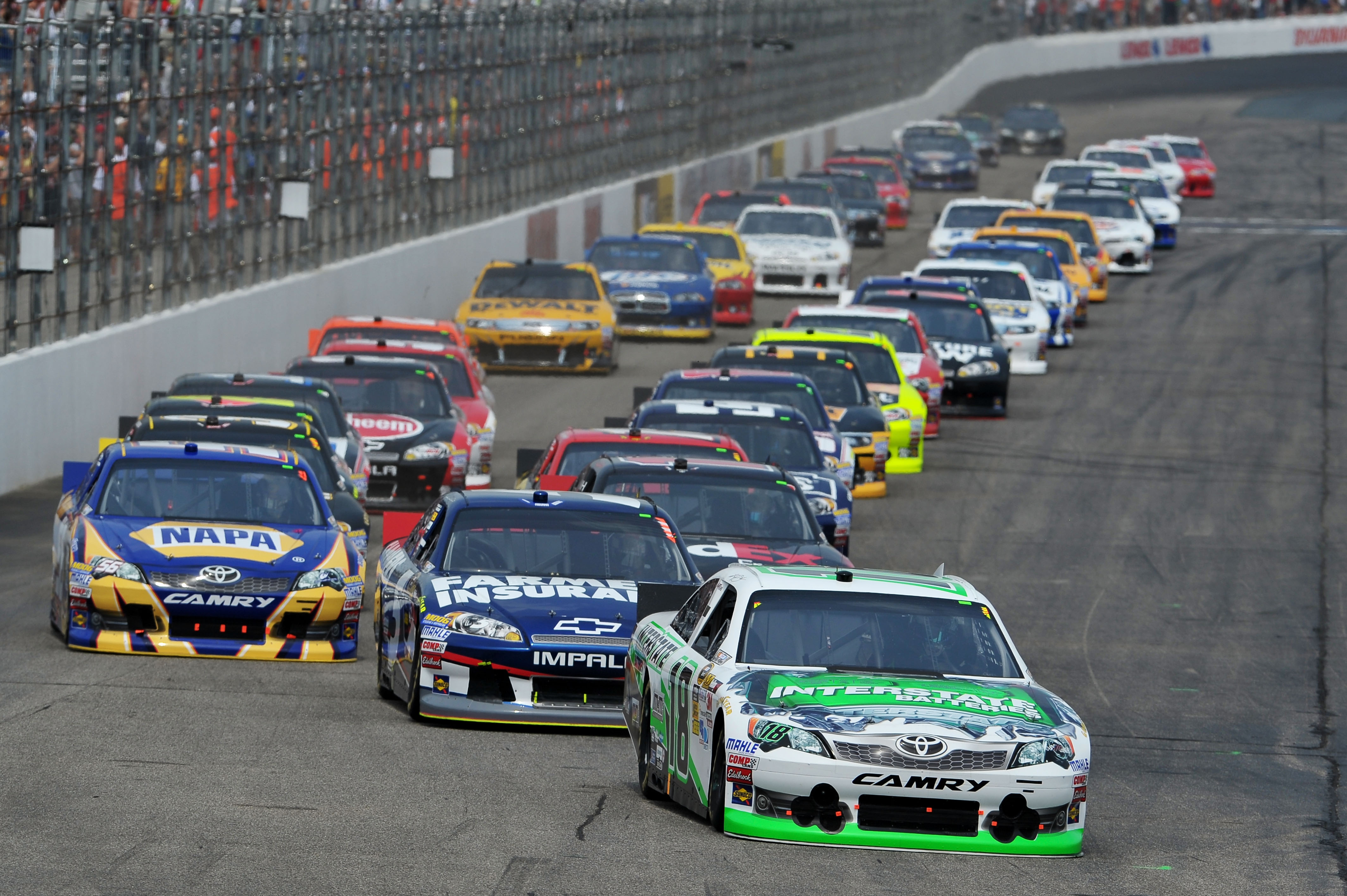 Race Information: 
Date: Sunday, September 23,2012
Time: 2 p.m. ET
Track: New Hampshire Motor Speedway (Loudon, NH)
Laps: 300  ;  Miles: 317.4
Broadcast TV: ESPN with coverage starting at 1:00 p.m. ET
Broadcast Radio: Performance Racing Network/ Sirius XM Channel 90
New Hampshire Motor Speedway Track Facts: 
Track Length: 1.058 miles
Banking in Turns: Variable—2 to 7 degrees
Baking on Straights: 1 degree
Front Stretch Length: 1,500 feet
Back Stretch Length: 1,500 feet
Qualifying Record: Ryan Newman, Chevrolet, 135.232 mph (28.165 sec.); July 15, 2011
Race Record: Jeff Burton, Ford, 117.134 mph (2:42:35); July 13, 1997
Notes and Story Lines: 
– After a third place finish one week ago at Chicagoland, Kasey Kahne is looking to backup his win at New Hampshire Motor Speedway in July and improve his standing in the Chase. However, only two drivers have won both races at NHMS in the same year (Jimmie Johnson and Kurt Busch).
– Topping Jimmie Johnson last weekend at Chicagoland, Brad Keselwoski looks to not only continue his early Chase momentum, but also his recent hot-streak at NHMS. In Keselowski's past two races at the track, he's scored two top-five finishes with his best finish of second coming in this race on year ago.
-If there's a driver who needs to rebound this weekend at NHMS, it's Jeff Gordon. After a stuck throttle took away what looked to be a top-10 finish, the No.24 team heads into the second Chase race 12th in the standings. However, NHMS is a good track for Gordon, scoring three wins at the track over his career.
– Much like Gordon, Michael Waltrip Racing is in need of making a statement in the second race of the Chase. Although they scored top-10 finishes at Chicagoland with Clint Bowyer and Martin Truex Jr., the two never peaked much above their finishing positions throughout the race. With Bowyer recording a third place finish at NMHS back in July and the New Hampshire area being close to home (New Jersey) for Truex Jr., a strong showing is almost a must.
-Something to keep an eye on when it comes to predicting a winner at NHMS will come during Friday's qualifying session. Three of the past four winners at the track have started the race from the front row.
Sylvania 300 By the Numbers: 
Most Wins: 4 – Jeff Burton
Most Poles: 6 – Ryan Newman
Most Top Fives: 15 – Jeff Gordon
Most Lead Changes: 23 – 2 times, most recently 7/21/02
Fewest Lead Changes: 1 – 9/17/00
Most Cautions: 17 – 7/10/94
Fewest Cautions: 2 – 7/13/97
Most Laps Led by a Race Winner: 300 – 9/17/00
Fewest Laps Led by a Race Winner: 2 – 7/11/99
Most Wins by a Manufacturer: 17 – Chevrolet
Closest Margin of Victory: 0.068 Seconds – 7/1/07
Greatest Margin of Victory: 7.439 Seconds – 7/12/98
Past Sylvania 300 Winners: 
2011: Tony Stewart
2010: Clint Bowyer
2009: Mark Martin
2008: Greg Biffle
2007: Clint Bowyer
2006: Kevin Harvick
2005: Ryan Newman
2004: Kurt Busch
2003: Jimmie Johnson
2002: Ryan Newman
2001: Robby Gordon
2000: Jeff Burton
Fantasy Racing Outlook: 
"A" Drivers: Tony Stewart, Jimmie Johnson
"B" Drivers: Clint Bowyer, Kasey Kahne, Greg Biffle, Ryan Newman
"C" Drivers: Brian Vickers, Sam Hornish Jr.
Sylvania 300 Entry List: 
#1 Jamie McMurray (LiftMaster)
#2 Brad Keselowski (Miller Lite)
#5 Kasey Kahne (Farmer's Insurance)
#9 Marcos Ambrose (Stanley)
#10 David Reuitmann (Tommy Baldwin Racing)
#11 Denny Hamlin (FedEx Freight)
#13 Casey Mears (GEICO)
#14 Tony Stewart (Mobil 1/ Office Depot)
#15 Clint Bowyer (5-Hour Energy)
#16 Greg Biffle (3M/ GE Appliances)
#17 Matt Kenseth (Zest)
#18 Kyle Busch (M&M's)
#19 Mike Bliss (Plinker Tactical)
#20 Joey Logano (The Home Depot)
#22 Sam Hornish Jr. (Shell Pennzoil)
#23 Scott Riggs (North Texas Pipe)
#24 Jeff Gordon (Drive to End Hunger)
#26 Josh Wise (MDS Transport)
#27 Paul Menard (Menards – Sylvania)
#29 Kevin Harvick (Budweiser)
#30 David Stremme (Inception Motorsports)
#31 Jeff Burton (Wheaties)
#32 Mike Olsen (North Country)
#33 Stephen Leicht (LittleJoesAuto.com)
#34 David Ragan (Shriner's Hospital for Children)
#36 Tony Raines (Tommy Baldwin Racing)
#37 JJ Yeley (TBA)
#38 David Gilliland (Taco Bell)
#39 Ryan Newman (Aspen Dental)
#42 Juan Pablo Montoya (Energizer)
#43 Aric Almirola (Trim Fit)
#47 Bobby Labonte (Bush's Beans)
#48 Jimmie Johnson (Lowe's)
#49 Jason Leffler (TBA)
#51 Kurt Busch (Phoenix Construction)
#55 Brian Vickers (Freightliner/Jet Edge)
#56 Martin Truex Jr. (NAPA Auto Parts)
#78 Regan Smith (Furniture Row-Farm American)
#79 Kelly Bires (BBI / Bestway)
#83 Landon Cassill (Burger King)
#87 Joe Nemechek (AM-FM Energy Wood & Pellet Stoves)
#88 Dale Earnhardt Jr. (Diet Mountain Dew / National Guard)
#91 Reed Sorenson (Plinker Tactical)
#93 Travis Kvapil (Burger King)
#95 Scott Speed (JTS)
#98 Michael McDowell (Phil Parsons Racing)
#99 Carl Edwards (Aflac)