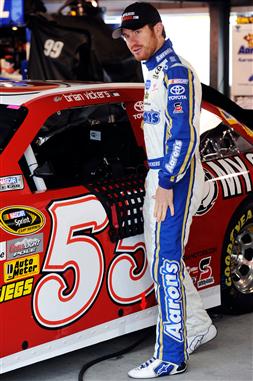 In a continued theme over the weekend so far at Martinsville Speedway, Brian Vickers led final practice for the Tums Fast Relief 500. He also led Friday's practice and the first practice earlier in the day on Saturday. Vickers topped the charts with a lap of 19.751 seconds. Vickers will start the Tums Fast Relief 500 on Sunday in the second position behind Jimmie Johnson.
The success for Vickers comes after announcing that he will return to Michael Waltrip Racing in 2013, running nine races while Mark Martin and Michael Waltrip run the other races on the schedule. Vickers' nine races include both races at Bristol, Martinsville and New Hampshire, plus Kentucky and the road course events at Sonoma and Watkins Glen.
"For me, staying with MWR was a conscious decision to try to be in the best position to win races and be with the best team that I thought I could do that with," Vickers said on Friday. "There's a lot of factors that are involved in that — from the manufacturer to the team to the owner to the sponsors to the crew chief and just blatant chemistry.
"Obviously it's more than just building fast race cars. … The chemistry I have with [crew chief Rodney Childers] is unprecedented for me in my career. I've never had anything like it and that's the kind of results that I want to continue having."
In seven starts this season, he has three top-five finishes, equaling the total five finishes he had in 2011 with Red Bull Racing running the full schedule.
When he is not racing NASCAR in 2013, Vickers says he's open to trying other forms of motorsports.
"Sports cars are welcome," Vickers said. "Indy cars are welcome. Europe, America, Nationwide, you name it. I'm open-minded to anything. I want to race. Ideally, my No. 1 criteria is to be in a winning car and wherever and whatever it is, that's my goal."
 Dale Earnhardt Jr. and Jeff Gordon tied for second in practice, 0.044 seconds behind Vickers. The race at Martinsville marks Dale Earnhardt Jr.'s first race back since sitting out two weeks due to suffering back-t0-back concussions. Kyle Busch and Denny Hamlin rounded out the top five. Pole sitter Jimmie Johnson was sixth while points leader Brad Keselowski was 13th.