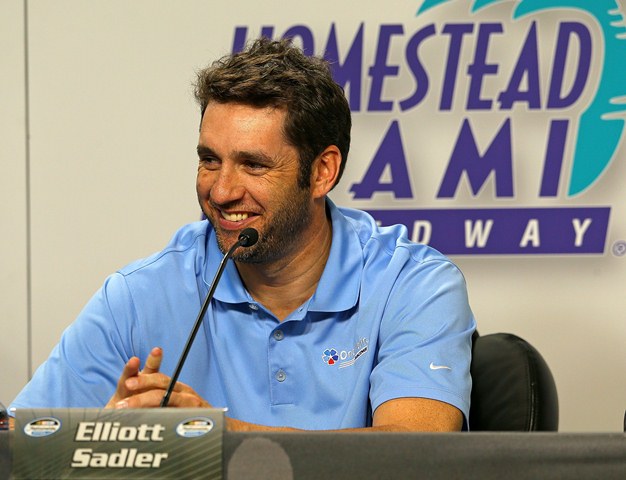 For the second straight year, Elliott Sadler would finish second in the NASCAR Nationwide Series standings, unable to take the crown from Ricky Stenhouse Jr.
Sadler was disappointed, though is proud of the positives of the season, including the four wins and four poles.
"I really have a lot of respect for this team," he added. "We've got along so well and probably one of the most fun seasons I've ever had as a race car driver.  You win some races, you have some peaks and you have some valleys, and we just had a few valleys there coming down the stretch that just kind of took the momentum away from us and where we lost control of the championship."
Between the two seasons, Sadler added that this one hurt more as Sadler held the points lead for the majority of the season.
For Sadler, the season began to fall off after a controversial call at Indianapolis. Sadler would beat race leader Brad Keselowski to the line on a restart as Keselowski spun his tires. That is illegal and NASCAR had Sadler come to pit road to serve a penalty.
"I think Indy was just really a blow to our race team, something that we really fought to get over because we just felt like we got done so bad, so wrong as a race team," he said. "That's hard to live with because you put your heart and soul in each and every week that you race, all of us do.  I don't care if you race in the trucks, the Nationwide or the Cup, you put your heart and soul into it, and after Indy it was tough to get over and after Phoenix where I messed up at Phoenix."
At Phoenix, Sadler would be involved in an incident late in the race with Cole Whitt. The race at Phoenix equaled a loss of 10 points, while Indy meant a loss of 18 points.
"Those two races really kind of caused us to lose a lot of momentum," he said.
Sadler will go for the championship again in 2013, though with a different team. Sadler makes the move from Richard Childress Racing to Joe Gibbs Racing after signing the contract on Saturday just before the start of the Ford Ecoboost 300. OneMain Financial has announced that they will join Sadler at JGR.
"OneMain Financial has been a flagship sponsor in the NASCAR Nationwide Series since 2005," Sadler said in the team press release. "I consider myself very fortunate to have shared in much of their success on and off the track. We've won poles and races together and hope to continue our winning tradition in 2013. Joe Gibbs Racing and Toyota have been a dominant combination in the NASCAR Nationwide Series and I'm elated to have an opportunity to join forces with them as well."
"We're excited about the partnership with OneMain Financial and having Elliott Sadler join our team in 2013," J.D. Gibbs, President of Joe Gibbs Racing, added. "OneMain Financial has been a tremendous supporter of our sport and has developed a successful program that engages both their customers and employees. Elliott is obviously a great talent and his experience will be an asset to our entire Nationwide Series program."