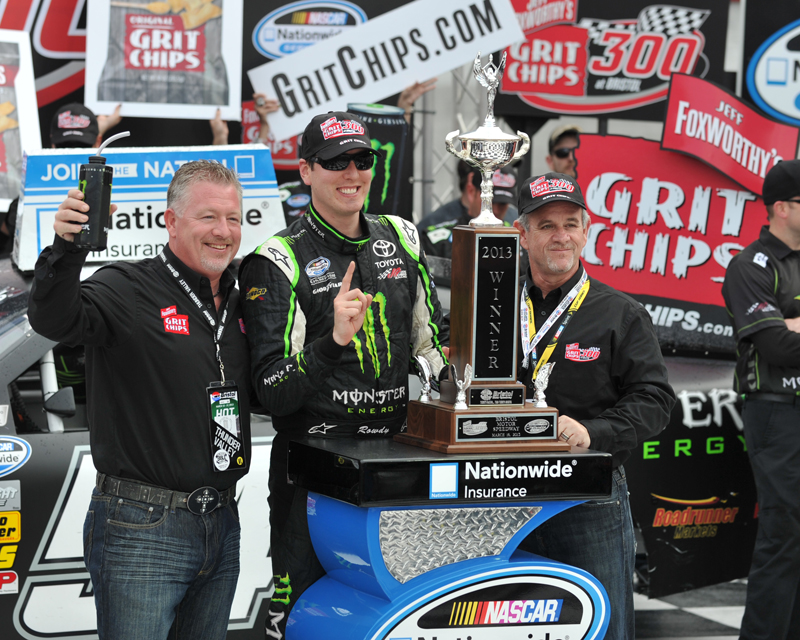 Kyle Busch lead 156 laps en route to his victory in Saturday's Jeff Foxworthy's Grit Chips 300 at Bristol Motor Speedway. This was Busch's his fifth win and 14th top ten finish in 18 starts at the speedway.
Busch battled Kevin Harvick for the lead over a 35 lap period. On many occasions the two were side by side and sometimes three wide with lapped traffic. Rookie Kyle Larson caught the duo and began showing some muscle until a caution flew on lap 265 when Jason White hit the wall. Harvick then pitted for tires saying the car was bad on the bottom.
On the restart Busch led with Larson following close behind waiting for the right opportunity to make his move. Larson got beside Busch several times but could not clear him. On the final lap, Larson pushes hard got along side Busch and made a charge to to the line coming up just a half car length short!
Points contender Elliott Sadler who came into this weekend in a three way tie with pole sitter, Justin Allgaier and teammate Brian Scott for second in the standings, fell out with fuel problems on lap 85. Sadler stayed positive saying, "..there is still a lot of racing left to do." Sadler finished 36th. Allgaier led 62 laps en route to an eighth place finish. Scott ran solid all day and wound up tenth.
Rookie, Hal Martin's day ended when he suffered major damage on lap 158. Martin slid up in front of Brad Teague but did not have him cleared. He expressed his displeasure with Teague with a clapping gesture as Teague drove by under caution. Reed Sorenson and Austin Dillon were also involved. Dillon managed a respectable 11th place finish with Sorenson ending up 18th.
Brad Keselowski, who led 26 laps, made contact with Regan Smith while battling for the lead on lap 189. Tire smoke could be seen coming from Keselowski's car after the contact. On lap 194, the left front tire blew and that sent Harvick and Busch scrambling to avoid contact with him. Keselowski finished 15th.
Keselowski's Penske teammate and series points leader Sam Hornish, did not lead any laps today but stayed in the top 5 all day. Hornish wound up fourth and retained the points lead by 22 points over Justin Allgaier.
Unofficial Race Results
Grit Chips 300, Bristol Motor Speedway
=========================================
Pos.
St.
No.
Driver
Make
Points
=========================================
1
13
54
Kyle Busch(i)
Toyota
0
2
12
32
Kyle Larson #
Chevrolet
42
3
14
20
Brian Vickers
Toyota
41
4
3
12
Sam Hornish Jr.
Ford
40
5
7
33
Kevin Harvick(i)
Chevrolet
0
6
4
7
Regan Smith
Chevrolet
38
7
11
16
Chris Buescher
Ford
37
8
1
31
Justin Allgaier
Chevrolet
37
9
16
77
Parker Kligerman
Toyota
35
10
8
2
Brian Scott
Chevrolet
34
11
2
3
Austin Dillon
Chevrolet
33
12
10
6
Trevor Bayne
Ford
33
13
9
19
Mike Bliss
Toyota
31
14
15
99
Alex Bowman #
Toyota
30
15
6
22
Brad Keselowski(i)
Ford
0
16
18
60
Travis Pastrana
Ford
28
17
34
25
John Wes Townley(i)
Toyota
0
18
17
43
Reed Sorenson
Ford
26
19
26
40
Josh Wise
Chevrolet
25
20
29
15
Scott Riggs(i)
Ford
0
21
24
14
Eric McClure
Toyota
23
22
27
5
Brad Sweet
Chevrolet
22
23
33
1
Mike Wallace
Chevrolet
21
24
20
87
Joe Nemechek
Toyota
20
25
39
24
Blake Koch
Toyota
19
26
31
92
Dexter Stacey #
Ford
18
27
37
23
Robert Richardson Jr.
Chevrolet
17
28
36
74
Mike Harmon
Chevrolet
16
29
38
70
Brad Teague
Toyota
15
30
35
0
Jason White
Toyota
14
31
25
44
Hal Martin #
Toyota
13
32
30
79
Jeffrey Earnhardt #
Ford
12
33
22
51
Jeremy Clements
Chevrolet
11
34
19
30
Nelson Piquet Jr. #
Chevrolet
10
35
32
55
Jamie Dick
Chevrolet
9
36
5
11
Elliott Sadler
Toyota
8
37
28
10
Jeff Green
Toyota
7
38
21
42
JJ Yeley(i)
Chevrolet
0
39
23
46
Chase Miller
Chevrolet
5
40
40
27
Michael McDowell(i)
Toyota
0