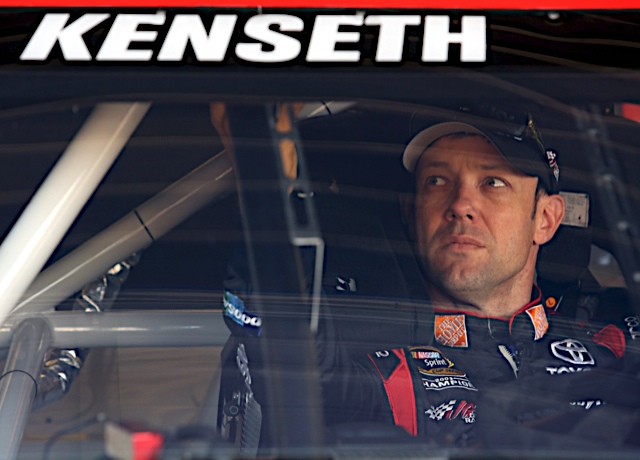 CONCORD, NC – Coming into Saturday night's NASCAR Sprint All-Star Race, there had been no better team at the tracks over one-mile in length than Joe Gibbs Racing (JGR).
Winning five of the eleven races on the season, JGR looked to have everything going their way heading into the two weeks of Charlotte.
Saturday night proved other wise as JGR's win-streak at the speedways of NASCAR was snapped with Kyle Busch posting the best result for JGR in third.
"We definitely had the best car here tonight," Busch said after the race. "Just didn't get the best pit stop there at the end to get us out on the front row."
Busch's third place effort was the lone bright spot for JGR Saturday night.
Denny Hamlin and Matt Kenseth, Busch's JGR teammates, finished sixth and ninth respectively.
While that may seem as though it wasn't a terrible night, it's nowhere near the success the organization has had thus far in 2013.
"I expected a little more out of us honestly," Hamlin said after the race. "Disappointing night–we just kind of ran mid-pack all day with the pit crew picking us up some spots at the end."
At points in the race, both Hamlin and Kenseth reported that they felt as though their Toyota engines were underpowered, not allowing them to race up front as much as they had thus far in 2013.
Neither Hamlin nor Kenseth led a lap Saturday night.
Although the race doesn't count for points towards the Sprint Cup championship, it was the first time since Texas in April that Kenseth hadn't led a lap in a race.
"The red flag came out and you were allowed to work on your cars under red and honestly that pretty much doomed our whole night," Kenseth said.
"Just a frustrating two days really."
Despite competiting at NASCAR's top level since 1992, JGR has yet to claim victory in NASCAR's All-Star night.
"It is what it is," Busch said. We'll just take this– good learning day.
"Hopefully, bring back some speed like this for the 600."
However, the team has had past success in NASCAR's backyard; Winning multiple May and October races at Charlotte Motor Speedway.
"I think without a doubt we learned a ton tonight," Hamlin said about looking forward to next weekend's Coca-Cola 600.
"We've got a great direction to go in next week and even at the end we were at least being competitive with the adjustments we made. We know what we need to work on."
Kenseth is the only current JGR driver to ever win a Sprint Cup race at Charlotte Motor Speedway. The 2003 series champion has two wins at the track which includes his first career win back in 2000.
"If there's any silver-lining, we got it driving better," said Kenseth.