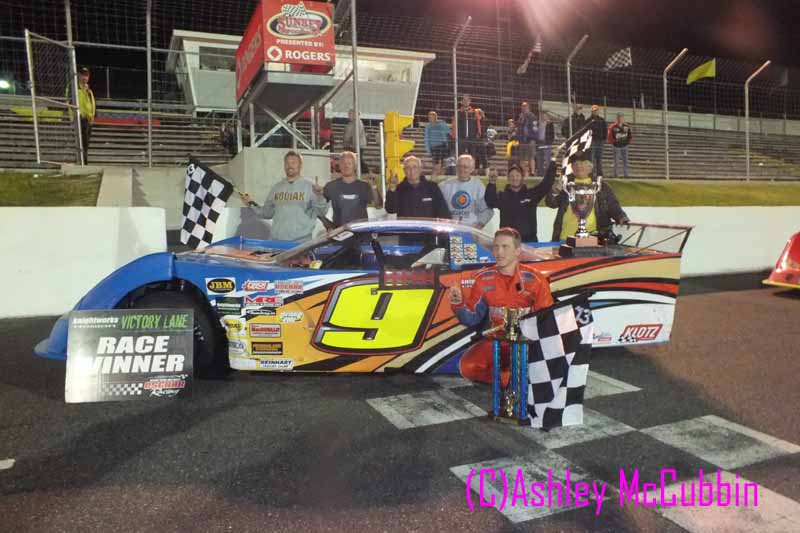 Brandon Watson would start off exactly where he left off as he would the victory in the Lucie Alywin Memorial 50 presented by North Toronto Auctions after leading from the pole.
Trouble would start early as on the first lap of the first heat, Tyler Hawn would go for a spin. Watson would grab the heat win ahead of Gary Passer, Jesse Kennedy, No. 5, Rob Poole, Cole Powell, Ethan Cournyea and Hawn.
The second heat would feature some drama as Shane Gowan would spin on the first lap. Rob Clarke went on to grab the win ahead of Todd Campbell, Charlie Gallant, Glenn Watson, Kevin Cornelius, Wayne Issacs and Jim Bowman.
The third heat belonged to Shane Maginnis ahead of Dwayne Baker, Derrike Tiemersma, Sean Cronan, John Owen and Andrew Gresel.
The fourth heat would go to Kennedy ahead of Brandon Watson, Passer, Poole, Powell, Cournyea and Hawn.
The fifth heat would see Gallant make heavy contact with the turn three wall after contact from Wayne Issacs. Glenn Watson would grab the win ahead of Clarke, Cornelius, Gowan, Bowman and Issacs.
The last heat belonged to Tiemersma, ahead of Baker, Cronan, Maginnis, Owen and Gresel.
With qualifying in the books, it'd be Brandon Watson starting on the pole for the 50 lap feature ahead of Derrike Tiemersma, Rob Clarke, Shane Maginnis, Jesse Kennedy, Dwayne Baker, Gary Passer, Glenn Watson, Todd Campbell, Rob Poole, Sean Cronan, Kevin Cornelius, John Owen, Shawn Gowan, Cole Powell, Jim Bowman, Ethan Cournyea, Tyler Hawn, Andrew Gresel and Charlie Gallant.
Brandon Watson and Tiemerma would battle for the lead early ahead. However the battle would be cut short by a wreck on the backstretch. Heading down into turn three, Maginnis got into the back of Clarke, causing the field to bottle up. In the process of that, Bowman got heavy front end damage, Cournyea on top of Owen and Gallant sustained front end damage. Gallant was done for the night, while the rest of the teams were able to make repairs and continue. On the caution, Sean Cronan would make his way down pit road also.
On the restart, Brandon Watson would get ahead of Tiemersma, and they were followed by Kennedy, Glenn Watson and Dwayne Baker.
There'd be another caution, though, as Dwayne Baker would have a flat tire on lap four. He would head down pit road and change the tire, back on track. With 44 laps to go, Brandon Watson led Tiemersma, Kennedy, Glenn Watson, Poole, Cornelius, Passer, Campbell, Issacs, Powell, Maginnis, Cronan, Owen, Gresel, Clarke, Cournyea, Hawn, Bowman and Baker.
Brandon Watson would once again get away on the restart while Glenn Watson passed Kennedy for third. Meawhile, on lap eight, Cornelius would pass Poole for fifth. Though, there would then be another caution for debris as pieces fell off of Bowman's car from the earlier wreck. While running ninth, Cronan would head down pit road and be done for the night with mechanical issues.
On the restart, Brandon Watson played the getaway ahead of Tiemerma while Glenn Watson and Kennedy battled for third. Kennedy would clear Watson on lap 18 for third, while Bowman would head down pit road on lap 21. Behind them, Poole would get by Cornelius for fifth on lap 22. Though, Cornelius would pass Poole back before the next caution at lap 41 for Clarke spinning Maginnis, with Owen getting a small piece. Maginnis would done for the night as his car would be leaking fluid. Clarke would also find himself done for the night shortly after.
With nine laps to go, it looked like Kennedy would be restarting third, though he would head down pit road with a flat tire. As a result, it was Brandon Watson leading Tiemersma, Glenn Watson, Cornelius, Poole, Baker, Owen, Campbell, Passer and Powell.
On the restart, Cornelius would get by Glenn Watson for third, just before another caution came out for Kennedy going around on lap 42. So with eight laps to go, you had Brandon Watson leading Tiemersma, Cornelius, Glenn Watson, Baker, Poole, Owen, Campbell, Gowan, Powell, Passer, Issacs, Gresel and Hawn.
On the restart, Brandon Watson would get the run, while Glenn Watson would move himself up to second ahead of Tiemersma and Cornelius. Through turns three and four on lap 44, Cornelius got the car right sideways – saved it, but fell back to seventh behind Brandon Watson, Glenn Watson, Tiemersma, Baker, Poole and Campbell. Baker and Poole would battle for fourth, with Baker able to keep Poole at bay.
In the end, it'd be Brandon Watson taking the win ahead of Glenn Watson, Derrike Tiemersma, Dwayne Baker and Rob Poole. Todd Campbell finished sixth, followed by Kevin Cornelius, John Owen, Shawn Gowen and Cole Powell. Kyle Passer finished 11th, followed by Wayne Issacs, Tyler Hawn and Andrew Gresel. These results are of course unofficial.