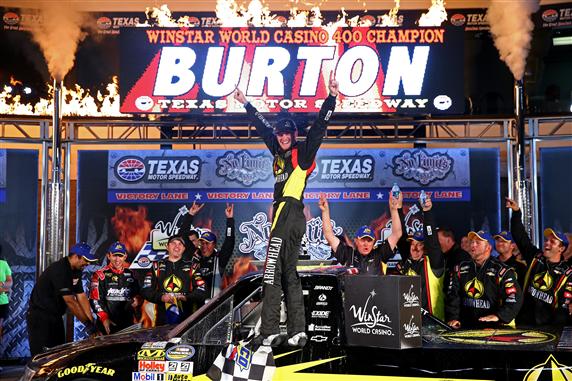 After taking the lead on a restart with 24 laps to go, Jeb Burton would hold on to lead the final laps and beat Ty Dillon to the line to win the WinStar World Casino 400 at Texas Motor Speedway. It's the marks the first truck victory of the 20-year-olds career.
"It's freaking awesome," he said in victory lane. "I'm just a little old country boy from South Boston living a dream. Just have an awesome team behind me. These guys right here, damn, that's the best team I have ever had the privilege to drive for."
Burton has been strong so far this season, though has come up short each weekend – till now.
"It's huge," Burton continued. "I've been telling everybody that once we get one, they're going to start stacking up. I'm ready for Kentucky in a couple weeks. It's been a lot of blood and tears to get here so it means a lot."
Burton is the son of 2002 Daytona 500 winner Ward Burton, who said this is the biggest day he has ever experienced in racing.
"We got so many people to think," Ward Burton said. "Can't say enough about them all. Steve Turner and Harry Scott – they're providing awesome resources for my son. Mike Hilman Jr. is guiding him, helping him. The Burton family is really lucky."
Ward Burton was up on the spotter stand for the race and noted that he wished he had a parachute to get to victory lane quicker.
For crew chief Mile Hilman Jr., it marks his first win with Turner-Scott Motorsports and first win with a driver other than Todd Bodine. Hilman Jr. scored his 19 previous wins with Bodine.
"Everybody works hard at Turner-Scott Motorsports day in and day out," Hilman Jr. said. "It's nice to get them back to victory lane where they belong."
Ty Dillon would lead much of the race at Texas, though fell up short as he finished second.
"One more lap, one more turn is all I needed," Dillon said afterwards. "We shouldn't had that at the end. We were the dominant truck and should have had it. We're going to win a lot of races this year. I wanted to win this race at Texas – I'm a little heartbroken.
"I just didn't have the help on the restart. Crafton was shoving the 4 (Burton) on the restart and they just went by on the backstretch."
NASCAR Mexico Series Champion German Quiroga would score his best career truck finish with a third.
"I want to thank the whole team, Red Horse Racing," Quiroga said. "The truck was great. I knew we were fast. We just need to work on pit tragedy; I just need to get better. I'm very proud of the team and everybody in the shop."
Running up front, Quiroga noted that he earned respect and had fun racing Crafton in the final laps.
"He was giving me room," Quiroga noted. "I want to thank him for that. it was good for us. They had a lot of respect and I appreciate that."
Crafton would finish fourth to keep the points lead, now 23 points ahead of Burton.
"We just missed it a little bit," Crafton commented. "We just didn't have the speed on the short run – we were just decent. But man those guys would just drive away on the restart. We finished top five. Definitely not what we wanted, disappointed a little bit with it."
Brendan Gaughan would round out the top five in fifth after leading the middle portion of the event.
"The track freed up too much in the end and we just didn't adjust enough to it," Gaughan noted. "I got behind our teammate, trying to give him a push and lost the nose and Buescher got a run there and took advantage."
Darrell Wallace Jr. finished sixth, followed by pole sitter Johnny Sauter, Ryan Blaney, James Buescher and Miguel Paludo.
Besides Wallace's top 10 finish, the Kyle Busch Motorsports truck would find trouble in Texas.
Making his first start for KBM, ARCA standout Chad Hackenbracht would wreck on the backstretch on lap 42 after getting loose while trying to split Jennifer Jo Cobb and Ty Dillon.
"Not what I wanted," Hackenbracht tweeted. "The @KBMteam guys worked way too hard for that. Waited too late to get around the lapper."
Then 12 laps later, his teammate Joey Coulter would spin in the corner and back the truck into the wall.
"I was doing good, pointed in the right direction and then suddenly pointed in the wrong direction," Coulter said. "Can't tell whether a shock or not. It just happened so quick. I heard something break and it just came around and that was it.
"I hate it for these 18 guys. We had a really good truck and thought we could work our way through there. We'll get it back together and go and get some points and win the championship at the end of the year."
There would only be three cautions during the event with the third caution coming on lap 138 when Brad Keselowski Racing driver Ross Chastain got into the wall.
The trucks will have most of the month off before heading to Kentucky Speedway on June 27th.