Dario Franchitti Claims Verizon Pole Award For Honda Indy Toronto Race 1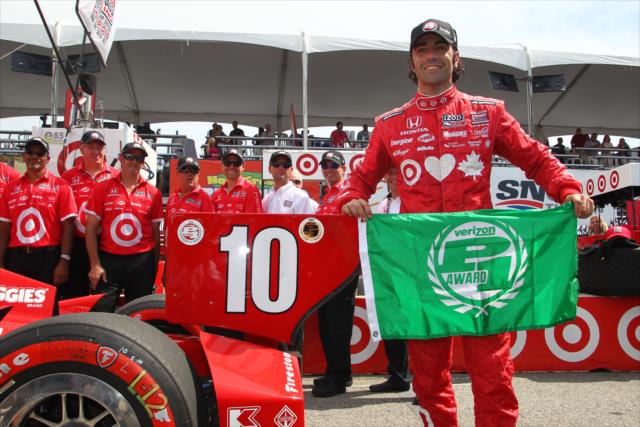 At the end of Verizon Pole Qualifying for the Honda Indy Toronto, it'd be 2011 Honda Indy Toronto winner Dario Franchitti grabbing the pole. It marks his third pole of the season and fifth pole on the streets of the Toronto.
"I was surprised about how quick we could go on the blacks," Franchitti noted. "I'm quite happy with that. I'm delighted to put the Target car on the pole. We've had a tough stretch. It feels really good."
Sebastian Bourdais qualified second, a tenth off of Franchitti, for his best starting spot this season.
"We finally got a break, and the car is heading in the right direction," Bourdais said. "We made a lot of changes this morning in the one-and-a-half hour session that we had. I'm pretty hopeful. We're starting to underatnd what this car needs on the new tires, which is something we haven't had since the start of the season."
2010 Honda Indy Toronto winner Will Power would qualify third as Penske Racing searches for their second win of 2013.
"I hope to get a good start tomorrow," Power commented. "The big key to getting a good start is to not get too much spin, so you get that proper hookup. I haven't had a chance to look at the grid box, but hopefully it's a good patch of asphalt because it changes so much around this track."
Tony Kanaan would qualify fourth, matching his career-best start at Toronto set in 2001.
"I'm excited about it," Kanaan said. "It's the hometown race for my sponsor Hydroxycut. I know everyone is pulling for Hinch, which is totally fair, but we have some Canadian sponsors on the car. Hopefully we can put on an exciting show for the fans."
James Jakes would round out the top five for his career best start at Toronto. However, he will incur a 10-grid spot penalty for an unapproved engine change this week.
Last week's race winner Scott Dixon rounded out the Firestone Fast Six.
Last year's race winner Ryan Hunter-Reay would qualify seventh after barely missing the Firestone Fast Six.
"It's frustrating," Hunter-Reay commented. "We had a great car today; we led the first practice. I'd like to thank the guys, the crew on the No. 1 DHL team for giving me a great car. I'd like to thank (Takuma) Sato for knocking us out of the session again today. It's unfortunate, but we'll be fighting again tomorrow, we'll be fighting again on Sunday. It's just out of our control so what do you do? We'll just pack up and hope for a better day tomorrow."
Points leader Helio Castroneves would qualify eighth, followed by Justin Wilson and Ryan Briscoe.
Hometown driver James Hinchcliffe would end up 14th out of the 25 cars.
"This is certainly not the way we wanted qualifying to go," Hinchcliffe commented. "I feel bad for all the fans here; (they) deserved better than that, but we'll put our heads down tomorrow. It's a long race, and I know we'll have a good car. We missed it by less than a tenth to get through, and it's heartbreaking to miss it by so little. But it's a long race, and this is a track you can pass on and you can plan strategy to your advantage, so fingers crossed that when it counts, when the points are paying tomorrow, we'll be at the right end."
There was one incident during qualifying when Takuma Sato got into the turn one tires, causing front end damage to his car. He would qualify 12th.
"In the second segment going into Turn 1, we were always on the edge just kissing the bumps," Sato explained. "But the last time, it bottomed out, and it went straight in the tires. It's unfortunate, but we have another qualifying session tomorrow, so hopefully we can improve again."