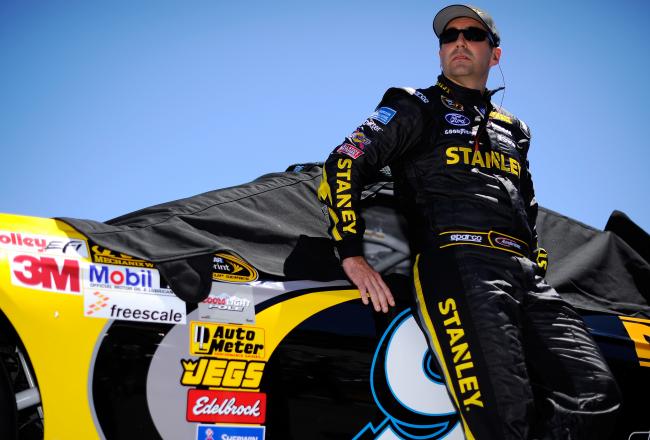 When NASCAR comes to the road courses of Sonoma and Watkins Glen, the name that instantly pops into your mind when thinking of drivers with a chance to win has to be Marcos Ambrose.
Ambrose, who has won the past two races at Watkins Glen which included his first career Sprint Cup victory in 2011, lived up to his road racing reputation Saturday afternoon by winning the pole for Sunday's Cheez-It 355 at the Glen.
The qualifying session was broken up into seven groups based on practice times from Friday with the slowest cars taking time first and the fastest cars at the end of the session.
Ambrose was part of the seventh and final group to qualify, and took the top-spot away from provisional pole sitter Clint Bowyer on his first timed lap.
"It's never as easy as it looks," Ambrose said. "I lost my cool yesterday in practice. I felt like I was behind and made some changes coming into today's qualifying."
The Australian's pole-winning lap of 128.241 mph/68.777 seconds  broke the previous track record for a Sprint Cup Series car at Watkins Glen.
"We got a lot of laps to do tomorrow," Amrbose said about his Chase chances being bolstered if he could win his third-straight race at Watkins Glen.
"There's no guaranteed success."
One of the gurantees many thought coming into the weekend would be that Tony Stewart would challenge Marcos Ambrose for the win come Sunday.
But, following a sprint car crash in Iowa that required two surgeries on his tibia and fibula, the three-time Sprint Cup champion is replaced in the No.14 this weekend by Max Papis.
Papis qualified the No.14 Chevrolet 29th.
Cheez-It 355 at the Glen Starting Lineup 
Marcos Ambrose
Clint Bowyer
Martin Truex Jr.
AJ Allmendinger
Kyle Busch
Jamie McMurray
Paul Menard
Brad Keselowski
Joey Logano
Matt Kenseth
Juan Pablo Montoya
Michael McDowell
Kurt Busch
Ryan Newman
Brian Vickers
Carl Edwards
Greg Biffle
Jimmie Johnson
Kasey Kahne
Denny Hamlin
David Gilliland
Jeff Burton
Owen Kelly
Ron Fellows
Dale Earnhardt Jr.
Kevin Harvick
Boris Said
Jeff Gordon
Max Papis
Casey Mears
David Ragan
Aric Almirola
Ricky Stenhouse Jr.
Victor Gonzalez Jr.
Danica Patrick
David Reutimann
Alex Kennedy
Travis Kvapil
David Stremme
Dave Blaney
Landon Cassill
Tommy Drissi
Brian Keselowski