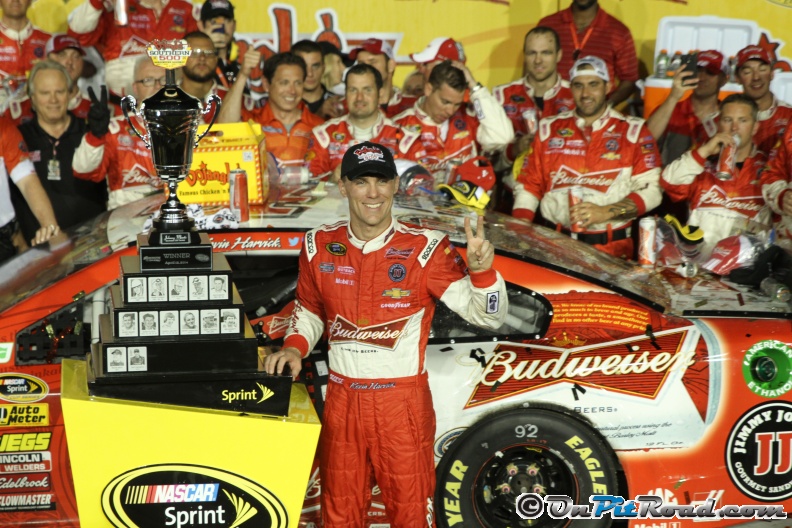 On Saturday night, Kevin Harvick had an amazing car and was dominate in the Bojangles Southern 500 and looked to be set to cruise to victory lane. Then the caution came out and set up a final dash to the checkered.
While others took two tires, Harvick took four, restarting in the sixth spot, and said post-race that the option of taking two tires was never on his radar. If Rodney Childers mentioned the thought, Harvick said he was prepared to argue to take four.
"It's one of those places where the cars were so ill-handling tonight as we went into the race," Harvick explained. "We never really saw how ill they were going to be in practice because they never really drove like that.  Our car drove good for 20 laps. You get to lap 12 and 15 and the cars really started to go south pretty quick.  But it was a lot of fun.  You could use the whole racetrack top to bottom, and that made it a challenge to figure out where you needed to be and what you needed to do to your car."
The decision paid off as Harvick was able to pass Dale Earnhardt Jr. with one lap to go for the win.
"Made it a lot more stressful than we'd have liked it to have been," Harvick commented. "You know, honestly, I felt like we did everything right with putting the four tires on.  I didn't really expect four, five, six of those guys to put on two tires to tell you the truth, but all in all, I think it worked out really good the way the cautions fell, and we were able to just get — our car was really good on the launch on restarts tonight and we were able to push the 88 to the lead that one time."
It marks Harvick's first southern 500 victory, allowing him to complete the crown jewel collection with a Daytona 500 and a Brickyard 400.
"It's the last crown jewel race I guess you could say that I wanted to — I told him before the year even started, if we're only going to win once this year, let's win at Darlington because this is just the place that you want to race, and I love racing here," Harvick commented. "I think it's like going to Bristol for me, for him here.  He's not as enthused about it as I was.  But all in all, it's a great place to race and means a lot to our sport.
Harvick now becomes the first driver this year to win two races and securely locks himself into the Chase for the Championship.
"It was a good night and really a great weekend," Harvick said. "Just proud of all my guys for everything that they've gone through over the last five or six weeks, and we've had cars this fast, and we just have had some things go wrong.  But I think it says a lot about the character of the people and the things that happen within Stewart-Haas Racing, to have everybody keep their head down and stay focused on what they need to be focused on."
Since winning at Phoenix International Raceway in the second race of the year, Harvick had four finishes outside of the top 35 in the five races that followed leading up to Darlington Raceway that had him sitting 26th in points. A win may get you in the Chase – but you must be in the top 30 to use it to your advantage.
During the struggles that they had, it could've been easy for Harvick and team to self-destruct, especially being a new group together at SHR. However, Harvick said that you have to look at the fact that you have strong cars and focused on things moving forward.
"Everybody is frustrated and everybody wanted to finish the deal on weekends where we felt like we could do exactly what we did here today and did at Phoenix, but sometimes it just doesn't go your way, and you have to be able to put that behind you whether you win or lose," he explained. "Monday morning we have to be able to put this win behind us and say, all right, what do we need to do to get better and how do we do that and where do we go and what do we do and where is the weak link.  I'm just proud of all my guys, Rodney for keeping them all together and being a part of it, and seeing it not implode from within is pretty awesome."
Now with a second win under his belt, Harvick may have started to turn the tide and begin to keep himself inside the top 30. If he is able to do that, a championship could come for Harvick late in the season – which is why he came to Stewart-Haas Racing. From the beginning, Harvick says he made the decision to leave Richard Childress Racing for SHR to win races and a championship. So far, part one of that deal is complete. Now the other half of the equation is completing the championship side.
"For us it's a lot of fun just for the fact that you have so many resources, and it's almost a challenge to figure out how to use them all," Harvick commented. "Gene has put in a major commitment from a financial standpoint, and I think that's hard to get used to because it's all about winning.  It's not about money, it's not about resources, it's all about what do you need and how are you going to achieve what you think you should achieve with the people around you.
"In the end you're as good as the people around you, and hopefully we can keep getting better.  I feel like we have as an organization and team, we have a lot of room for improvement, and we just have to keep picking it apart one piece at a time."