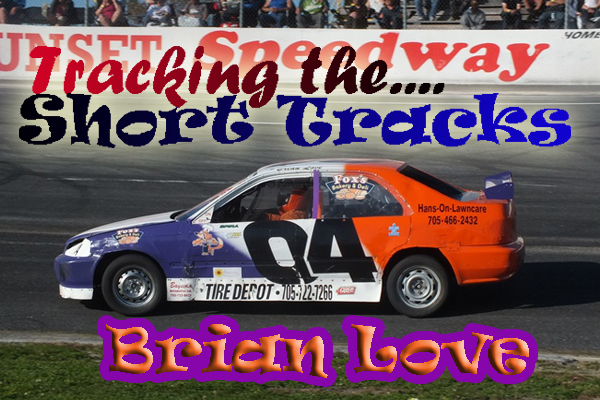 Last year, Brian Love had a solid season at Sunset Speedway on his way to finishing sixth in points. Love returns to Sunset Speedway this season hoping to have another fun, solid year.
Though before the season kicks, Love answered the 15 questions that resolve around racing and life.
1. How'd you get started in racing?
Always wanted to try it. I'm a car guy, love working on them.
2. First racing memory
On my first practice ever, I was first on the track, thinking I was doing good, until Doug Bell pased me like I was standing still. Scared me actually.
3. If you could be sponsored by any beverage, which would you want to be sponsored by?
It would have to be Pepsi
4. Story behind your car number
Growing up, I went to Sauble Speedway a lot, I was always a big fan of #4 Ken McElroy. So I put my own spin on his number.
5. If you have a nickname, what is it and why? If not, what do you think should be a good nickname?
Spencer started calling me" the king of hearts". I guess because I'm all heart?
6. If you could race against any NASCAR driver, who and why?
I'm a big Earnhardt fan, either one, but I think it would be awesome to look up at your mirror and see the Intimidator bearing down on me.
7. What's your life like outside of racing? Hobbies?
I love being with my family, most of all. We camp, travel and just spend quality time together, I'm a pressman for Metroland media in Toronto for 26 years. I'm married to Donna, for 19 years, and I have two boys Austin (16) and Hunter (15).
8. If you were an animal, what animal would you be?
I think I would be a lion, I love cats.
9. Favourite pizza topping
ALL OF THEM
10. Dream vacation spot
Le man France
11. If you were stuck on an island, what would you have to have?
Any Clive Cussler novel
12. Favourite book
Same as #11.
13. Favourite movie
Same as#11.
14. Favourite piece of technology
GPS
15. Sponsors/people you'd like to thank
Fox's bakery and Deli, Tire Depot Barrie, Simcoe Auto Recyclers, the Stone Grille Stroud, Eckert Auto Sales.
To learn more about Brian Love, check out http://brianlove04.com/.
Previous Tracking the Short Tracks Pieces…
April 2nd: Hanover Holiday Modified Competitor Bobby Tolton
April 7th: Varney Motor Speedway Mini Stock Competitor Scott Schuleter
April 8th: Sunset Speedway Super Stock Competitor Coltin Everingham
April 10th: Sunset Speedway 2013 Rookie of the Year Nick Tooley
April 14th: Peterborough Speedway Mini Stock Competitor Donovan Price
April 16th: Sunset Speedway Mini Stock Competitor Brandon McFerran
April 18th: Lucas Oil Sportsman Cup/Outlaw Modified Competitor Tim Tolton
April 22nd: Sunset Speedway Mini Stock Competitor Samantha Shaw
April 24th: Peterborough Speedway Mini Stock Competitor Rob Gosse
April 28th: Sunset Speedway Mini Stock Competitor Lisa DeLeeuw
If you would like to be featured, send me an e-mail at ashleymccubbin@speedwaymedia.com.