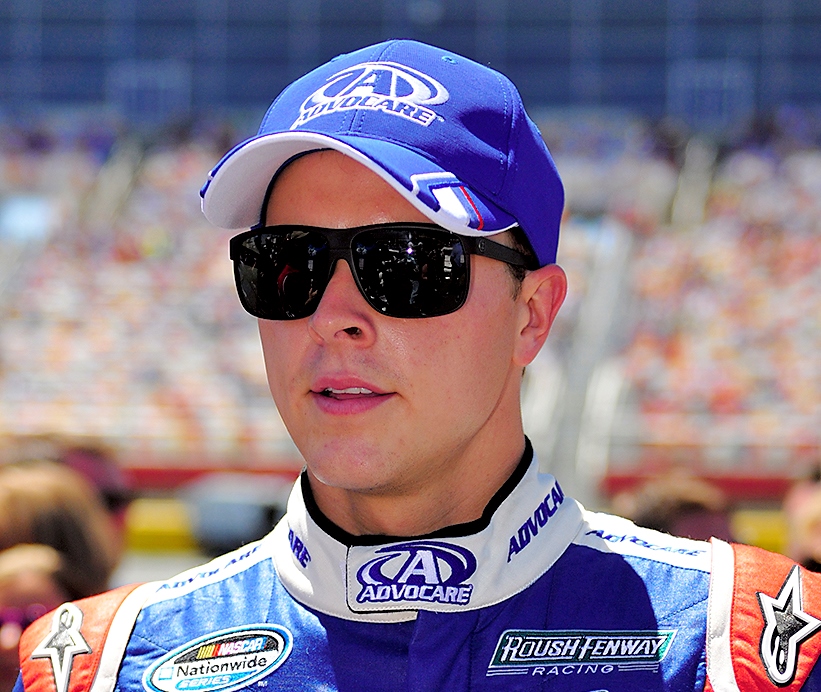 Roush Fenway Racing announced on Saturday that Trevor Bayne will drive the No. 6 AdvoCare Ford Fusion full-time in the NASCAR Sprint Cup Series next season.
Mark Martin made the announcement via video with Trevor Bayne, Jack Roush, and Mike Vaught from AdvoCare all in attendance at Charlotte Motor Speedway's Media Center.
Martin's announcement: "Jack Roush and I went racing together over 25 years ago and, yes, we experienced our share of heartaches as we grew in this sport, but we would go on to experience great victories as well.  My time in the 6 car will always be special to me and, yes, there is a part of me that will always be No. 6.  Because of that, I'm excited to say that Jack Roush is bringing back the No.6 Ford to the Sprint Cup Series full-time in 2015.  He'll have Trevor Bayne behind the wheel and be sponsored full-time by AdvoCare.  Trevor Bayne is a Daytona 500 champion already and a fine young man in our sport who has worked really hard, and having the experience of working with AdvoCare over the past several years has been a great experience as well.  I know the combination will be awesome and I can't wait to see you guys on the race track in 2015."
Car owner, Jack Roush, commented on the announcement, "This is a great day for me.  I remember when I started with Mark Martin in 1988 and NASCAR gave us the No. 6.  Of course, we had trials and tribulations, we were up –and-down that year and actually won our first race in 1989.  I wasn't sure I'd be able to make it, but as we've gone through the years- 26 years this fall- this No. 6 DNA has worked its way throughout the organization….To have Trevor and AdvoCare back in the No. 6 car is just gonna  be great.  To watch Trevor develop and to understand the path they take with the family support down through the decades, he's really a success story for his family and a role model for a lot of youngsters who want to make the most of their lives.  He's following the same path that Greg Biffle did and Carl Edwards and Matt Kenseth did in finding their way into the sport through one of NASCAR's lower series, and then being able to move up to the Sprint Cup Series.  I look forward to being able to enjoy success and be a part of his career for many years to come."
With AdvoCare being the primary sponsor for the No. 6, AdvoCare Director of Sponsorships, Mike Vaught, had a few words to say about their relationship with Trevor and the No. 6 team.  He said, "In life everything is about relationships and with Roush Fenway, from Jack to Steve, all the way down to our No. 6 crew this year is a first-class organization.  They've been fantastic for us and for Trevor to drive our car, Trevor is a great ambassador for our company…In life people come in your life that make you a better person by being around them and Trevor is one of those guys, and we're really excited about him being on our AdvoCare team now and into the future."
This being the "biggest news I've ever had in my life," Trevor commented, "This is a huge opportunity for me to be able to drive the 6 car with a full-time sponsor like AdvoCare, but I could have never done all of this without the people who have been behind me…This is something I've waited on since I was five years old, always wondering what car would I be in with what brand.  When you think about Jeff Gordon, the 24 and Dupont, I was a big fan of that as a kid and the older I got the more the economy changed and the less and less it looked like I would have one sponsor to be behind me for a full season.  Now I can gladly say I know what that brand is gonna be for me, AdvoCare.  I look forward to a long term relationship with them…I can't possibly thank everybody because there have been so many people that have allowed this to happen, but today is about AdvoCare, the number 6 Roush Fenway Ford, and me finally getting to live out my dream, so I couldn't be more excited."
Following this announcement Jack Roush was asked by members of the media if this means he is expanding to four cars next season or if somebody else is not going to be with them.  Roush replied, "Our plans for 2015 are still in a state of flux.  Certainly the fact we've taken the No. 6 indicates that we have our plans open for a fourth car, but it's still in a state of flux.  We'll have more to announce on that later."
Bayne was joined in the Media Center by his wife, Ashton, and his parents to help him celebrate this monumental day in his NASCAR Sprint Cup Series career.