Jeff Gordon says he's "back to normal" following back issues at Charlotte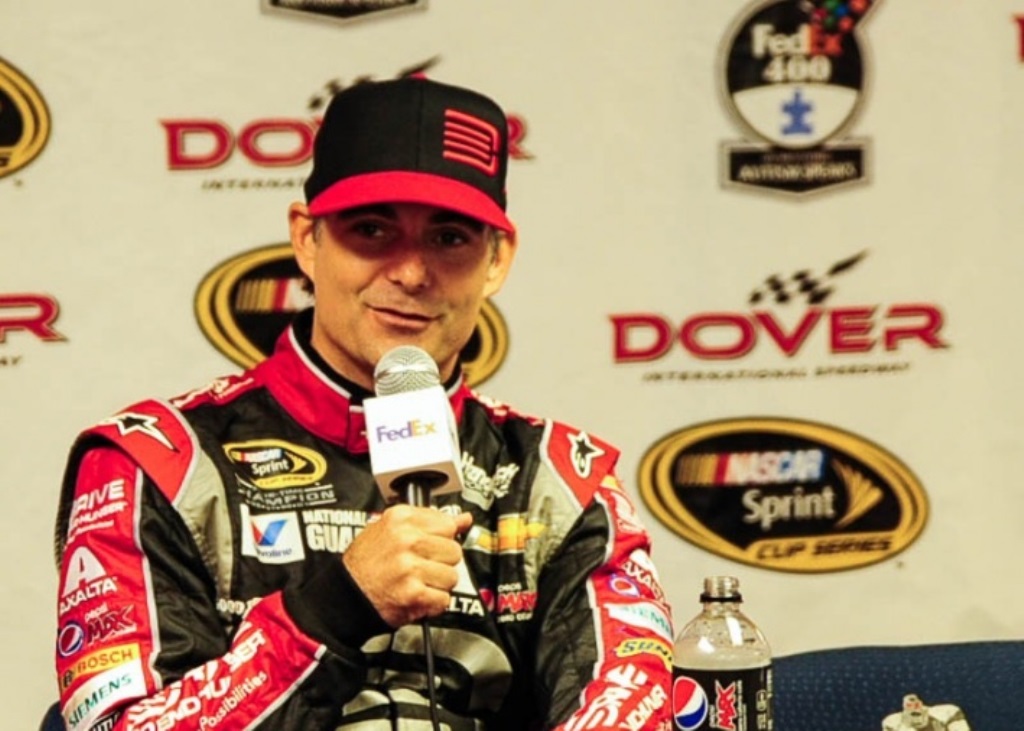 Last weekend at Charlotte Motor Speedway, Jeff Gordon skipped final practice and almost didn't run the Coca Cola 600 due to back spasms.
"I knew, one is it was one of the hardest things I've ever done in my life, in my racing career for sure to make that decision.  It was not an easy one and I doubted myself while I was doing it," Gordon said on Friday at Dover. "But my body was telling me that I thought it was the right thing to do."
The four-time champion would run NASCAR's longest race and came out with a solid top 10 finish. Now a week later, Gordon is set to tackle the Monster – Dover International Speedway – and says that he's feeling back to normal.
"I'm back closer to normal, which is just always aggravation and some discomfort," Gordon commented. "I'm still feeling some of the affects of what went on last week, but I felt good in the car. I didn't have any sharp pains, so that's good. I just had a week of rest and normal activity. Lots of ice this week. I was pretty sore on Monday and Tuesday after that long 600, but that's not totally unusual; but probably just a little bit more than normal because of all that I went through. So, I feel good for this weekend."
The issue last week admittedly surprised Gordon as he said that he hasn't had that issue before in a racecar. However, he had felt it rolling out of bed in the morning and attributes that to not being loose in movement yet and "part of getting older". As a result of it being foreign, Gordon elected to skip final practice while getting an epidural and another type of injection.
Moving forward, Gordon doesn't feel that it will be an issue as he is learning how to address it so it doesn't happen again.
"If I don't stay loose and ice and do other things that keep me loose when I get to the race weekend, what happened could possible occur again," Gordon commented. "So, that's the biggest thing I'm focused on; not thinking or focusing on anything else."
In that regard, Gordon feels that the back issue flared up last week due to sitting in one spot for too long on Thursday between practice and qualifying. He feels the three-hour period of being in one spot allowed it to get inflamed and irritated.
"Then when I went in the car kind of cold and tight, it just made it inflamed and agitated more," Gordon said. "And that's where the pain came from. And then, once that happened, there was nothing that was going to fix it until I had those injections on Saturday."
Gordon was questioned whether possible seat adjustments could help, however he says they have not as the seat isn't the cause of the issues.
"The position that I'm in is the best I could ask for," Gordon added. "I've talked to the doctor about that. We shortened-up the throw on the clutch pedal last week because I was having some issues when I extended my left foot all the way out. We've taken that out this week. I didn't like it in the car last week."
Gordon had a solid day on Friday as he qualified sixth for Sunday's four-hundred mile race. No doubt that Dover is tough on drivers, but Gordon doesn't feel that he will have any issues on Sunday. The normal pressure on the body that Dover offers will not be a problem as he says he can handle that.
"The thing that made me get out of the car last week is I got in the car, I pushed in the clutch pedal to take off out of the garage and I had shooting pain in my back," Gordon recalled. "Then I went out onto the track and when I drove into the corner and loaded up into the banking I had more shooting pain.  I knew the very first lap I ran in practice that I probably was not going to run the rest of the day."
With the steps taken this week and what he learned last week, no shooting pains happened during practice today and Gordon looks to be solid for the weekend.
Unfortunately though, if it becomes a re-occurring issue, Gordon may be forced into retirement – and he knows that being in this situation has brought the question even more so to the forefront. However, that's not his focus as he is focused on a shot at a fifth championship.
"I think that if anything that only built more momentum for our race team to go through what we went through and to go have that kind of a race to show the team what kind of determination I have as well as kind of show our competitors that it's going to take a lot to get us down," Gordon commented. "I think that did more good for us for this season and our chances for a championship than anything else.  That is where my focus is.  
"But you guys feel free to ask me all the questions that you want about retirement.  I don't have an answer for you.  When the day comes and that decision is made I will be more than happy to share it with you."