Brad Keselowski Dominates Quaker State 400 at Kentucky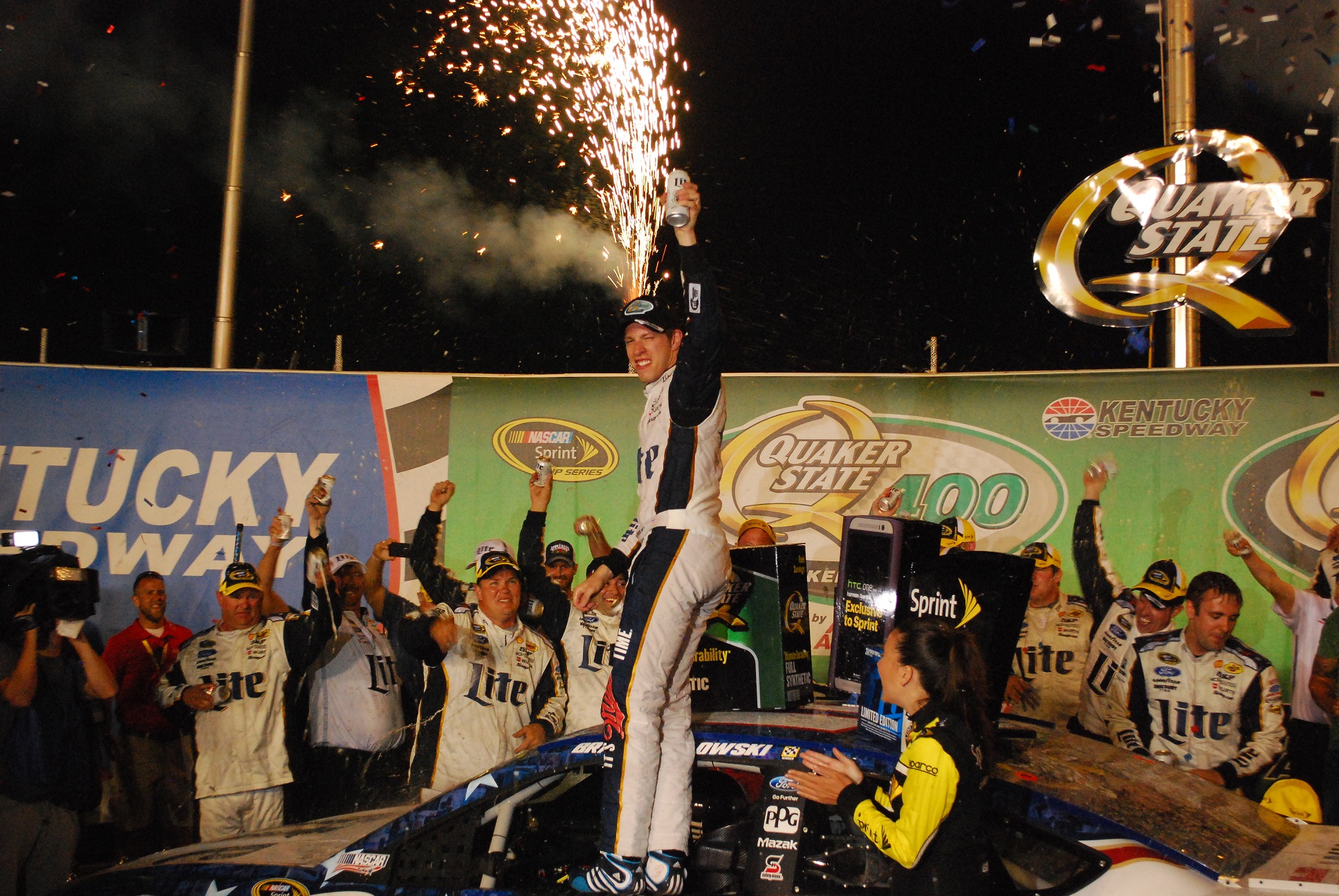 Brad Keselowski appears to have returned to championship form as he dominates the Quaker State 400 at Kentucky Speedway. Keselowski sat on the pole with a new track record, took the green flag and never looked back leading 199 of the race's 267 laps.
Saturday's win marked the second win of the season for the Team Penske driver. It was also his second career victory at Kentucky Speedway, his first coming in 2012, the year of his first NASCAR Sprint Cup Series championship.
Throughout the entire 2014 season, the main topic of conversation has been about clean air. In victory lane, Keselowski talked about having to restart sixth on the final restart and not having the clean air he had for most of the race, "It was kind of one of those races where the whole race you just know you've got a really fast car and my Miller Lite Ford Fusion was hauling the mail. You're just waiting for something to go wrong and it did there on that last yellow, it just caught us out of sequence and we restarted sixth and had a decent restart but I didn't think I was going to catch Kyle (Busch) and you know the car was that great." He continued, "It just an incredible feeling to have a car this fast, I hope we can keep them this fast, I really want another championship."
Kyle Busch was able to get track position on the final restart and get out front with Keselowski restarting sixth. Busch stretched out a lead but it was not enough to stay in front of the eventual winner, Keselowski. Busch was asked if he thought he stretched his lead far enough to hold off Keselowski. Busch replied, "Well, I thought I did, you know I got out there, obviously clean air, you got to take advantage of it as much as you can so I tried to hustle it as much as I could there early to get a big lead and once I got to traffic I knew I would back up a little bit, you know, but man that was the loosest I was the whole race and the loosest I was there at the end."
Ryan Newman had much needed good run for his Richard Childress Racing team finishing third. Matt Kenseth avoided a cut tire early to finish fourth, with Dale Earnhardt Jr rounding out the top-5.
Other notables: Jeff Gordon's strong season continues with a sixth place finish. Kevin Harvick ends the day in seventh. Joey Logano led 37 laps en route to a ninth place finish. Kyle Larson cut a right front tire and finished 40th. Denny Hamlin also cut a right front tire on lap 29 and ended up 42nd.
The series now head to Daytona International Speedway on July 5 for the Coke Zero 400.