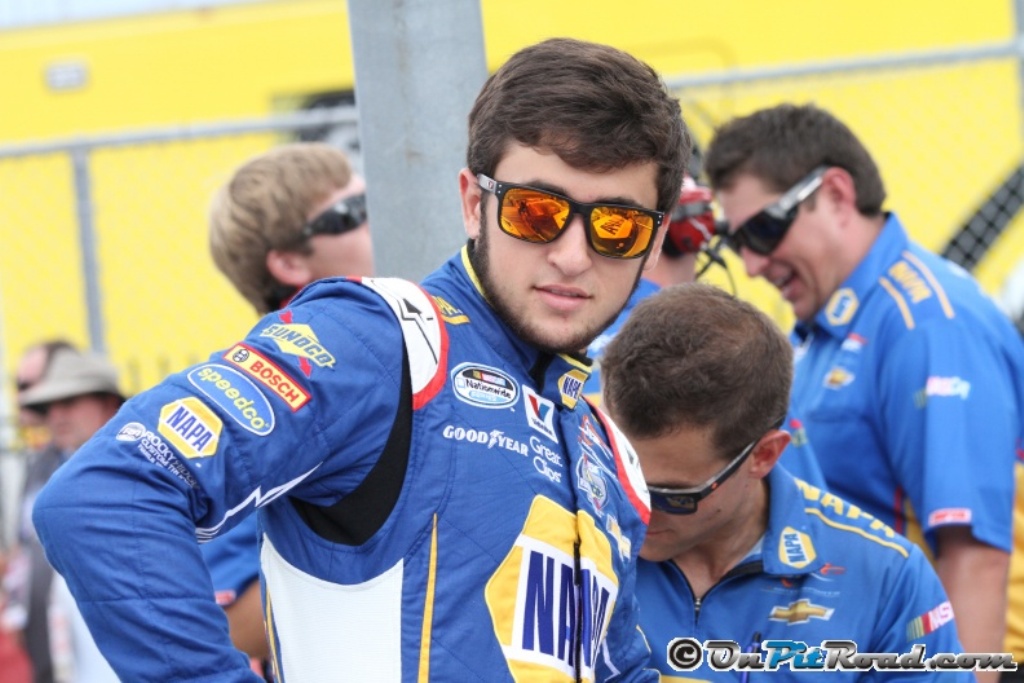 For some drivers, a ninth-place finish in their first trip to Bristol Motor Speedway would be considered a great accomplishment. However, that isn't the story for Chase Elliott as his ninth place run back in March is something he considers a poor showing.
"Fortunately, Bristol was one of our down weekends – I thought," he commented. "We struggled in the spring as I did a poor job qualifying for us, we got a lap down early and just kind of played catch-up. I hope this weekend is better in all aspects. Hopefully I can step up and find that balance that we missed a little in the spring race."
Since that run at Bristol, Elliott has been on a terror in posting back-to-back top-five finishes in his No. 9 NAPA Auto Parts Chevrolet, including three victories along the way. Part of being able to turn it around quickly was not letting the poor showing stay on his mind.
"You just want to get it behind you and hope you don't have those issues again," he commented. "Just going to try and find more speed, and challenge those guys that we have to beat."
Now back at Bristol, though, Elliott is ready to go and do better this time around.
"Anytime you can come here to Bristol in August with a night race, it's just a fun time of the year," he added. "I always enjoy coming back here and I was looking forward to getting back, and hoping that I could better that run."
So far this weekend, things look better for the 18-year-old as he led the first practice, before posting a solid top-five speed in final practice. While he struggled in the spring, Elliott is excited to be at Bristol this weekend as he loves running the short tracks.
"I wish we had more of them," he stated. "That's where I've done the majority of my racing the last five years. That's really what I love to do, and that's my kind of normal."
A good finish on Friday night would certainly help his case towards the championship as he only leads teammate Regan Smith by seven points. However, with Bristol being a tight half-mile, there is the deal of 'surviving' and not getting caught up in someone else's wreck. For that reason, many drivers feel that Bristol is one of the "hurdles" a driver has to cross towarsd being a champion. For Elliott, though, he feels every weekend is a "hurtle".
"There's plenty opportunities for me to mess it up," he said. "Every weekend is a hurtle and I think if you get comfortable anywhere and think it isn't a hurtle, that's when you're going to get in trouble. You got to take each week, a race at a time, and just know that anything can jump out and bite you at any time. In racing, there's so many things that you can't control and really, the only thing you can do is make the most of the things that you have control of. "
If Elliott is able to keep things solid all year, it'd be huge for him to win the championship as a rookie, but also to give crew chief Greg Ives a championship. Ives will be moving up to the Sprint Cup Series in 2015 to work with Dale Earnhardt Jr., while Elliott will be paired with Ernie Cope.
"I'm working as hard as I can work for him, in that aspect," Elliott commented. "Certainly, as a crew chief, Greg is one of the best and without a doubt in my mind a championship crew chief at whatever level he wants to compete at. For me, I know that we have cars that are capable of winning and competing week in, week out, and if that doesn't happen, I think it's on me. Knowing that, I think that I want to get the job done for him and the rest of the guys. I'd love to get the job done for him this season."
Though being in those shoes to go after a championship, does it bring unwarranted pressure?
"I look at the races the same now as I did in February, to be honest," Elliott said. "I look at places that we need to get better at and places that we were really bad at in the spring, personally, and places that I need to step it up and do better. I don't look at it as added pressure; I don't really feel that there is any. If there is the added pressure, it's your fault for putting it on yourself the wrong way."