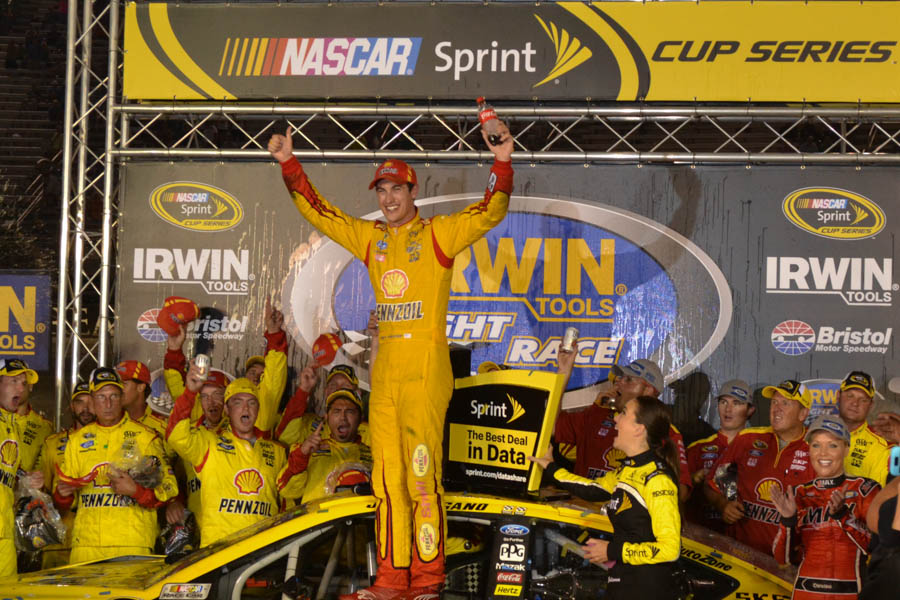 Heading into Saturday night's Irwin Tools Night Race at Bristol Motor Speedway, Joey Logano had only one top five finish in eleven starts. He left Bristol on Saturday night with a trophy and big smile.
Saturday's win was Logano's third win of the season, putting him tied with Jeff Gordon, Dale Earnhardt Jr, Brad Keselowski and Jimmie Johnson for number of wins. The number of wins a driver has is more important than ever with the changes implemented by NASCAR for the 2014 season, as it decides where they will be seeded in the Chase, with points as the tie breaker.
Logano was asked what kind of message this sends as we approach the Chase, Logano responded, "That we can win the thing. What a Shell/Pennzoil Ford there. When I woke up this morning I wasn't sure if we were a winning car or not, but Todd Gordon is a good salesman. He pretty much sold me into thinking we had a winning car and we made some small adjustments on it all night and got our third win of the year."
Logano now sits fourth in points, 84 behind leader, Jeff Gordon and 15 behind his teammate, Brad Keselowski. Penske Racing had plenty to celebrate as Keselowski ended the night in second in his No. 2 Wurth Ford Fusion. Keselowski led 46 laps on Saturday night. Keselowski also scored his first Camping World Truck Series win on Wednesday night.
Keselowski talked about his night saying, "That was a hard night. First off, the race pace here is really brutal and aggressive. With the cars having all the extra downforce this year and tires improving and some of the new rules compounded by grinding the track and the track's high lane having a lot of speed, I swear this is the most grueling race of the year."
Dale Earnhardt Jr, fell out of the race early after contact with Denny Hamlin. He came into the race just three points out of the lead, but now sits 27 points behind.
Richard Petty Motorsports had a miserable night with, Marcos Ambrose and Aric Almirola both having trouble. Almirola was caught up in an early crash and finished 41st. Ambrose had multiple problems throughout the night, including a spin and contact with the inside retaining wall. Ambrose would finish 34th. The bad finish has all but ended his hopes of making the Chase based on points. Ambrose will need to win Atlanta or Richmond to make the Chase along with his teammate, Almirola who earned a spot by scoring his first career Sprint Cup Series win at Daytona in July.
The series now heads to Atlanta Motor Speedway for the Oral-B USA 500 on Aug 31st.