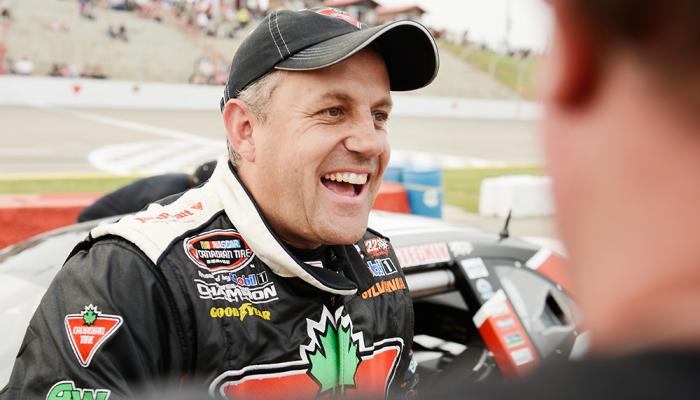 NASCAR announced on Monday that all 16 Challengers in the Chase for the NASCAR Sprint Cup would participate in a "Chase Across North America" media tour.  Sixteen drivers in sixteen different cities, with one in each Chase market and additionally Los  Angeles, Mexico City, San Antonio, TORONTO, New York and Bristol Connecticut.
Jeff Gordon will be representing NASCAR in the Toronto market. Invited to join him at two of his four stops will be defending NASCAR Canadian Tire Series Champion Scott Steckly and his #22 Racing/Canadian Tire Dodge race car.
"It is such a thrill and an honor to be asked to participate with Jeff Gordon at two of his four stops in Toronto tomorrow," said Steckly from the race facility in Milverton, ON.  "Jeff is a great choice to come to Canada to promote the Chase for the NASCAR Sprint Cup starting next week at Chicagoland Speedway as he is a household name in this Country."
Jeff Gordon's schedule includes stops at the CN Tower for a media reception, then on to Dundas Square in Toronto where he and Scott will meet the fans from12:00 – 12:30 p.m.  Jeff Gordon then makes an appearance at the Hockey Hall of Fame before meeting up with Scott Steckly & Ron Fellows at Canadian Tire, 1608 The Queensway in Etobicoke for another fan meeting from 1:45 – 2:40 p.m.
You can follow along each of the Chase Across North America events by using #NASCAR and #MyChaseNation.
Scott Steckly is supported by the following companies:  Canadian Tire, Osram Sylvania, Mobil 1, Erb Group of Companies, AW Millwrights, Reefer Sales & Metrocom Canada.
Fans can follow Scott Steckly through his website at 22racing.ca or on Twitter @ScottSteckly22 or you can Like the 22RacingTeam fan page on Facebook.  For all at track and event updates follow us on Twitter @22RacingTeam.