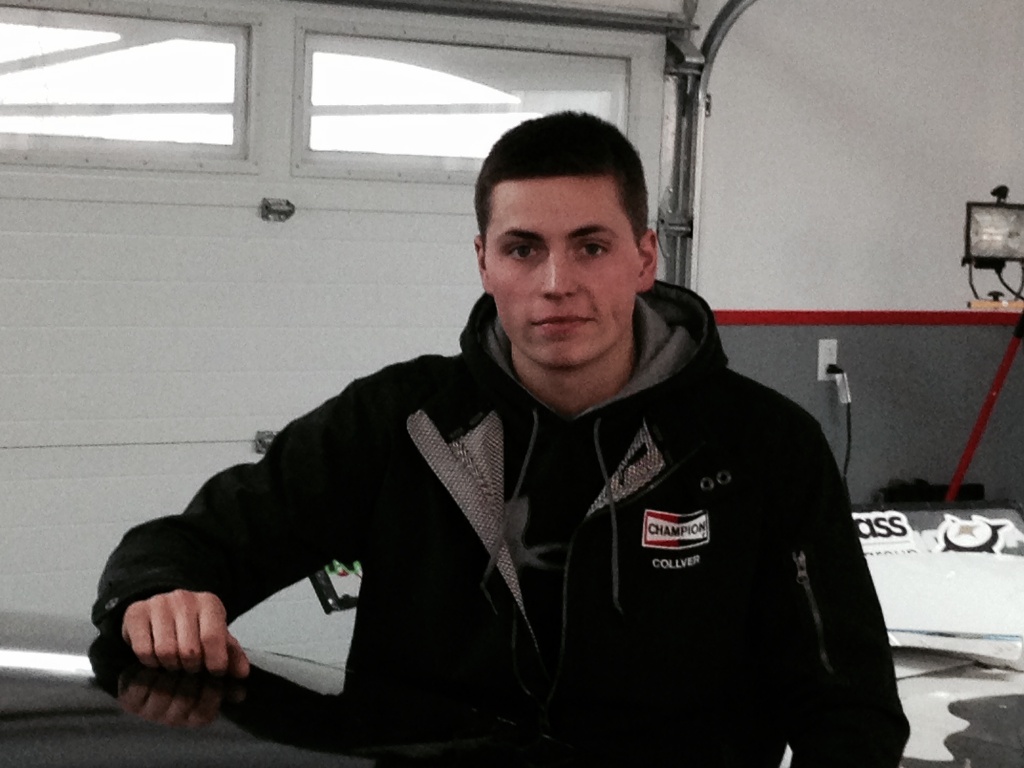 (London ON)  Trevor Collver will be having a very busy summer in 2015.  Not only will Collver take on the competitive field of G.A.W. Super Stocks at Delaware Speedway, but will also field a Pro Late Model for Car owner Allan Gold.  The pair of Gold and Collver will compete in the new APC United Late Model Series at all 8 events on the 2015 schedule.
Collver will split seat time in both the Super Stock and Pro Late Model with Partners, Carter Trucking, Champion Spark Plugs and several other of his current marketing partners.  Over the winter, team owner Allan Gold picked up a McColl chassis and will campaign the #97 in the APC Pro Late Model Series with Collver as the rookie driver in the series inaugural season.   Michael Gold, a Outlaw Super Late Model standout will pilot the car at selected events at Delaware Speedway.
Trevor Collver is ecstatic about the opportunity to drive such powerful race car in the newly formed APC Late Model Series.
Collver made headlines in 2014 as a finalist in the Champion Spark Plugs Sponsor Search contest, and has been racing for 11 years.  From Micro Sprints to Delaware Super Stocks.
Team owner Allan Gold comes to the area from Northern Ontario fielding Super Late Models at Laird Speedway and in Michigan for son Michael Gold.   The pair of Collver and Gold got together over the winter and formulated ideas to run in the new series full time.  Marketing partnership is still available for the 2015 Campaign.
"I met Trevor through the Champion spark Plug display  at the London Auto Show last spring, and have followed him since. " Gold said of Collver.
 "I was inspired and impressed by his passion for racing and how much he has already accomplished on his own. He has ambition to make it to NASCAR, so it's time to step it up to a higher level. The APC series is a the perfect opportunity to showcase his skills as a driver and a corporate representative."
The APC Late Model Series kicks off
Saturday May 23
at Sunset Speedway and wraps in September at Delaware Speedway.  The tour will also make stops at Sauble, Peterborough and Flamboro Speedways.
Special Thanks goes out to the supporters and marketing partners of Trevor Collver Motorsports,  Steve Carter Trucking, Champion Spark Plugs, Outback Tire shack, Mark Kennedy Trucking, Hodgins Custom Service, G&L Automotive, Ron O Brien ReMax, Melrose Garage, Dave Collver Auto Care, Don Collver Automotive and Transmission, Collver Towing, Fix Auto,
Customclothing4U.com
, Hallmark Memorials, Huron Tractor, Dave Moore Fuels and Mac's Convenience You can follow Treover Collver Motorsports on Twitter @TCollver1 and visit the new Website
www.trevorcollvermotorsports.com
Prepared by @JARED_Announcer