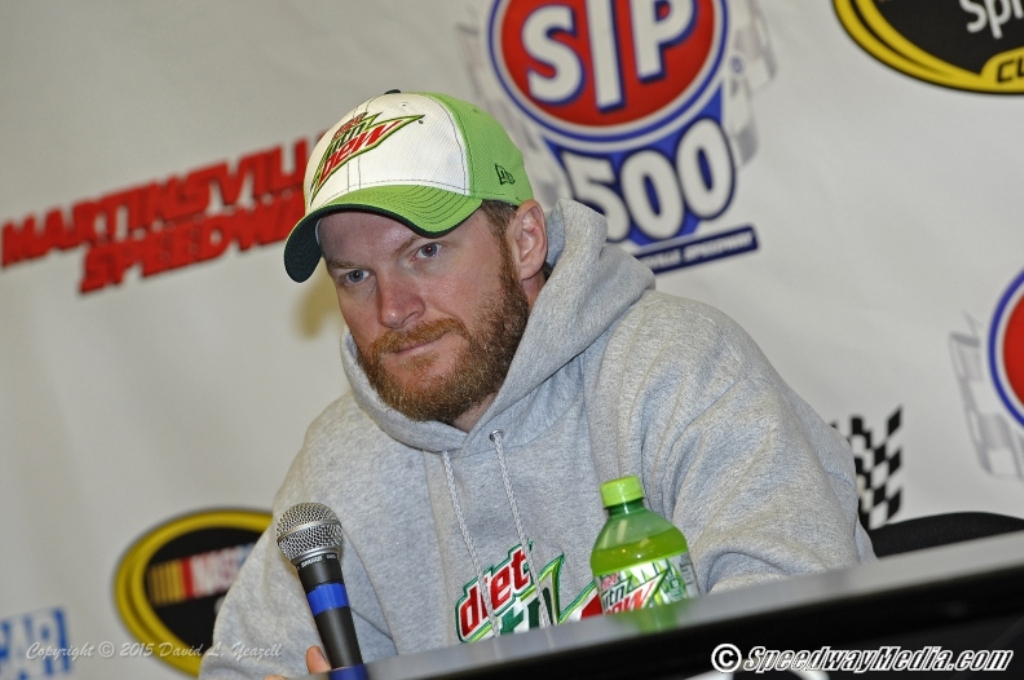 Following this weekend's race at Texas Motor Speedway, eight Sprint Cup Series teams will be testing at Kentucky Speedway.
A closed Goodyear test will take place on April 13 and 14, featuring one team from each of the following organizations: Chip Ganassi Racing (Jamie McMurray), Michael Waltrip Racing, Richard Childress Racing (Ryan Newman) and Roush Fenway Racing (Greg Biffle).
On April 15, those organizations will be joined by Dale Earnhardt Jr., Matt Kenseth, Joey Logano, Danica Patrick and Sam Hornish Jr. as part of a series open test. April 16 will serve as a rain date.
This test schedule is part of the new testing policy developed by NASCAR for 2015. Here is a complete glance at the schedule, as provided by NASCAR.com.
| Date | Track | Type | Teams |
| --- | --- | --- | --- |
| Jan. 19 | Las Vegas Motor Speedway | Goodyear | Stewart-Haas Racing (SHR);JTG Daugherty Racing (JTGD); Team Penske(TP); Joe Gibbs Racing (JGR) |
| Feb. 26 | Atlanta Motor Speedway | Team | One car/one driver from any organization |
| March 2-3 | Atlanta Motor Speedway | Goodyear | Richard Childress Racing (RCR);Chip Ganassi Racing (CGR);Roush Fenway Racing (RFR); Michael WaltripRacing (MWR) |
| March 10 | Charlotte Motor Speedway | Goodyear | Hendrick Motorsports (HMS);Furniture Row Racing (FRR);Richard Petty Motorsports (RPM); BK Racing(BK) |
| March 11 | Charlotte Motor Speedway | Team | One car/one driver from any organization |
| April 7 | Richmond International Raceway | Goodyear | SHR, JTGD, TP, JGR |
| April 8 | Richmond International Raceway | Team | One car/one driver from any organization |
| April 13-14 | Kentucky Speedway | Goodyear | RCR, CGR, RFR, MWR |
| April 15 | Kentucky Speedway | Team | One car/one driver from any organization |
| April 27-28 | Indianapolis Motor Speedway | Goodyear | HMS, FRR, RPM, BK |
| April 29 | Indianapolis Motor Speedway | Team | One car/one driver from any organization |
| May 11-12 | Dover International Speedway | Goodyear | SHR, JTGD, TP, JGR |
| May 13 | Dover International Speedway | Team | One car/one driver from any organization |
| June 9-10 | Darlington Raceway | Goodyear | RCR, CGR, RFR, MWR |
| June 11 | Darlington Raceway | Team | One car/one driver from any organization |
| July 13-14 | Chicagoland Speedway | Goodyear | HMS, FRR, RPM, BK |
| July 15 | Chicagoland Speedway | Team | One car/one driver from any organization |
| July 28-29 | Bristol Motor Speedway | Goodyear | SHR, JTGD, TP, JGR |
| July 30 | Bristol Motor Speedway | Team | One car/one driver from any organization |
| Aug. 24-25 | Homestead-Miami Speedway | Goodyear | RCR, CGR, RFR, MWR |
| Aug. 26 | Homestead-Miami Speedway | Team | One car/one driver from any organization |
| Sept. 14-15 | Kansas Speedway | Goodyear | HMS, FRR, RPM, BK |
| Sept. 16 | Kansas Speedway | Team | One car/one driver from any organization |
| Oct. 12-13 | Phoenix International Raceway | Goodyear | SHR, JTGD, TP, JGR |
| Oct. 14 | Phoenix International Raceway | Team | One car/one driver from any organization |
| Oct. 27-28 | Auto Club Speedway | Goodyear | RCR, CGR, RFR, MWR |
| Oct. 29 | Auto Club Speedway | Team | One car/one driver from any organization |