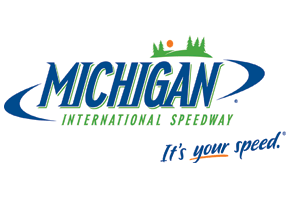 BROOKLYN, Mich. (April 17, 2015) — The staff at Michigan International Speedway reported for work on Friday with the mindset of making a difference in the community.
Instead of coming to the track, the staff spread out through Adrian, Michigan to volunteer their time and talents to four organizations.
"Today was an opportunity to give back to so many great organizations by volunteering," MIS manager of Fan Services Jayme Bicknell said. "The staff lives in the area and we take pride in all the effort we put into our community."
A group of staff members reported to the Daily Bread of Lenawee County, where they prepped and served lunch. They even cleaned up after lunch. The Daily Bread is a Christian, non-profit soup kitchen and food pantry that has been providing nutritious meals since 2001.
At MIS, fans can often find new construction projects each year that showcase the talents of the staff. On Friday, those talents were utilized to help on a house build for the Habitat for Humanity of Lenawee County. The workers focused their time on hanging siding and repairing a deck. Habitat for Humanity builds and renovates homes for families who demonstrate a need for housing, ability to make mortgage payments and willingness to partner by engaging in volunteer work.
Volunteers went to Family Counseling and Children's Service in Adrian to assist with clerical work for the morning. In addition, the MIS staff sorted donations and organized the pantry. The Michigan Federation for Children and Families works tirelessly on behalf of children and families and the private, nonprofit agencies serving Michigan's most vulnerable citizens. The reasons why are clear, but the ways they influence funding, programs and operations through action leading to success are diverse and powerful.
A dedicated group of MIS staff members reported to Associated Charities of Lenawee County to work outside and sort donations. Associated Charities strives, through the generosity of the community, to meet the needs of Lenawee County citizens of all ages with respect and without judgment.
Nestled in the lush Irish Hills of Southeastern Michigan, Michigan International Speedway is the Great Escape, a venerable NASCAR national park where fans can get away and enjoy the very best in racing and camaraderie. It's the love of racing and the thrill of a great time for race fans and drivers alike.
All four of the organizations received a grant from MIS Cares to further their work in the community. But it is about more than just monetary gift at the speedway as the staff partakes in volunteer work throughout the year.
You can visit www.miscares.com to learn more about the charity and all the activities planned for the year.
MIS focuses on charity through the program MIS Cares. MIS and its sister company Americrown combined donated a total of $774,873 to local service groups and organizations through cash donations, work programs, grants and sponsorships, as well as tickets and merchandise that clubs raffle to raise money in 2014.
MIS Cares is a donor advised fund of the NASCAR Foundation, a 501 © (3) entity. The mission of MIS Cares and the NASCAR Foundation is to create a lasting, positive impact on our community through charitable giving and volunteer efforts that cultivate community growth and advances quality of life.
Keep up with Michigan International Speedway via Twitter @MISpeedway or on Facebook at www.facebook.com/MISpeedway. Android and iPhone can now download Discover MIS, the official app of MIS, on Google Play and iTunes.
PHOTO (left to right): Michigan International Speedway Premium Seating Manager Sean Nowaczyk and Director of Guest Services Tim Booth doing landscaping working at Associated Charities of Lenawee County as part of Community Service Day with MIS Cares.
# # #
2015 Michigan International Speedway Schedule:
Friday, Saturday 8            SPEEDWAY STOMP™ 5K paced by Experience Jackson
Saturday, May 9               Michigan Wine and Beer Fest presented by Experience Jackson
Friday, June 12                  ARCA Racing Series presented by Menards Corrigan Oil 200 and Sprint Cup Qualifying
Saturday, June 13            NASCAR XFINITY Series
Sunday, June 14               NASCAR Sprint Cup Series Quicken Loans 400
July 17-19                            Faster Horses Festival
Friday, Aug. 14                  NASCAR Sprint Cup Series Practice and Qualifying
Saturday, Aug. 15             NASCAR Camping World Truck Series Careers for Veterans 200 presented by The Cooper Standard Foundation & Brad Keselowski's Checkered Flag Foundation
Sunday, Aug. 16                NASCAR Sprint Cup Series Pure Michigan 400