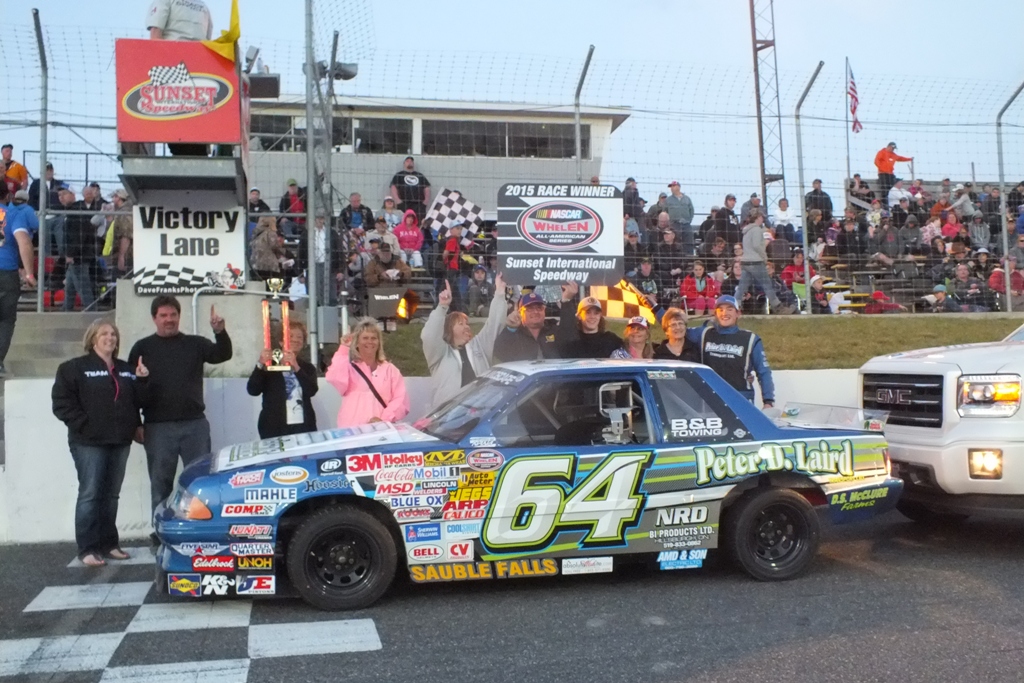 After scoring the Graham Landscape Mini Stock Championship last year, Brandon McFerran would kick off this season in victory lane, scoring the feature victory on the opening night of racing at Sunset Speedway.
The night didn't start off smoothly as Richard Butler would go for a spin in turn four. Frequent Flyer 50 presented by SL Promotions winner Andy Kamrath took the win ahead of Charlie Smith, Warren Paxton, Jordan Howse, Ben Melenhorst, Samantha Shaw, Ryan Toon, Terry Woodley, Kendra Adams, Ken Townsend and Butler.
The second heat saw a quick caution as well, with JP Rosevaar going around in turn two. McFerran took the victory ahead of Miles Tyson, Doug Butler, Justin Holmes, Danny Benedict, Billy Melenhorst, Gerritt Tiemersma, Jake Watson, Rosevaar and Randi Seguin.
Toon would win the b-main ahead of Watson, Woodley, Tiemersma, Rosevaar, Adams, Seguin, Townsend and Richard Butler.
McFerran kept the winning ways going, winning the Dash ahead of Kamrath, Doug Butler, Tyson, Howse, Paxton, Smith, Holmes, Benedict and Shaw.
With the invert, Terry Woodley would put the No. 6 Nottawasaga Mechanical, Collingwood Automotive Repair Services, Milltown Hose and Hydraulics, Complete welding and Midhurst Pharmacy Nissan 240SX on the pole ahead of Brandon McFerran, Justin Holmes, Gerrit Tiemersma, Jake Watson, Doug Butler, Charlie Smith, Miles Tyson, Danny Benedict, Warren Paxton, Jordan Howse, Samantha Shaw, Ryan Toon, Kendra Adams, Billy Melenhorst, Andy Kamrath, Ben Melenhorst, JP Rosevaar, Randi Seguin, Ken Townsend and Richard Butler.
On the drop of the green flag, McFerran would put the No. 64 Peter D. Laird Transport, Sauble Falls Tent & Trailer Park, Road Ranger, East End Car Wash, B&B Towing, Creative Edge Graphics, Finish Line Painting & Restoration, DS McClure Farms, AMD Electric, Ultimate Finishes and Matalco Mustang out front while Woodley battled Holmes for second. Holmes would grab the spot on lap two while Townsend headed down pit road with mechanical problems.
McFerarn would hold the early advantage ahead of Holmes as Doug Butler would move his way past Woodley for third on lap three. Smith would then follow suit, getting alongside Woodley for fourth before making the pass, bringing Benedict and Paxton through with him. At lap seven, McFerarn led Holmes, Butler and Smith as Paxton and Benedict battled for fourth. They'd continue to battle while Butler kept up his move to the front, passing Holmes for second. Smith continued to run fourth behind them, followed by Paxton and Benedict. Paxton would then get alongside Smith for fourth at lap 10, completing the pass a lap later with Benedict looking to follow suit.
At the front, the battle for third would heat up with Paxton getting alongside Holmes. Paxton would complete the pass a lap later, following in line in third behind McFerran and Butler. There'd be battles throughout the field, and the battle for fifth kicked up in high gear between Benedict and Holmes. It'd come to a head at lap 16 as while trying to pass the lap car of Richard Butler, Benedict would make contact with Holmes, causing Holmes to go for a spin. With 10 laps to go, McFerran led Doug Butler, Paxton, Kamrath, Smith, Tyson, Howse, Billy Melenhorst, Woodley, Ben Melenhorst, Shaw, Watson, Toon, Rosevaar, Tiemersma, Adams, Holmes, Benedict, Richard Butler, Seguin and Townsend.
McFerran would get a good restart to keep the lead, leaving Doug Butler and Paxton to battle for second. Paxton would get the spot on lap 19, with Butler and Kamrath following suit. Behind them, Smith and Howse battled for fifth, with Smith grabbing the spot on lap 21. Howse would hold down sixth ahead of Billy Melenhorst while Tyson battled Ben Melenhorst for eighth. Tyson would be able to hold off Melenhorst for the time being.
At the front of the field, Brandon McFerran kept clocking off the quick laps times and scored the victory for a hat trick on the night. Warren Paxton finished second, followed by Doug Butler, Andy Kamrath, Charlie Smith, Jordan Howse, Billy Melenhorst, Miles Tyson, Ben Melenhorst, Samantha Shaw, JP Rosevaar, Danny Benedict, Jake Watson, Terry Woodley, Justin Holmes, Kendra Adams, Ryan Toon, Gerrit Tiemersma, Richard Butler and Randi Seguin.