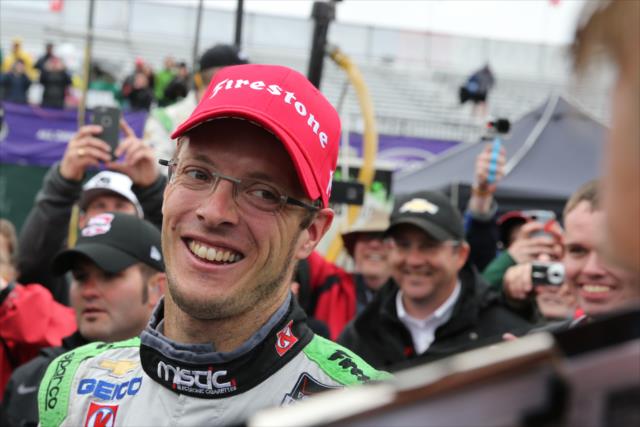 Conditions that affected the action on Saturday, certainly played a role on Sunday in the second leg of the Chevrolet Duel In Detroit, as multiple caution flags in the late stages of the 68-lap event allowed KV Racing Technology's Sebastien Bourdais to extend what started as a seemingly hopeless fuel mileage gamble into his first win of the 2015 Verizon IndyCar Series season, becoming the seventh different driver to win this season.
With the starting grid Sunday set by points after qualifying was rained out, it looked like yet another opportunity for Team Penske to claim a victory in what is essentially their home event. However, despite an early domination by Juan Pablo Montoya and Will Power, strategy calls would send the most likely chances for victory elsewhere.
One of those possible winners was Conor Daly, who led several laps due to getting excellent fuel mileage allotted by the wet track conditions. Daly, in his second race substituting for the injured James Hinchcliffe at Schmidt Peterson Motorsports, would go on to finish sixth on Sunday, giving him reason to possibly being retained by the squad for next weekend's event at Texas Motor Speedway.
Also looking to get into contention was Scott Dixon, however his chances were dashed when contact with his teammate Charlie Kimball put him into the barriers between turns three and four. After charging back after being on the least effective pit strategy, Will Power's hopes for a comeback to the top spot also went for naught as he was pinched into the wall by Dale Coyne Racing's Tristan Vautier. Power lost control and also collected teammate Helio Castroneves, who struggled all weekend in Detroit.
As the race began to draw closer to its maximum time limit, drivers continued to get desperate and cautions would quickly be displayed allowing Bourdais and others near the front a chance to save more fuel. One of those drivers was Montoya who moved up to second place, but would get caught napping on the next to last restart, getting passed by both Takuma Sato and Graham Rahal.
Eventually, the race would be declared a timed one after Power and Castroneves' crash forced IndyCar officials to display the red flag to allow for a green flag finish. When the race resumed with four minutes to go, Sato made one final run at Bourdais, but could not make the most of it. The Frenchman, now with fuel concerns eliminated began to steadily pull away from the pack and took the checkers 1.7 seconds ahead of Sato, with Rahal hanging on for third.
Despite his moment with Will Power, Tristan Vautier cleared Marco Andretti in turn three on the final lap to claim fourth place, with Andretti settling for fifth, thus becoming the only driver to place in the top five in both legs of the Detroit doubleheader this weekend.
After Daly in sixth, Jack Hawksworth made it two AJ Foyt Racing Hondas in the first seven places, with Ryan Hunter-Reay and rookie Gabby Chaves taking the next two places. Montoya, who was running fourth on the final restart, had to turn back his pace to ensure he had the necessary fuel to finish and settled for tenth, but still the Colombian managed to gain enough points to retake the points lead over teammate Will Power. The difference is 11 points heading to the Firestone 600 next Saturday night.
Carlos Munoz, who won the first leg of the Detroit doubleheader on Saturday, was the first retirement from the second race on Sunday, suffering an engine failure on the fifth lap.