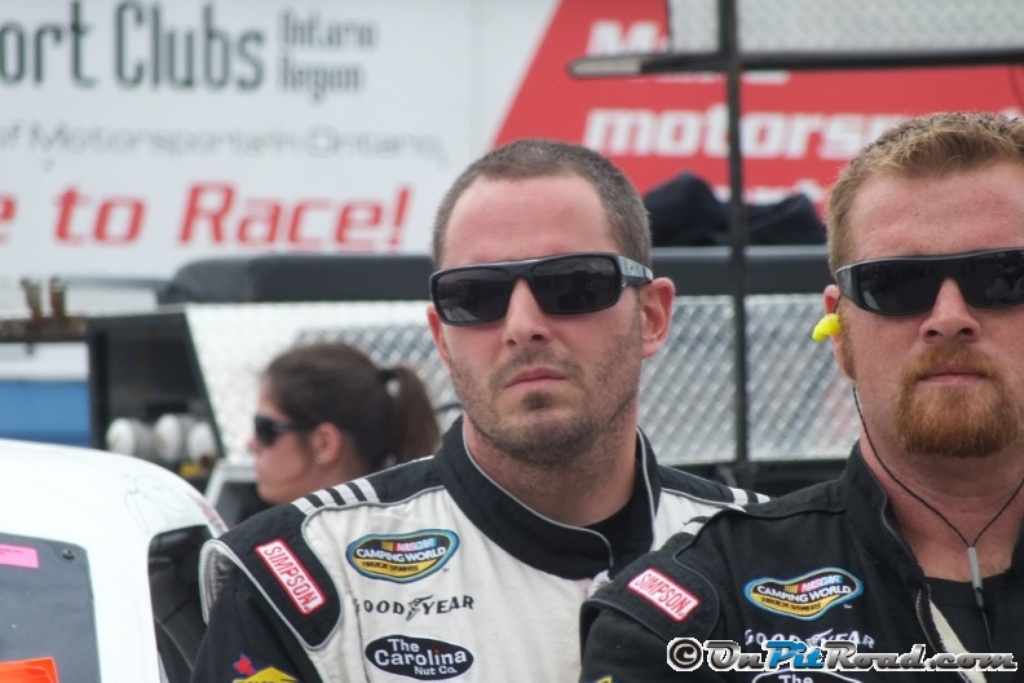 GMS Racing Announces 2016 NASCAR Camping World Truck Series Lineup
Richmond, Hensley and Stankiewicz to Lead Sauter, Gallagher and Enfinger In Title Hunt
STATESVILLE, N.C. (December 3, 2015) GMS Racing announced the addition of crew chiefs Marcus Richmond and Jeff Hensley for the 2016 NASCAR Camping World Truck Series (NCWTS) season, bolstering the previously announced signing of NCWTS driver Johnny Sauter to the Statesville, N.C.-based organization.
Richmond will serve as crew chief for Sauter, while Hensley will help with the development of Spencer Gallagher in his second full-time NCWTS season. Gallagher's former crew chief Jeff Stankiewicz will return to GMS Racing as crew chief for Grant Enfinger, who will pilot a third GMS Racing NCWTS entry.
"I can't explain how excited I am for the 2016 season and to get to work with Johnny Sauter and the rest of the GMS Racing team. This is a strong organization that has the ability to compete for a title," states Richmond, who joins GMS Racing after spending the previous two seasons at Red Horse Racing as crew chief for Timothy Peters. He contributes 10 years of experience as crew chief, including eight wins over 198 races.  I look forward to working with Jeff Hensley and Jeff Stankiewicz and building off of the experience we all have. We have three drivers that will be able to learn a lot from each other and contribute to the overall success of GMS Racing."
Hensley's crew chief experience spans 12 seasons and 283 races, 13 of which resulted in victories, and most recently served as crew chief at ThorSport Racing with drivers Johnny Sauter and Cameron Hayley. The Ridgeway, Va., native also spent 15 years as crew chief in the NASCAR XFINITY Series (427 races, 11 wins), following a four-year driving career.
"The chance to come aboard at GMS Racing is a great opportunity for me in 2016. I've been fortunate to work with a lot of great drivers and teams in this series, and to be a part of GMS Racing's growth is exciting. I'm looking forward to working with Spencer," says Hensley. "He's a kid with raw speed, and with a year under his belt, I think we can contend for race wins next season and make him a weekly contender. We have the tools here at GMS Racing to put a successful season together and be a contending team on a weekly basis."
The ARCA Racing Series presented by Menards championship duo from 2015 will be kept intact as Stankiewicz and Enfinger elevate their partnership to the next level. Since establishing an undisputed rapport throughout 2015, Stankiewicz looks forward to transferring that level of performance to the NCWTS with his new teammates.
"GMS Racing has put together a great lineup for 2016," says Stankiewicz. "I'm happy that Grant Enfinger will have the opportunity to show his talent in the NASCAR Camping World Truck Series. He's incredibly focused and such a hard worker, and having teammates that can provide guidance and support will help him develop into an even better driver. With Johnny Sauter joining the team, he knows what it takes to win and will contribute a great deal to the development of our program. We had a solid 2015 with strong finishes, a couple of pole awards and a win. It's time for us to build on that and we'll be able to do so with the help of Marcus (Richmond) and Jeff (Hensley)."
The announced driver / crew chief combinations have GMS Racing positioned to continue the growth from 2015 and continue the organization's progression into a championship contender.