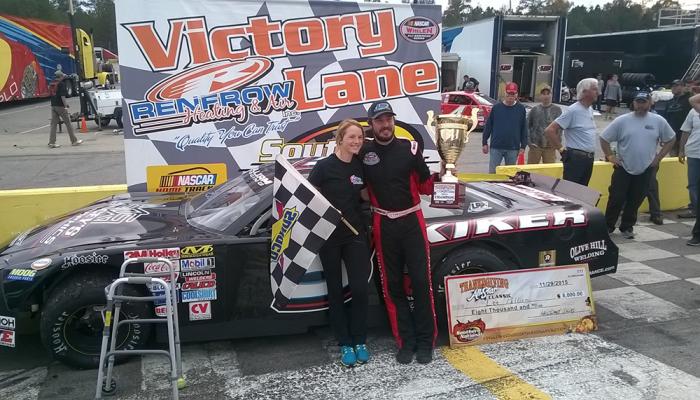 Emotional Finish To Third Whelen All-American Title
DAYTONA BEACH, Fla. — Lee Pulliam capped his remarkable season with an equally remarkable victory.
The three-time NASCAR Whelen All-American Series Division I national champion pulled into Victory Lane last Sunday at Southern National Motorsports Park in Kenly, North Carolina, after an emotional week.
The stars were aligned for a storybook finish in the Thanksgiving All-Star Classic at Southern National on Nov. 29. Just three days earlier — on Thanksgiving Day — his wife, LeAnne, was injured in an accident on her way to work. Pulliam, who had never won the Classic, was not even going to race.
Until LeAnne told him to go.
"She's awesome," Pulliam said in Victory Lane after the race. "Her leg broke completely in half three days ago and, to be here, on that walker, it's unbelievable. She gave me inspiration. We weren't even going to run it. I can't thank God enough, I am so blessed. Not only to drive this racecar but to still have my wife by my side. It's just awesome. We've come so close, so many times. Had the dominant car here and things kept happening. Finally got it done."
The non-points victory on Sunday, which ended up being Pulliam's 30th of the year, was one of the most memorable of his career. Despite the injuries LeAnne received, she was at the track to cheer him on and by his side in victory lane.
"Thursday was kind of a long and exciting day," LeAnne Pulliam said on Sunday. "He wasn't going to come race and I told him that he better come race so, I had to spend the night in the hospital Thursday night. Friday, he came and practiced. He wasn't P1. I told him to go home and make it faster. He came back on Saturday and was P1. He just knew from then on, he better bring it home for the win."
The 27-year-old driver from Semora, North Carolina had another headline year in 2015, scoring wins at six different tracks – Caraway Speedway in Sophia, North Carolina; Kingsport Speedway in Tennessee; Langley Speedway in Radford, Motor Mile Speedway in Radford and South Boston Speedway in Virginia; and Southern National.
While Pulliam came away with the championship, it was never a certainty until he officially got the phone call from NASCAR.
In the mid-summer months, he was trailing behind Oklahoma's Thomas Tillison Jr. and Connecticut's Keith Rocco. His fortunes changed when he scored a victory in the midseason Hampton Heat 200 at Langley on July 25. It was another race he hadn't won prior to 2015.
"We just had a phenomenal last two months of the year, and won some big races," Pulliam remarked. "Starting out with the Hampton Heat, and we just built momentum from there. That's just been great, man. I've been blessed and just proud to drive for Travis and Eddie Kiker and God has blessed me immensely."
Another big victory for Pulliam came at Kingsport, a track that has frustrated him, on August 28.
"That was huge. That place is totally different. They run on old spec shocks, it's pretty crazy. It's a totally different animal up there. so it was really special for us to get the win there. To beat Kres VanDyke wheel-to-wheel by a couple of feet made it even better."
Pulliam essentially sealed the deal on his third championship to confirm his modern day dynasty when he swept twin races at Southern National on Sept. 13 after thrilling battles with Raleigh, North Carolina's Bradley McCaskill and third generation racer Kate Dallenbach.
"There's just so many different combinations, and it's hard to have the best one when there's so many," Pulliam said. "We had a good one tonight, and it all worked out. The 7 car (Bradley McCaskill), he had a really strong engine combination. If he could get it a little better through the corner, he would have been tough to beat. [Dallenbach] did a great job. She raced hard. That's what it's all about. She didn't give us anything, we didn't give her anything. Just good, hard racing."
Pulliam ended the season with the track championship at Motor Mile and the NASCAR Whelen All-American Series Virginia championship.
Pulliam's third national championship put him next to childhood heroes Larry Phillips and Philip Morris as drivers who have won three or more NASCAR Whelen All-American Series national championships.
"It's an unbelievable feeling. Growing up, watching Larry Philips and Philip Morris win multiple championships, and to be on that list with those guys is an unbelievable feeling."
Along with winning the national championship as a driver, he also won a championship as a car owner with Julia Landauer winning the Limited Sportsman championship at Motor Mile Speedway.
Earlier in the year, Lee Pulliam had a grandstand section at Virginia's South Boston Speedway named after him. He stands with South Boston track operator Cathy Rice. James Price/South Boston Speedway