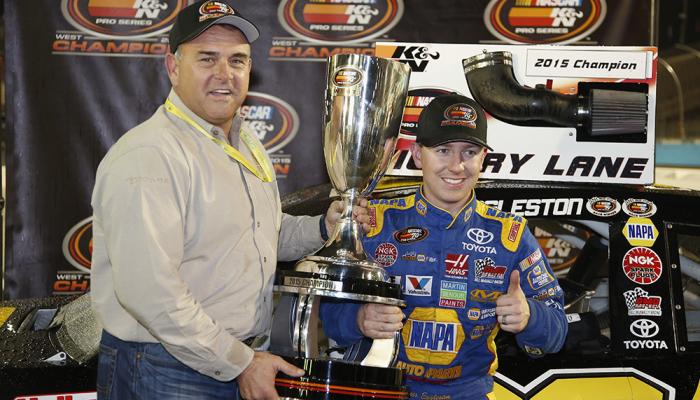 Eggleston Wins Championship Battle; Rookie Talent Emerges
DAYTONA BEACH, Fla. – Chris Eggleston emerged as the 2015 NASCAR K&N Pro Series West champion after battling for the top spot all season long.
The 26-year-old from Erie, Colorado, collected the trophy at Arizona's Phoenix International Raceway, after a season-long battle in which he held the top spot in the series' standings seven different times. Eggleston earned his first NASCAR championship trophy after recording two wins, nine top-five and 11 top-10 finishes in his first full season competing in the K&N Pro West.
But Eggleston wasn't the only star to emerge this season.
Jefferson Pitts Racing teammates, Noah Gragson and Gracin Raz, burst into the series with strong rookie campaigns and that saw their first NASCAR victories. Ryan Partridge was also a force to be reckoned with earning his first K&N Pro West victory in his transition from the NASCAR Whelen All-American Series.
Twenty different drivers earned a top-five finish and 15 of those finishes were produced by rookies.
Top Driver
Chris Eggleston: Eggleston had an impressive debut in 2014, winning his first NASCAR victory at his home track, Colorado National Speedway, which propelled him into a full-time ride with Bill McAnally Racing this season. Eggleston had a great start to his season with a fifth-place finish at the season opener at California's Kern County Raceway Park. He kept his groove going and in just his second start of the season, at Irwindale Speedway, he earned his first victory of the season. In his first five starts of the season, Eggleston registered two wins, four top fives and five top 10s. By the time the season reach its halfway mark, Eggleston was in a back-and-forth battle for first place with Noah Gragson. For the season, Eggleston lead a total of 135 laps and was also the only driver in the series to complete all 1,902 laps. Eggleston plans to return to BMR in 2016 to defend his title.
WATCH: CHRIS EGGLESTON CHAMPION PROFILE | CHRIS EGGLESTON AWARDS SPEECH
Noah Gragson (Honorable Mention): The 17-year-old from Las Vegas, Nevada, led the 2015 Sunoco Rookie of the Year battle all season long and came up seven points shy of the championship title. Gragson had a fantastic series debut at Kern with a third place finish and two starts later, he earned his first NASCAR victory at Arizona's Tucson Speedway after leading 23 laps. Gragson earned his second win of the year at Idaho's Meridian Speedway were he lead 176 out of 208 laps. Between his two victories, he recorded four top-five finishes. Gragson finished the season with two victories, seven top fives and 11 top 10s as well as one 21 Means 21 Pole Award presented by Coors Light.
Top Team
Jefferson Pitts Racing: In their inaugural season, Jefferson Pitts Racing fielded three full-time cars that finished runner-up and fourth in the series standings and a fourth place finish in the final owner standings. The collected a total of four wins, 20 top fives and 31 top 10s in 13 starts. Their most impressive showing of the year was when Noah Gragson, Gracin Raz and Dustin Ash finished 1-2-3 at Tucson. The team formed last season, when veteran driver Greg Pursley retired. Jeff Jefferson and Jerry Pitts, two veteran crew chiefs in the K&N West, bought Pursley's Gene Price Motorsports equipment to form their breakout team. The Jefferson Pitts Racing team will be back will return in 2016, with Gragson and Raz, piloting two of their cars to contend for the 2016 championship title.
Bill McAnally Racing (Honorable Mention): In their 25th season in the NASCAR K&N Pro Series West, Bill McAnally Racing had quite the run. BMR earned five victories 16 top fives and 23 top 10s and the most important win of all: the championship title. Chris Eggleston brought home the title and victories at Irwindale and California's Shasta Speedway. While, Brandon McReynolds became the first driver to earn sweep and earn multiple wins at Iowa Speedway and Todd Gilliland became the youngest winner in series' history with his victory at Phoenix. BMR recently announced Eggleston will return to defend his title in 2016, along with newcomers Gilliland and Riley Herbst.

Ryan Partridge collected his first career NASCAR K&N Pro Series West victory at Colorado National Speedway in August. Getty Images for NASCAR

Top Breakthrough Performance
Ryan Partridge: The Rancho Cucamonga, California, native, started the season with a lackluster 17th place finish at Kern. The 27-year-old Partridge, however, bounced back and in the next nine races he earned his first NASCAR victory at Colorado National Speedway, six top-five and nine top-10 finishes. Partridge sat atop the standings for the first time after third race and led the standings again after the series' trip to Colorado National Speedway. The Sunrise Ford Racing driver completed 1,899 laps of 1,902 and led a total of 321 laps, the series high. Partridge finished third in the final standings with one win, six top fives and 10 top 10s.
Gracin Raz (Honorable Mention): The 18-year-old from Lake Oswego, Oregon, finished fourth in the K&N West final standings. Raz had a breakout season, compiling one win, six top-five and 11 top-10 finishes. He won his first NASCAR victory at California's All-American Speedway to clinch a contender spot headed into the finale at Phoenix. He started the season with a sixth place showing at Kern and recorded three top fives and four top 10s in the next four races. After finishing outside the top 10 at Sonoma, Raz put together and impressive closing run with his win, three top fives and six top 10s leading into Phoenix.
Top Races
Toyota/NAPA Auto Parts 150 presented by Axle Crutch, All American Speedway, Oct. 17: Raz executed a last-lap pass to score his first career win. Raz started third on a green-white-checkered finish to pass Chris Eggleston on the first lap and Alex Schutte on the final laps as a late caution pushed the race to 152 laps. Raz entered the race 16 points behind teammate, Noah Gragson, but Gragson spun after contact with Eggleston while battling for the lead with Schutte late in the race to end up late. The turn of events cost Gragson the points lead, as Eggleston came home third to take over the top spot. His win also propelled Raz into championship contention to sit just nine points back from Eggleston headed into Phoenix. Raz also earned a page in the history books, becoming the third consecutive driver to score their first career win on the .333-mile oval.
King Taco Catering/NAPA Auto Parts 150, Irwindale Speedway, Apr. 11: In the second race of the season, Chris Eggleston took the lead from Ryan Partridge with six laps remaining en route to his second career NASCAR K&N Pro Series West victory, his first of the 2015 season. His win gave BMR its 10th win among six drivers at the progressive-banked half-mile oval. A late-race caution set up Eggleston's winning move on the Lap 144 restart. Sargeant followed Eggleston into second in a bid for his second straight series win but couldn't close the ground. Sargeant lost the runner-up spot to Nicole Behar on the final lap, after a creative bump and pass move by Behar. Her runner-up finish set the mark to become the highest finishing female in series history.
Gracin Raz (27) nudged past Alex Schutte at the line to win his fist NASCAR K&N Pro Series West win at All American Speedway. Getty Images for NASCAR