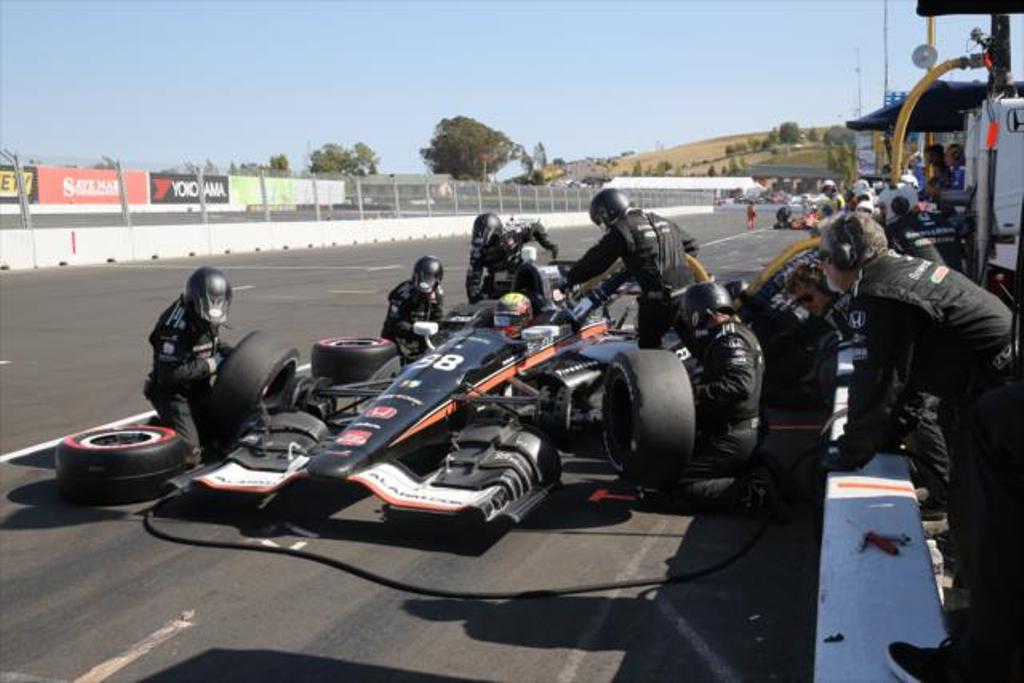 Money is tough to come by currently in the Verizon IndyCar Series, however sometimes it turns out that in the worst of circumstances, even your biggest rivals can turn out to be your number one adversary. In the case of Bryan Herta Autosport, they will find themselves on a more secure base when the 2016 season opens on the streets of St. Petersburg, Florida, thanks to a former teammate from the Californian's driving days.
Herta, a former IndyCar Series regular and a full time car owner on the circuit since the 2012 season, announced on Wednesday that he has formed an alliance with Michael Andretti's Andretti Autosport multi-car operation for the upcoming campaign. Andretti will provide Herta with cars, engines, and technical support, as well as funding in terms of sponsorship money. Herta's squad, which fields teams in both IndyCar and the Global RallyCross Championship, has struggled with funding in years past, normally offering the seats to those who bring extra funding to the situation at hand.
Herta and Andretti's ties ran long and deep in terms of IndyCar racing history. The two ran as teammates in the Indianapolis 500 in 2006, with Herta running full time for the 1991 IndyCar champion from mid-2003 through 2006. Herta finished in the top four twice in the Indy 500 and won at Kansas Speedway in 2003 and at Michigan International Speedway in 2005. Bryan Herta Autosport has been in existence since 2009, earning their biggest win in the 2011 Indy 500 with the late Dan Wheldon.
As reported by OnPitRoad.com in our second IndyCar silly season update last month, after having been reportedly in talks with 2015 Indy Lights Championship runner-up Jack Harvey, it appeared that the team was committed to returning with 2015 Indianapolis 500 rookie of the year Gabby Chaves behind the wheel. However, it this time that Chaves is indeed out of play in terms of keeping the full time seat, even though Herta stated on Wednesday that he is still hopeful of retaining the Colombian prospect in some form for 2016. The best possibility of that occurring however, appears to be in the form of an Indy 500-only ride, something Herta mentioned "was a goal" for the team in 2016.
In terms of who could claim the Andretti-Herta seat for the 2016 IndyCar season, three notable names have surfaced. The first driver mentioned was IndyCar Series veteran J.R. Hildebrand, who has appeared in the last two Indianapolis 500s for Ed Carpenter Racing. Hildebrand's chances of returning to that role for a third straight year however, may have taken a hit following the loss of funding from former co-owner Wink Hartman this past month. Prior to the Carpenter efforts, Hildebrand spent a year and a half with the now defunct Panther Racing squad, including his memorable near miss in the 2011 Indianapolis 500 when he hit the wall in turn four on the final lap while leading. Hildebrand has been sponsored by Preferred Freezer Services in his pair of Indy 500 efforts with Carpenter, however it is unknown if the brand is part of the funding that he will have to offer Andretti-Herta in terms of this seat.
Also in the running for the ride according to reports are two drivers from the world of Formula One. One of them is Venezuela's Pastor Maldonado, who spent five seasons in racing's top circuit driving for both Williams and Lotus. Maldonado won the 2012 Spanish Grand Prix at the Catalunya Circuit in Barcelona, but only managed a career best placing of 14th on the points table last season. Although well backed by Venezuelan supporters recently, the money has dried up recently yet the funds may still be out there to secure a ride in IndyCar. However, his personal sponsor PDVSA has some history in the IndyCar Series having backed fellow Venezuela natives E.J. Viso and Milka Duno.
The other Formula One tied driver is former test and reserve runner Alexander Rossi from Nevada City, California. After spending four seasons as a reserve driver for both the Caterham and Marussia squads, the young prospect finally made his race debut for Manor F1 this past fall in the Singapore Grand Prix night race. Rossi made four other starts for Manor late last season, with a best result of 12th place earned in the United States Grand Prix at Circuit of the Americas in Austin, Texas. Rossi was in the rumor mill for a potential seat in the Verizon IndyCar Series last year, however a deal to join Dale Coyne Racing failed to come to fruition.
Stay tuned to OnPitRoad.com for further information on this developing story.