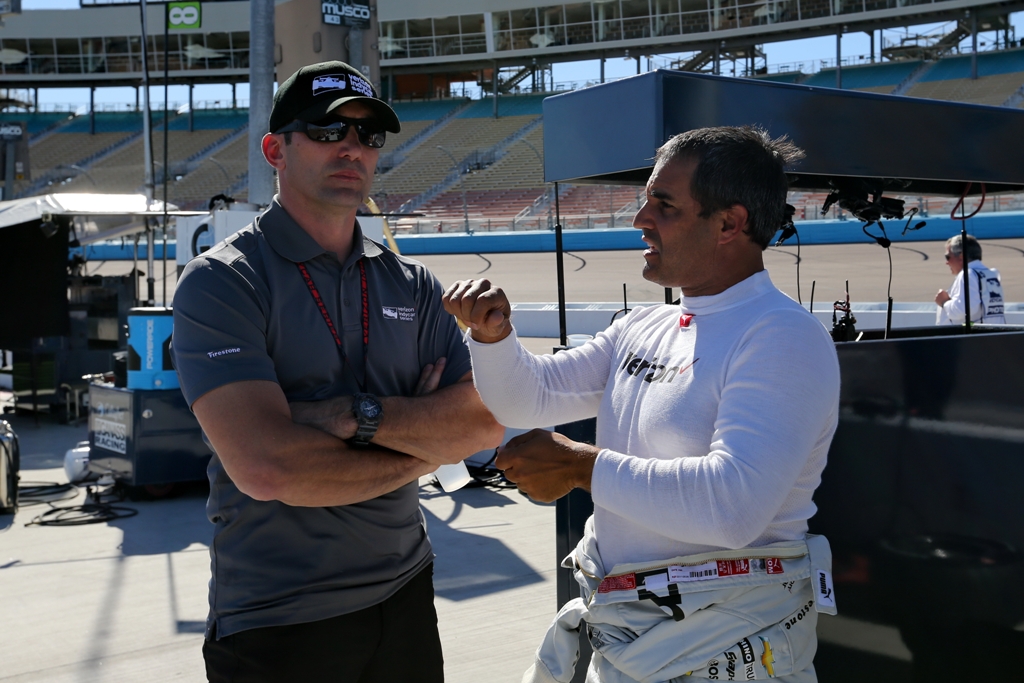 At first glance, the race officiating crew for the Verizon IndyCar Series appears largely unchanged entering the 2016 campaign. In part yes, since Brian Barnhart returns as race director, a role he held since the IndyCar circuit had switched to an in-house officiating staff after severing ties with the United States Auto Club in the summer of 1997. It was a role Barnhart held up until 2012, when Beaux Barfield took over for three seasons. Barnhart regained the role again in 2015 and despite some apprehension from fans prior to the start of the year, the season largely went without major incident in terms of questionable calls, a common complaint against the former IndyCar chief mechanic during his initial tenure.
While the race director role has remained pretty much stagnant over the history of the current IndyCar sanctioning body, the behind the scenes staff has been a lottery of change. 2016 is no different, however this time the new staff seems on paper at least, as the most experienced that the sport has had to offer behind Barnhart in years, if not ever. The new three-member staff features two-time Indianapolis 500 winner Arie Luyendyk, two-time Indy 500 starter and eight year ChampCar World Series veteran Max Papis, and former Ford Motor Company racing boss Dan Davis.
According to IndyCar CEO Mark Miles, a kind of dream team of officiating has been created.
"Part of the rationale for going to the steward system is we want Brian to be able to focus on producing the race and not be distracted by thinking about whether there were penalties, and if there were infractions, what the penalties ought to be." explained Miles Friday during IndyCar's Test in the West at Phoenix International Raceway.
The additions in Race Control appear for now to be taken well by teams and drivers alike, with Luyendyk perhaps one of the top IndyCar oval racers in the sport's history and Papis, who was competitive on both road courses and ovals.
"The first thing is to make sure we had a strong, credible, experienced driver mentality, racing mentality in Race Control," said Miles on Friday. "With Max and Arie, we have incredible credibility."
In the role of chief steward is Davis, who also knows the game well, having led Ford Racing during its major tenure as an open wheel racing engine supplier. However, he also will have big shoes to fill in terms of the former dignitaries who have held the role in open wheel racing over the years, including Tom Binford, the chief steward of the Indianapolis 500 for 23 years and long time CART chief steward Wally Dallenbach.
"With Dan Davis as chief steward, we have somebody who has been so important to the sport in various series for so long." said Miles. "As chief steward, he is a steward. He will, along with the other two guys, participate one vote each on any decision that's being made about an infraction or a penalty."
The three hirings in the eyes of most appear to a vote of confidence for new IndyCar President of Competition and Operations Jay Frye, who took over the position in November.
Papis, who also has experience in Formula One and sports car racing, seems eager to begin his new role in the sport of open wheel racing.
"I feel that obviously I've always been on the other side. I'm still on the other side. I'm still a race car driver." admitted Papis on Friday. "But it's a set of eyes that really can determine if things are done – for which reasons things are happening on the track is going to make a really big difference."
First impressions also seem to indicate that the Italian will mesh well in his officiating role alongside Luyendyk and Davis.
"Dan has been a tremendous supporter of my career and the sport in general. We won together my first-ever Indy car race back in the days." said Papis. "Arie Luyendyk, the guy, he's a legend. I really feel that the consistency of having the three same people at the track, it's basically what is going to make a lot of difference."
Davis, who has been in the racing industry for nearly 40 years, also appears to have a burst of energy in terms of his new duties likewise.
"I will tell you things that are so important to me, are honesty, integrity and fairness." said Davis on Friday. " If you don't have integrity, you don't have anything. That is what we're going to bring to the stewardship. I think it's important and that's what we're going to do."
In addition to the appointments of Luyendyk (who was unavailable for comment on Friday), Davis, and Papis, Jay Frye also added former Dale Coyne Racing chief engineer Bill Pappas, as IndyCar's new vice president of competition and race engineering.
"We had an opportunity to make the league better, stronger, and we are really excited about what we have been able to accomplish this week." said Frye.
While the ultimate judge of how this new triumvirate behind Brian Barnhart fares will be put to the test when the season opens next month in St. Petersburg, Florida, it appears that the IndyCar Series is starting to make the best of what is in the eyes of most, a less than desirable position for the current state of the sport. Whether that outlook improves with this group or not, remains to be seen.