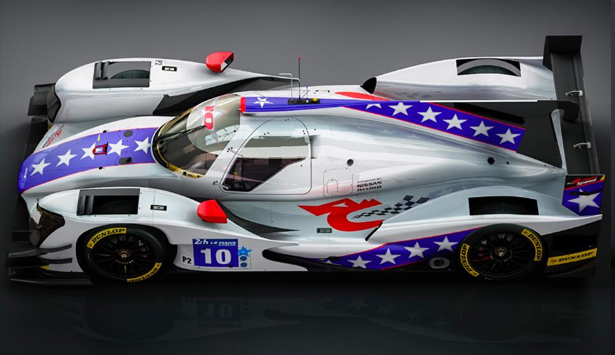 For those of you who were around in North America during the late 1960s and early 1970s, you may remember legendary Muppets voice artist Frank Oz, inside a red dragon costume topped off with a chef's hat proclaiming, "La Choy chow mein is quick cooked by me in DRAGON FIRE!" Well, using that throwback moniker to prove a point, another Dragon-named team could potentially challenge the regulars in its very first race in North America in two weeks time, without spouting fire of course.
After coming within a tenth of a second of the fastest overall time set during two days of testing at Sebring Intenational Raceway this past week, Elton Julian's DragonSpeed outfit is a legitimate threat to win the Mobil 1 12 Hours of Sebring, a race meeting that will feature the debut in North America of the impressively quick Hugues de Chaunac-built ORECA 05 coupe, coupled with a 4.5 liter Nissan V-8 engine. This same package crushed the competition last summer at Circuit de la Sarthe in the 83rd edition of the 24 Hours of Le Mans and in the hands of the same KC Motorsport Group squad that won the French enduro, also finished second in the  2015 LMP-2 team championship in the FIA World Endurance Championship as well.
As least five of these quick prototypes will be track side this year at La Sarthe and if DragonSpeed is added to the field (they are currently the eighth alternate on the Le Mans reserve list), that would make six in what is currently a 22-car field in the LMP-2 division. Of course, most sports car experts will tell you that despite the half distance in terms of time, the Mobil 1 12 Hours of Sebring is the toughest test in endurance sports car racing. The 3.7 mile circuit features a mix of asphalt and concrete, coupled with its infamous bumps that will expose any weakness a car has and as was the case last year in multiple situations, send even the most experienced of drivers into the barriers and out of the race.
The driving team that Julian, a former sports car racer and Formula One tester himself, has assembled for the second round of the 2016 IMSA WeatherTech SportsCar Championship and the North American Endurance Cup are no certainly no strangers to challenging track conditions. Nicolas Minassian drove for Peugeot Sport's factory diesel LMP-1 team in four Sebring 12 Hour races, while fellow Frenchmen Nicolas Lapierre was a member of the same KCMG LMP-2 team that won Le Mans a season ago. Sweden's Henrik Hedman is a newcomer to prototype racing, but has proven himself worthy of this effort in the lower levels of sports car competition.
The opposition in IMSA's prototype division however, will keep Julian's team honest in two weeks time. Michael Shank Racing's Honda-powered Ligier coupe topped the timing charts during the Sebring open test and will look to put its recent run of bad luck in the major enduros to a close. Last year, MSR's race ended after one hour when lead pilot Oswaldo Negri crashed out of the race after he misjudged a pass on a slower GT back marker. 2016 has not started much better for the Ohio-based team as MSR dropped out of the Rolex 24 at Daytona in January due to engine failure before half distance.
Fellow Ligier coupe runners Tequila Patron ESM, will also look to put back to back misfortune filled efforts at Sebring to rest, as they attempt to back-up their overall victory at Daytona. Lead driver Pipo Derani, who stole the show in the Rolex 24, will be called upon to lead the charge again. Also the quartet of Chevrolet Corvette DPs cannot be ignored, as Action Express Racing seeks to defend its overall victory last year in this event. Wayne Taylor Racing and Visitflorida.com Racing also figure to challenge for victory likewise in two weeks.
Stay tuned to OnPitRoad.com for further information on the lead up to the 2016 running of the Mobil 1 12 Hours of Sebring.