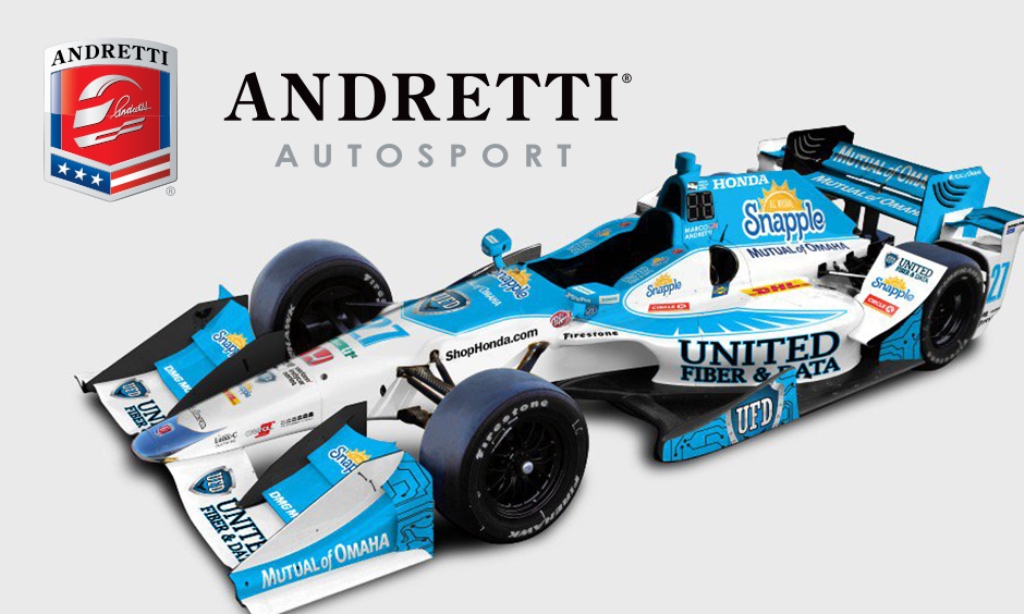 A familiar sponsor to current IndyCar fans will once again be featured on Andretti Autosport's most followed entry in four races this season, including this weekend's Phoenix Grand Prix, the first major event for open wheel cars in the state of Arizona since 2005. United Fiber and Data, a provider of fiber networking and broadband solutions, will sponsor Marco Andretti's No. 27 Honda at Phoenix, Long Beach, Pocono, and IndyCar's inaugural event on the streets of Boston in the 2016 Verizon IndyCar Series season. This will be the third year in which UFD has supported Andretti Autosport, serving as an associate sponsor for Marco Andretti in 2013 and as the primary full time sponsor for former Andretti Autosport driver James Hinchcliffe in 2014. With UFD on the side of his car, the Canadian veteran managed to qualify second for the Indianapolis 500 that year, just being narrowly outrun by eventual pole winner Ed Carpenter.
For 2016, the light blue and white livery featured on Hinchcliffe's car two years ago will be placed on Marco Andretti's entry with regular full time sponsor Snapple beverages also featured prominently on the Dallara-Honda machine. H&H Gregg's home furnishings store chain was announced as another sponsor for Andretti earlier this year. In addition to backing Andretti, UFD will also serve as an associate sponsor for Andretti Autosport teammate Ryan Hunter-Reay's No. 28 DHL Honda entry. With support from UFD in 2014, Hunter-Reay won three races, including the Indianapolis 500.
"We're really pleased to see United Fiber & Data continue to grow as they return to IndyCar racing," said team owner Michael Andretti earlier this week. "While the UFD colors were not on the cars in 2015, we've remained close friends with a solid partnership. I'd like to thank the entire UFD family for their continued support and look forward to seeing the No. 27 United Fiber & Data / Snapple car on track in Phoenix."
Based on the reaction of UFD founder and CEO Bill Hynes, the sport of IndyCar racing and his company's targets in the broadband industry make being a sponsor for Andretti Autosport a natural match-up.
"Unmatched speed, strategy, and technology…these qualities are synonymous with Andretti Autosport and IndyCar, and they are equally integral to United Fiber & Data's (UFD) fiber communications network." said Hynes. "Our sponsorship support for Andretti Autosport is symbolic of the relationships that connect UFD to our clients and technology partners. That's why this partnership means so much to us, and we're excited to see the familiar colors of the UFD livery as we return as a primary sponsor for select IndyCar races across the country."
While none of Andretti Autosport's four full time drivers for 2016 have ever raced at Phoenix International Raceway, the team has earned two victories at the one mile oval in 2003 and 2004. Both UFD-backed drivers have won at the one-mile Iowa Speedway oval in recent years however. Marco Andretti earned the victory at Iowa in 2011, while teammate Hunter-Reay has won three of the last four races at Iowa. In addition to his Iowa success, Hunter-Reay also has three additional one-mile oval race wins at the Milwaukee Mile, which was removed from the IndyCar schedule after the 2015 season.
Stay tuned to OnPitRoad.com for further news and updates from the Verizon IndyCar Series.