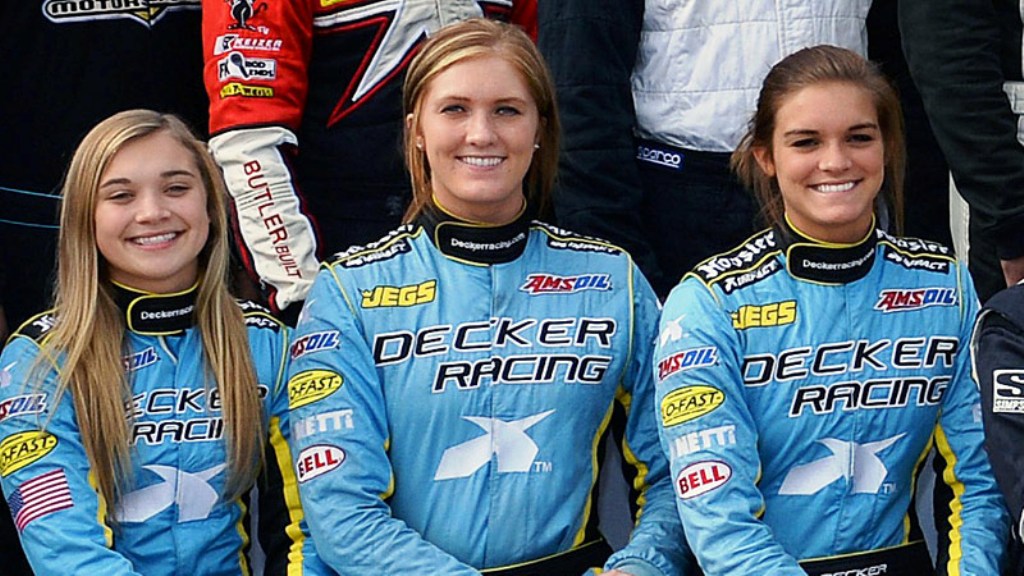 For the first time since Martinsville in 2010, two sisters will attempt a NASCAR Camping World Truck Series race together. Claire Decker will attempt to make her series debut driving for Jennifer Jo Cobb, with her sister Paige and cousin Natalie all attempting the race as well. Two sisters and a cousin attempting the same race will be a first in NASCAR this weekend.
It will be the debut race for both Claire and Natalie, and second for Paige, who qualified for last year's fall race at Martinsville finishing 30th. Claire told OnPitRoad.com that she will rely on Paige's experience at Martinsville to learn the track.
"I mainly just talked to my sister. She's helping me the most," said Claire. "She's helping me figure out my lines, my braking points and gas points. I'm relying on her to help me figure out the track."
Although she's never raced at Martinsville before, Claire has done a lot of short-track racing in the Midwest. In 2014 she won the "Trickle 99", a super late model race celebrating the late Dick Trickle. It was her first super late model win, and it came in her homestate of Wisconsin.
Saturday will also be Natalie Decker's Martinsville debut. Earlier this year, Natalie was announced as a Drive for Diversity driver in the Whelen All-American Series. She'll drive for NTS Motorsports in the No. 14 truck, saying she is both "excited and nervous." Scott Lagasse, Jr. drove the No. 14 to a ninth-place finish at Daytona in February.
"I hope to learn a lot on and off track," Natalie said. "I am super thankful for this opportunity to be able to show my abilities and join an elite class of drivers."
Claire's debut will come driving for Jennifer Jo Cobb. Cobb has been a team owner and driver in the Truck Series since 2010. She has amassed more than 100 series starts, and normally attempts every race, but a television opportunity that has since fallen through put Claire in the truck. The team she'll be driving for finished 29th at Atlanta and missed the show at Daytona.
"My goal (for the weekend) is to get seat time," she said. "I talked to Jennifer (Jo Cobb), and we know we don't have a top-5 or 10 car. We just want to make the show, and I want to gain experience."
With 39 trucks on the entry list, seven drivers will go home, making it a difficult race to qualify. Despite the pressures, Claire remains optimistic about the weekend.
"I'm very excited," Claire said. "I've never done anything like this, and the Truck deal is gonna be fun."