VICS: 2016 Indy 500 Grid-a-tology, Version 1.0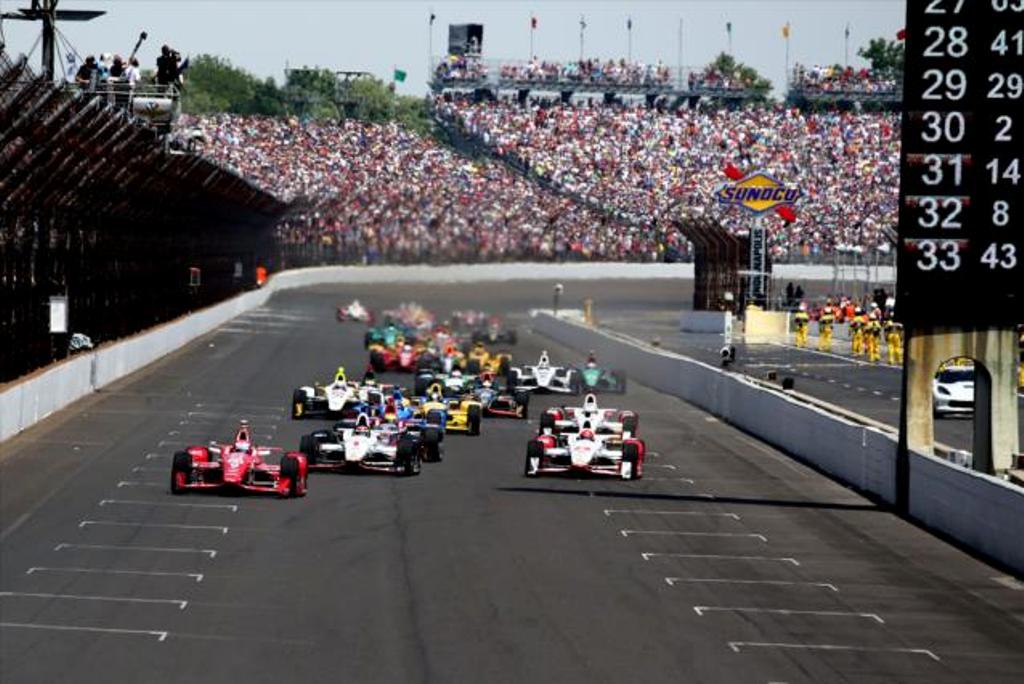 Disclaimer: Views and opinions expressed in this article are those of the author and may not reflect the views of other personnel at OnPitRoad.com.
It is that time of the year again IndyCar fans. With the countdown clocks provided to the media last year after the checkered flag fell on race day, down to just sixty days till the milestone 100th running of the Indianapolis 500, presented by PennGrade Motor Oil, now is a good time to look ahead to what could happen at a newly revamped Indianapolis Motor Speedway. With Project 100 nearing completion, the track should produce quick speeds and if the concern about cars flipping whilst in reverse proves to be lessened, a run at the speed records set in 1996 by Arie Luyendyk could once again be in the cards.
Of course another question in play is whether or not Chevrolet will have a decided advantage in terms of controlling the scenarios upfront, or will Honda find a way to breakthrough in 2016? Also on the cards will be whether a third team is able to join the conversation for victory in the 100th running of the Greatest Spectacle in Racing, as last year's pulsating event became a cutthroat duel between the sport's ultra heavyweights: Team Penske versus Chip Ganassi Racing. So with that in play and with almost a full field of car and driver combinations almost set in stone, let us project our initial Indy 500 Grid-a-tology list for 2016 shall we?
Keep in mind, until the full field is set projected, the unconfirmed drivers for this grid forecast will be listed in parentheses. All confirmed driver and sponsor information is accurate as of Wednesday, March 30, 2016.
FRONT ROW
Will Power, No. 12 Verizon Wireless Chevrolet, Team Penske: The concussion-like symptoms now fully behind him, expect the Australian to make a major challenge for his first Indianapolis 500 pole position during the month of May. Roger Penske always brings his A-Game to the Brickyard and in addition to his 16 race wins, he also has garnered double digits in terms of pole positions. If Power cannot breakthrough into the winner's circle on Memorial Day weekend, a pole the week before should be a more solid bet.
Scott Dixon, No. 9 Target Chevrolet, Chip Ganassi Racing: The 2008 Indy 500 winner run away with the pole position last year, a position that was put in less doubt after INDYCAR clamped down on the speeds following Ed Carpenter's massive turn two crash in the pre-qualifying morning warm-up. Assuming Chevrolet does not lose its current edge over Honda, expect Dixon to lead what could be as least a two, or if not three car CGR presence in the pole day shootout.
Helio Castroneves, No. 3 Pennzoil Chevrolet, Team Penske: Spiderman's bagged the Indy 500 Pole Award four times, all with Penske. Only team adviser Rick Mears with six has won more. Tough to judge Helio's mindset as he has been largely hit or miss in time trial mode since earning his most recent pole in dominant fashion in 2010, when he had the field covered by over one mile per hour. Tough sell though to put him ahead of either Dixon or Power at this point.
ROW 2
Juan Pablo Montoya, No. 2 Verizon Wireless Chevrolet, Team Penske: The two-time and defending champion certainly has the race etiquette factor sewn up, but still he is not known as a particularly strong qualifier. Although he did qualify second as a rookie in 2000, the fact his Chip Ganassi Racing team was head and shoulders above the competition greatly contributed to that. In his two time trial showings for the Captain, he has wound up a stunningly low tenth in 2014 and fifteenth last year. 2016 will see an improvement, but probably not into the front row conversation.
Simon Pagenaud, No. 22 Menards Chevrolet, Team Penske: It was a decent first showing as a Penske driver at Indy for the Frenchman, as he qualified for the outside of the front row and was in contention upfront until the final quarter of the event when a broken front wing ended his challenge. Expect a slight drop in qualifying performance in 2016 for Pagenaud, but once again he should play a role in the race outcome at some point again this year.
Tony Kanaan, No. 10 NTT Data Chevrolet, Chip Ganassi Racing: Although the popular 2013 Indy 500 champion's pace has dwindled a bit at the other stops on the Verizon IndyCar Series circuit, he still a factor to contend with when the month of May arises. The Brazilian is always capable of putting a car in the first three rows if it is able. The 100th Indy 500 should continue his recent string of strong qualifying outings with both Ganassi and dating back to his days with Andretti Autosport, excluding his difficulties to qualify in 2010 of course.
ROW 3
Carlos Munoz, No. 26 PintPharma.com Honda, Andretti Autosport: If Honda continues to show a second fiddle-type pace against Chevrolet, a guy like the aggressive Colombian could be the one to fly the flag for HPD in qualifying mode. Munoz was the only driver from the Honda camp to top the charts in a practice session last year at Indy, and was the first driver to top 230 mph during the month. Although he is still widely criticized for his unusual line around the Speedway's four corners, remember he did qualify second for his first ever IndyCar race here in 2013.
Ed Carpenter, No. 20 Fuzzy's Vodka Chevrolet, Ed Carpenter Racing: The 2013 and 2014 Indy 500 pole sitter could have challenged for a record setting third straight pole last year, until he suffered a serious accident on the morning of the session. The fact that he still managed to qualify 12th in a backup car was all the more impressive. Even though the team is at least a couple steps behind Penske and Ganassi, a challenge for the front row is not impossible, yet not likely either at this point. A solid run this weekend at Phoenix though could bolster the chances for the three-car team however.
Marco Andretti, No. 27 Snapple Honda, Andretti Autosport: The Andretti Luck continues to plague the third-generation driver's hopes in terms of winning the race, yet despite question marks about the Honda engine and aero kit package, the 2006 Indy 500 Rookie of the Year could still challenge his teammate Munoz for the best among the Honda runners in qualifying. The question is whether or not a front running challenge in the race will be possible this year. If it is watch out.
ROW 4
Charlie Kimball, No. 83 Tresiba Chevrolet, Chip Ganassi Racing: Here is the potential third member of CGR to make the shootout for the pole position. The 31-year old from California for the first time proved capable of scoring big results on the super-speedways last year. In addition to his success at Indy last year, he also placed in the top ten at Texas and at Fontana. Now in his eighth year at CGR, it might be time for a move forward in qualifying performance.
Josef Newgarden, No. 21 Fuzzy's Vodka Chevrolet, Ed Carpenter Racing: Newgarden's effort in qualifying in 2014, when he sneaked into the pole day shootout session gives reason to believe that the Tennessee-native can challenge for a spot in the first three rows. Of course, how close he does get to the first three rows, will greatly depend on ECR's pace compared to the fastest Hondas most likely from Andretti Autosport.
Ryan Hunter-Reay, No. 28 DHL Honda, Andretti Autosport: The 2014 Indy 500 champion, put a car on the front row in 2012, but has also disappointed in years past in time trial mode. After just missing out on the shootout in pre-qualifying two years ago, he struggled in the consolation session and plummeted to a 19th-place starting spot. RHR didn't fare much better last year as he qualified 16th, but expect a slight gain this year.
ROW 5
James Hinchcliffe, No. 5 Arrow Electronics Honda, Schmidt Peterson Motorsports: The Mayor of Hinchtown managed two center of the front row qualifying efforts with Andretti Autosport in 2012 and 2014, but with SPM for his second year, the window of opportunity is closed a little bit tighter for Hinch at Indy in terms of qualifying. The accident he suffered post qualifying last year, should not influence his performance either way making his current projection within the realm of possibility.
J.R. Hildebrand, No. 6 Preferred Freezer Chevrolet, Ed Carpenter Racing: The 2011 Indy 500 runner-up has managed a top ten spot on the starting grid each of the last two years, but the going could get tougher this time around. Although ECR has managed to eek out three entries without the support of Wink Hartman, the performance of this third entry could be called into question. If Honda struggles, Hildebrand's value could rise, but if HPD improves their pace the value in turn could drop for Hildebrand, with several potential-filled resumes very close.
Sebastien Bourdais, No. 11 Hydroxycut Chevrolet, KV Racing: The Frenchmen has been largely a mid-pack qualifier at the Brickyard and has really never shown the pace to be considered a threat for a higher grid position. Despite this, the Chevrolet-powered entry still is capable of reaching a position such as this on qualifying weekend. Will be interesting to see if not having a teammate will boost his pace as he believes it will.
ROW 6
Townsend Bell, No. 29 Robert Graham Honda, Andretti Autosport: The Indy specialist provides one of the interesting stories on the qualifying tree. While Andretti's team provides Bell with perhaps the best ride of his career, his record in qualifying has been hit or miss. Bell was able to qualify fourth in 2011, but he has a knack for being unable to match the pace he shows in practice. For example, in 2014 he was one of the fastest cars in practice, but he only qualified 25th. For now, Grid-a-tology has split the difference in our first projection.
Graham Rahal, No. 15 Steak N' Shake Restaurants Honda, Rahal Letterman Lanigan Racing: Although the second-generation driver from Ohio qualified fourth in 2009, last year's California 500 winner has struggled for pace over the last few go-arounds in Indy 500 time trials. While last year's late race charge managed to net a fifth place finish at Indy, a mid-pack qualifying run may be the best case scenario for the world's fastest steakburger this year.
Mikhail Aleshin, No. 7 SMP Racing Honda, Schmidt Peterson Motorsports: The Russian second-year IndyCar entrant posted the fastest lap of the month at nearly 233 mph during 2014's month of May festivities, however do not expect Aleshin to out-qualify his SPM teammate James Hinchcliffe. Aleshin however, could be primed for a move up the list if Honda shows potential this weekend at Phoenix, stay tuned.
ROW 7
Takuma Sato, No. 14 ABC Supply Company Honda, AJ Foyt Racing: Despite nearly winning the Indy 500 in 2012, the Japanese ex-Formula One pilot has not been known as a consistently strong qualifier, at least on high speed ovals. A tenth place effort is the best time trial run to date on an Indy 500 starting grid for Sato and despite an aggressive run that tested the outside walls the past three years, he has qualified no better than 18th at Indy in his three years with Foyt, plus two efforts of 23rd or worse.
Sage Karam, No. 24 Gas Monkey Garage Chevrolet, Dreyer-Reinbold-Kingdom Racing: Despite being tagged by some experts as a possible high qualifier last year at Indy, the 21-year old Pennsylvanian managed only a 22nd-place effort. He also disappointed with DRKR in his rookie time trial run, winding up on the back row of the grid. Of course he managed to turn the latter result into a great race and a ninth-place finish. Despite the advantage of having a Chevrolet engine, the part-time nature of DRKR will make it difficult to qualify anywhere above mid-pack.
Max Chilton, No. 8 Gallagher Investments Chevrolet, Chip Ganassi Racing: While several of the 2016 Indy 500 Rookie of the Year candidates have rides with top teams, it is hard to expect a newcomer to join the ranks of the fastest drivers at a challenging circuit like the Indianapolis Motor Speedway in his first effort. Despite having a Chevrolet engine and the advice from former Indy champions Scott Dixon and Tony Kanaan, anything above the top 20 on the starting grid should be considered a win for the ex-Formula One prospect.
ROW 8
Alexander Rossi, No. 98 Castrol Edge Honda, Andretti Herta Autosport: Although Herta's rookie drivers have fared well recently in time trial mode at Indianapolis, Rossi's prospects are tough to judge with little to no high speed oval track experience on his resume. If he shows promise this weekend at Phoenix, it may merit a small rise on his projection, but not yet to the levels achieved by Jack Hawksworth in 2014.
Alex Tagliani, No. 35 Al-Fe Heat Treatment Honda, AJ Foyt Racing: The 2011 Indy 500 pole winner is no longer an active participant on the Verizon IndyCar Series circuit, yet he managed to outrun his two Foyt Racing teammates Takuma Sato and Jack Hawksworth in last year's one run qualifying session affected due to both rain and aero kit adjustments following Ed Carpenter's massive shunt. While a shootout challenging run is unlikely due to both the competition above and questions about the Honda engine. Tag could very well outpace his full time teammates again in May.
Conor Daly, No. 18 Honda, Dale Coyne Racing: Although the Indiana-native is technically a series rookie, he already has two month of May appearances under his belt, with unfortunately last year's cut down before the race even began due to a fire. Still, the opener at St. Petersburg showed that if the equipment is good, he could push a DCR entry further up on the grid than has been the norm.
ROW 9
Jack Hawksworth, No. 41 ABC Supply Honda, AJ Foyt Racing: It is very hard to forecast how the British-based third year pilot will fare in terms of qualifying weekend. If you go by his rookie run with Bryan Herta's team, he is a threat for a top half grid position. However, if you go by last year's run with Foyt where he was forced into the elimination phase of qualifying due to a slow first effort, the prospects do not look nearly as good. His Phoenix performance will greatly influence his movement on the next projected list.
(Gabby Chaves), No. TBA Honda, Schmidt-Peterson Motorsports: Chaves and NASCAR veteran Brian Vickers are both being tipped as candidates to fill the third and final Indy seat for Sam Schmidt's squad and it is safe to say that if Chaves is indeed the man for the job, the prospects look a lot better than taking a chance on a driver who is limited in open wheel experience. Although he only qualified 29th a year ago, Chaves fared well in his first effort at Indy earning rookie of the year honors and is capable of greater than this initial projected position.
Matthew Brabham, No. 61 Pirtek Chevrolet, KV Racing: The grandson of the man who began the rear-engine revolution at Indy will be facing a tough task in his first IndyCar Series appearance after successfully navigating up the Mazda Road to Indy ladder. 2015 KV Racing rookie Stefano Coletti suffered a trial by fire last year at Indy, having to qualify through the elimination phase and then suffering a huge crash late in the race a week later. Obviously a successful qualification and race is what the 21-year old is after, and anything above that will definitely be a bonus.
ROW 10
Pippa Mann, No. 63 Komen For The Cure Honda, Dale Coyne Racing: The very popular English-based driver is likely to give it another go in the 100th Indy 500, with her fourth straight effort for DCR. Even though she struggled mightily in the race itself a year ago, she has shown some flashes of talents in time trial mode, avoiding the elimination session last year and posted an impressive 229 mph plus average run in 2014. Beyond qualifying, don't expect too much in terms of fireworks in the race ahead.
Spencer Pigot, No. 16 Mi-Jack Honda, Rahal Letterman Lanigan Racing: The Mazda Road to Indy graduate made a decent debut run at St. Petersburg in March, prior to the big accident that derailed the race for several runners. While rookies have qualified well in the past for RLLR at Indy, the limited amount of high speed oval track experience could make garnering a high grid position difficult for the newcomer.
Bryan Clauson, No. 88 Jonathan Byrd's Honda, Dale Coyne Racing: The USAC and World of Outlaws sprint car racing star returns after just sneaking into the field a year ago. After showing pace prior to a pole day crash in his rookie attempt in 2012, the Indiana-native was less of a factor in the week leading up to qualifications last year and unless a major improvement in performance occurs, one can expect a similar outcome in 2016.
ROW 11
(Luca Filippi), No. 19 Sonny's BBQ Honda, Dale Coyne Racing: Filippi is signed only through Phoenix at this point, however a strong effort could see him through the Indy 500. The Italian will face a stiff learning curve as he has been limited to action on only road and street courses so far in the Verizon IndyCar Series to date.
Katherine Legge, No. TBA Chevrolet, Grace Autosport: The ambitious all-female team concept was impressive when announced last May, but things have slowed down recently with the team yet to officially announce an affiliation for their debut at Indy. That fact could hamper them greatly entering the month of May, especially if more than 33 cars are on the entry list. The previous Indy experience for Legge should save the team from the humiliation of not making the show, but anything beyond that could be too much to ask for at this point.
Buddy Lazier, No. 91 Wynn Vision Research Chevrolet, Lazier Partners Racing: The 1996 Indy 500 champion's family-owned squad is expected to return after failing to make the field last year. Despite having the preferred engine choice, a lack of funding and potential track time proved to be too much to overcome last year and if more entries surface to force an elimination session this year as well, the odds may not be in the veteran's favor to make the cut.
Stay tuned for further news, updates, and analysis from OnPitRoad.com on the Road to the Indianapolis 500.