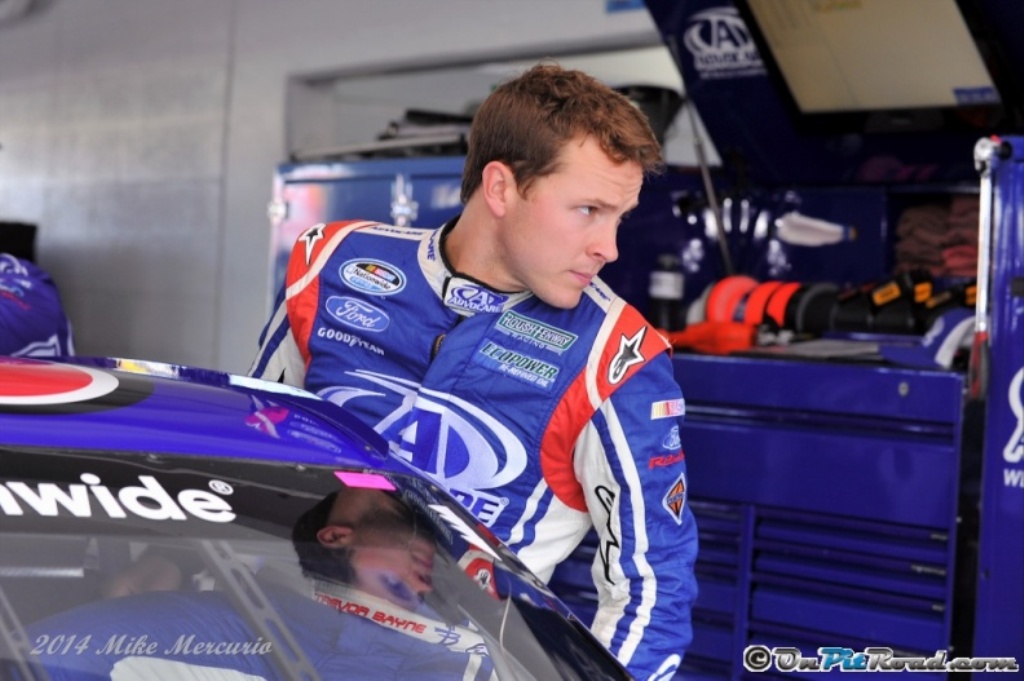 Friday's first Sprint Cup practice ended with a bang as Trevor Bayne locked up his brakes with just 27 seconds left in practice causing him to spin and hit the wall hard. Bayne ended the session in 34th, and will now have to go to a backup car for the rest of the weekend.
It was a practice session based on strategy. Teams have been looking at the radar for the past couple days, and are wary of rain hitting just as qualifying is set to begin today at Martinsville, so most teams split the session between race runs and qualifying runs.
Brian Vickers is in for Tony Stewart again this week and he was quickest in practice with a fast lap of 19.485. Vickers said earlier this week that Martinsville is one of his favorite tracks. Vickers grew up in Thomasville, North Carolina, just over an hour away from Martinsville.
A five-time Martinsville winner was second in practice. Denny Hamlin, from nearby Chesterfield, was second in practice. Hamlin won last year's spring race at Martinsville after making the final pass for the lead with under 30 laps to go.
Joey Logano was third in practice at a lap of 19.534. Logano looks to forget about what happened at Martinsville last fall when he was taken out by Matt Kenseth while leading. Kenseth was multiple laps down when he turned and wrecked the No. 22. A win this weekend would surely help ease the pain of losing out on a grandfather clock for Logano.
Fourth in practice was Ryan Newman who won a controversial Martinsville race in 2012 after leading only 12 laps. Jimmie Johnson and Jeff Gordon were leading on a late restart when Clint Bowyer drove into turn one a little hot and spun the two Hendrick teammates. Newman was able to take advantage of the spin and take the lead to win.
Coming off a 10th fastest run in Truck Series practice, Kyle Larson was fifth fastest in the first Cup practice of the day. Larson missed this race last year after a fainting spell during an autograph session on the morning of the race took him out of the car. Regan Smith ran the race in his place and finished 16th.
Rounding out the top-10 in practice were Kasey Kahne, Ryan Blaney, Matt Kenseth, Paul Menard and Jamie McMurray. Kenseth and McMurray were two of the big stories in the fall race at Martinsville last year. McMurray finished second to Jeff Gordon in what would be his last career win, and Kenseth was parked late in the race for intentionally crashing leader Joey Logano.
For the first time since Daytona, the Sprint Cup Series has a full field of 40 cars at the track with the addition of a second Premium Motorsports car driven by Reed Sorenson. All 40 cars will race on Sunday.
With a possible rain storm on the way, this practice session will set the field for Sunday's race if qualifying gets rained out.
| POS | DRIVER | LAPS | FAST SPEED | FAST TIME | BEHIND |
| --- | --- | --- | --- | --- | --- |
| 1 | #14 Brian Vickers | 36 | 97.182 | 19.485 | Leader |
| 2 | #11 Denny Hamlin | 23 | 97.108 | 19.500 | 0.015 |
| 3 | #22 Joey Logano | 18 | 97.088 | 19.504 | 0.019 |
| 4 | #31 Ryan Newman | 29 | 97.053 | 19.511 | 0.026 |
| 5 | #42 Kyle Larson | 34 | 97.023 | 19.517 | 0.032 |
| 6 | #5 Kasey Kahne | 42 | 96.894 | 19.543 | 0.058 |
| 7 | #21 Ryan Blaney | 22 | 96.795 | 19.563 | 0.078 |
| 8 | #20 Matt Kenseth | 16 | 96.711 | 19.580 | 0.095 |
| 9 | #27 Paul Menard | 24 | 96.681 | 19.586 | 0.101 |
| 10 | #1 Jamie McMurray | 32 | 96.622 | 19.598 | 0.113 |
| 11 | #18 Kyle Busch | 17 | 96.548 | 19.613 | 0.128 |
| 12 | #17 Ricky Stenhouse Jr. | 67 | 96.529 | 19.617 | 0.132 |
| 13 | #47 AJ Allmendinger | 30 | 96.524 | 19.618 | 0.133 |
| 14 | #13 Casey Mears | 22 | 96.460 | 19.631 | 0.146 |
| 15 | #78 Martin Truex Jr. | 25 | 96.450 | 19.633 | 0.148 |
| 16 | #2 Brad Keselowski | 16 | 96.430 | 19.637 | 0.152 |
| 17 | #4 Kevin Harvick | 28 | 96.381 | 19.647 | 0.162 |
| 18 | #41 Kurt Busch | 23 | 96.327 | 19.658 | 0.173 |
| 19 | #15 Clint Bowyer | 28 | 96.200 | 19.684 | 0.199 |
| 20 | #19 Carl Edwards | 20 | 96.171 | 19.690 | 0.205 |
| 21 | #43 Aric Almirola | 29 | 96.171 | 19.690 | 0.205 |
| 22 | #95 Michael McDowell | 28 | 96.127 | 19.699 | 0.214 |
| 23 | #88 Dale Earnhardt Jr. | 32 | 96.000 | 19.725 | 0.240 |
| 24 | #16 Greg Biffle | 34 | 95.966 | 19.732 | 0.247 |
| 25 | #38 Landon Cassill | 49 | 95.946 | 19.736 | 0.251 |
| 26 | #23 David Ragan | 17 | 95.878 | 19.750 | 0.265 |
| 27 | #24 Chase Elliott | 34 | 95.859 | 19.754 | 0.269 |
| 28 | #3 Austin Dillon | 29 | 95.806 | 19.765 | 0.280 |
| 29 | #10 Danica Patrick | 34 | 95.791 | 19.768 | 0.283 |
| 30 | #44 Brian Scott | 37 | 95.733 | 19.780 | 0.295 |
| 31 | #48 Jimmie Johnson | 21 | 95.622 | 19.803 | 0.318 |
| 32 | #83 Matt DiBenedetto | 23 | 95.352 | 19.859 | 0.374 |
| 33 | #30 Josh Wise | 43 | 95.252 | 19.880 | 0.395 |
| 34 | #6 Trevor Bayne | 51 | 95.084 | 19.915 | 0.430 |
| 35 | #34 Chris Buescher | 47 | 94.979 | 19.937 | 0.452 |
| 36 | #98 Cole Whitt | 11 | 94.970 | 19.939 | 0.454 |
| 37 | #55 Reed Sorenson | 8 | 94.922 | 19.949 | 0.464 |
| 38 | #32 Joey Gase | 47 | 94.874 | 19.959 | 0.474 |
| 39 | #7 Regan Smith | 25 | 94.656 | 20.005 | 0.520 |
| 40 | #46 Michael Annett | 29 | 93.715 | 20.206 | 0.721 |