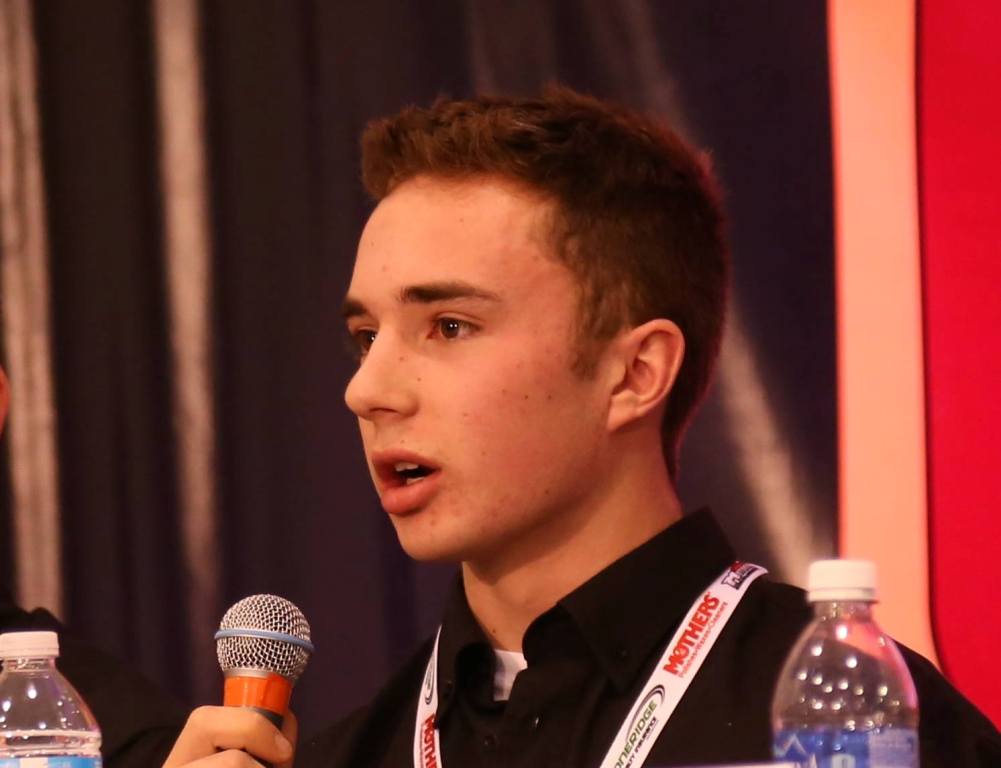 Third-generation racer Matthew Scannell will return to the NASCAR Pinty's Series in a full-time role for the upcoming 2016 race season. The 2014 Rookie of the Year will run his second full Pinty's Series schedule this season, driving for his dad Howie Scannell, Jr.'s team in the No. 56 car.
"We're going to run the full season again," Scannell said at the Motorama Custom Car and Motorsports Show last month. "We're really looking forward to running the whole season with Pinty's as new (series) sponsor, and getting out there and improving ourselves from last year, and definitely looking forward to getting some podiums. Just need to work on road course and oval set-ups."
The Milton, Ont. native is only 19 years old, but has already enjoyed some success in the series after a 2015 race at Canadian Tire Motorsports Park where Scannell led 12 laps in the middle portion of the race before being spun out by Gary Klutt while he ran second. He finished 12th, and knows he just needs luck to go his way in order to enjoy more success this season.
"It can get frustrating to run good, and then have a bad break," Scannell said. "But it definitely helps to have them (his team) around because they sort of bring you back to reality. You got to realize that it's just racing and things will get better."
Scannell has three career top-10 finishes in the Pinty's Series, all of which came in his 2014 rookie season. He didn't score any top-10s last year, but finished just outside the top-10 on numerous occasions including an 11th at Trois-Rivieres, and three 12th-place finishes.
Going into the 2016 season, Scannell will have raced at each track on the schedule at least once — except for the Toronto street course, which returns to the schedule for the first time since 2011 — and he hopes that the experience he's gained over the past year will help propel to him to better results.
"We're really excited to get back to Mosport for sure as we had a really good car there last year, top-three and led a lot of laps, and we made progress on all the ovals," he said. "We're looking forward to getting back to all the tracks for a second time and just working on what we did last year."