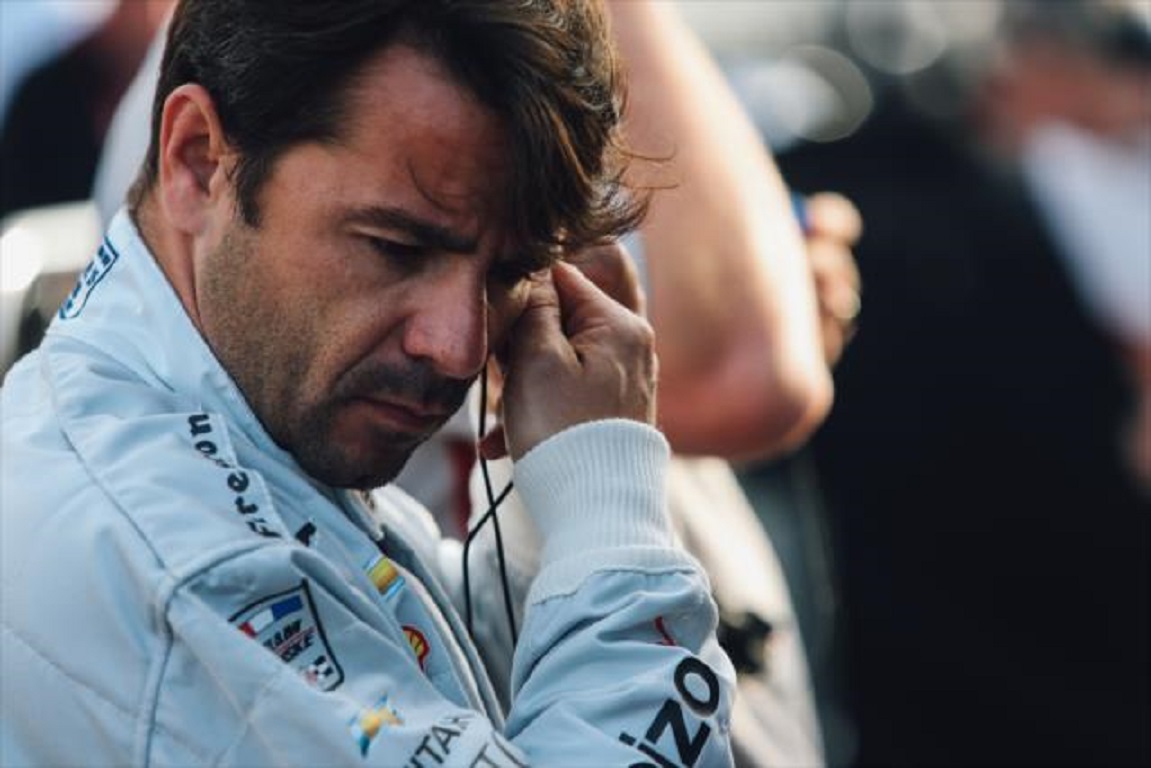 Although he would rather rejoin the Verizon IndyCar Series as a full-time participant sooner rather than later, Spain's Oriol Servia is emerging as a solid option behind Townsend Bell in terms of the so-called Indy 500 specialists, drivers who have impressive resumes over the course of an extended period of time in IndyCar competition, but have only made one appearance a year in the sport's premier event. For the 100th edition of the Indianapolis 500, presented by PennGrade Motor Oil, Servia joins forces with the Schmidt Peterson Motorsports team with further backing from IndyCar newcomer Will Marotti, who makes his debut next month at the Indianapolis Motor Speedway as an entrant.
"I have had great races in the past at (Indy), and it's coming at a point in my career that I feel the most prepared (for this year's race)," said Servia during a conference call earlier this week. "I also couldn't be happier to join Sam's team and organization, who we actually shared the front row in 2011. I know they're going to give me probably the best shot I could have in a one-race entry program."
The 100th anniversary edition of the Indianapolis 500 in 2011 could be Servia's most competitive run to date of his seven previous starts. As mentioned, he started on the outside of the front row for Newman-Haas Racing and led the race for 18 laps during the second half of the event. He eventually finished sixth in that event and the following year, he bounced back from a pole day crash to charge from 27th to 4th to earn his best finish to date at Indy. Last year, Servia made the field for Rahal Letterman Lanigan Racing, managing to out-qualify teammate Graham Rahal. Starting 13th, Servia stayed among the top fifteen for a majority of the distance before being eliminated in a turn one crash with Ed Carpenter on lap 112. Servia was credited with a 29th place finish.
Although a one-off driver has not won this race since Dan Wheldon did so in the same 2011 event, Indy-only drivers have contended in years past. The most recent of these efforts saw Townsend Bell run as high as second two years ago before being eliminated in a crash with nine laps to go. Servia feels that the nature of having a full week to prepare for the race makes it possible to challenge for a high result and not necessarily enter race day at a major disadvantage.
"It actually is the one race that's probably the easiest to find chemistry because you're going to be there running many days, where you get to know the team many hours a day, on track, off track." explained Servia. "Obviously, it's not as good as being a full season or many seasons with the team, but it's the closest thing because we end up spending more time probably in the month of May with the team than the rest of the season combined almost. So I'm not worried there."
For new team partner Will Marotti, entering a car at the Indianapolis 500 has been a dream for many years that is finally being met in 2016. Having attended every race as a spectator since Mario Andretti's lone Indy 500 win in 1969, the founder of the New Life Church in Connecticut will finally become a part of the actual festivities for the first time.
"I've been a fan of IndyCar since I was a little boy and wanted to drive and went the typical route," admitted Marotti. "I realized early into it I didn't have the funding or the backing. So I kind of put that dream on the shelf for a long, long time."
However, after chatting with friends while at the race a year ago, Marotti got the urge to scratch the itch again.
"I was inspired just before the race last year by someone else's story," said Marotti. "So we started about nine months ago trying to put something together, and I guess the baby was ready to be birthed this weekend. So we're pretty excited about it."
Team owner Sam Schmidt, who is running James Hinchcliffe and Mikhail Aleshin full-time in the Verizon IndyCar Series in 2016, also appears optimistic about what Servia could achieve next month.
"It's been a long time coming," said Schmidt while in Colorado Springs earlier this week. " I have respected Oriol's performance in the 500 for many years when we've been against him. We've been working on trying to put this together for a long time. Thought we had it done a couple of times before this. Just pleased to have it done."
Although Servia heads to the Brickyard next month with Honda power and aero applied to his Dallara, viewed by some as not an equal to what Chevrolet is offering to its own teams by contrast, one can expect a hard fought run from the Catalonia-based driver, if not a result in the upper half of the field when the checkered flag falls on May 29th.
Stay tuned to OnPitRoad.com for continuing coverage on the Road to the 100th Indianapolis 500.