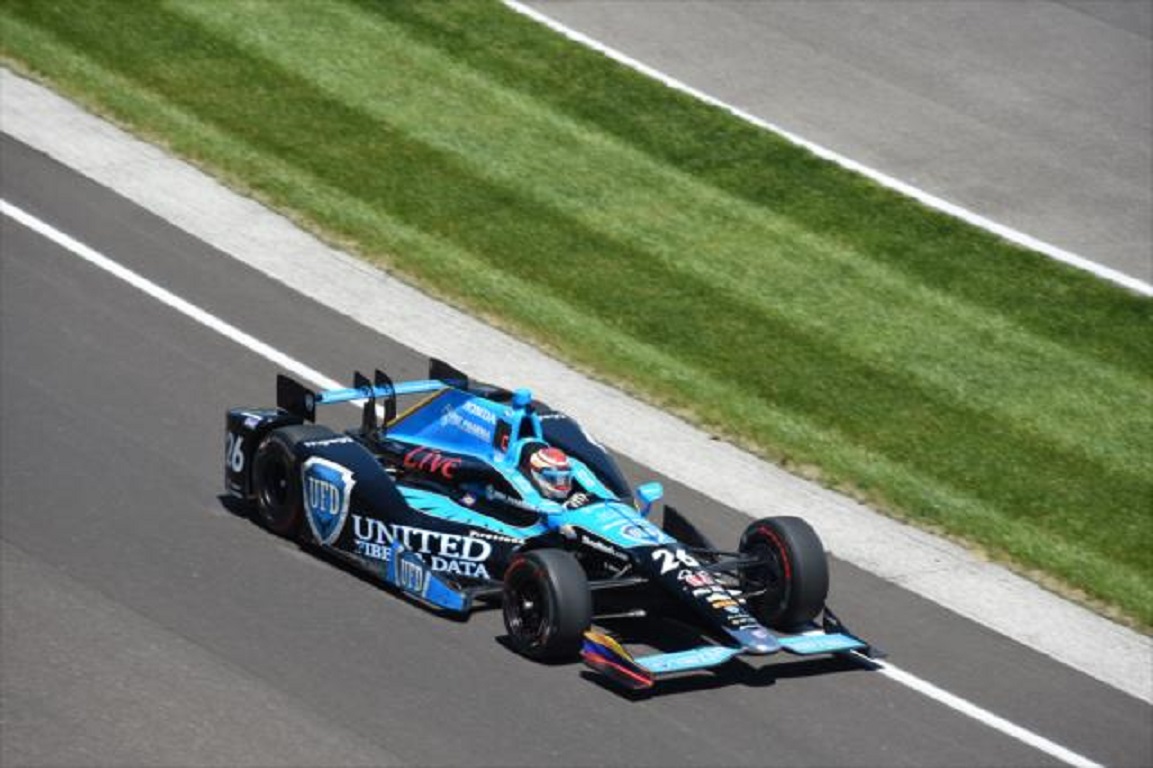 With Fast Friday ready to kick off in proper the time trials weekend for the 100th Indianapolis 500 presented by PennGrade Motor Oil, the tide that was previously forecast by yours truly is changing. While the main contenders for the front row remain largely unchanged, there is a new player that has joined the mix: Honda. After being out to lunch in the only pre-Indy 500 oval track race on the 2016 Verizon IndyCar Series schedule at Phoenix International Raceway, the Japanese manufacturer led by the five-car output at Andretti Autosport have shown at least through three days of on track activity that they will certainly not take a back seat to the Chevrolet runners when the pre-qualifying phase gets rolling on Saturday morning. Whilst talking about Honda, don't forget either about Rahal Letterman Lanigan Racing's Graham Rahal, who enters this weekend on the strength of two straight top four finishes and also after Thursday's action holds the fastest unassisted lap posted by a Honda runner so far at over 225.1 MPH.
Still, Chevrolet will be tough to beat. Josef Newgarden of Ed Carpenter Racing topped the charts on Wednesday, while Team Penske's Will Power, who has reigned supreme as the number one pick since our first Grid-a-tology post in late March was tops on Thursday. Of course even with that in writing expect the trend seen here to continue into Saturday's pre-qualifying final projection, where Hondas trend upward and Chevrolets trend downward. So with the horsepower boost set to take effect, here's how we enter Fast Friday on the Grid-a-tology front.
All confirmed driver and sponsor information is accurate as of Thursday, May 19, 2016.
FRONT ROW
Will Power, No. 12 Verizon Wireless Chevrolet, Team Penske: Thursday's quick lap came early and until Graham Rahal's late effort held steady on top of the list. Enough to confirm the reasoning to keep him squarely on top of the list entering Fast Friday.
Simon Pagenaud, No. 22 Menards Chevrolet, Team Penske: The Frenchmen has not dropped an impressively big number so far, but that could very well change on Fast Friday. With three straight wins on the resume entering qualifying weekend, it is time for a bump up to the front row.
Scott Dixon, No. 9 Target Chevrolet, Chip Ganassi Racing: Last year's runaway pole winner, posted a 225 plus late on Thursday enough to keep him in the running for the front row, but unlike early on when he seemed a lock, the Iceman is starting to come back toward the main pack.
ROW 2
Juan Pablo Montoya, No. 2 Verizon Wireless Chevrolet, Team Penske: Montoya's far from the strongest qualifier the Captain's ever had, but topping 225 on Thursday is enough to merit serious consideration entering Fast Friday. More of the same returns could lead to a further promotion to the top line, especially if teammate Pagenaud fails to impress.
Carlos Munoz, No. 26 United Fiber and Data Honda, Andretti Autosport: Although he's not the fastest from the Andretti Autosport camp, his aggressive nature meshes well with the format setup for Saturday. Whether that rolls into the shootout on Sunday afternoon is still an unknown, yet he is probably the safest bet to get a Honda into the top nine.
Josef Newgarden, No. 21 Preferred Freezer Chevrolet, Ed Carpenter Racing: With his team boss yet to make a serious dent on the scoring pylon, the Tennessee-native is suddenly thrust into the role as the best chance for a shootout spot for ECR. Did well to sneak into the fast nine phase two years ago, but the expectations this time around will be higher.
ROW 3
Helio Castroneves, No. 3 Pennzoil Chevrolet, Team Penske: As Roger Penske said back in 2010, Castroneves always seems to find that little bit extra at the Indianapolis Motor Speedway. So far, the four-time Indy 500 pole sitter has not shown the necessary returns to merit a lock into the shootout, so he for now falls further down the list.
Marco Andretti, No. 27 Snapple Honda, Andretti Autosport: The third-generation driver was quick out of the box, but not as impressive as some of his teammates in terms of laps run without a draft. Still has a decent shot to make fast nine, but posing a major threat once there on Sunday may be too much to ask for, we'll see.
Tony Kanaan, No. 10 NTT Data Chevrolet, Chip Ganassi Racing: TK's track record in Indy 500 qualifying with first rate equipment speaks for itself. Even though the 2013 Indy champ has been quiet so far in practice, one would be foolish to completely rule him out of making it into the shootout on Sunday.
ROW 4
Graham Rahal, No. 15 Steak N' Shake Restaurants Honda, Rahal Letterman Lanigan Racing: Like Pagenaud, the second-generation pilot is entering with momentum, plus a strong performance in practice unassisted on Thursday has suddenly moved him into the conversation. His luck recently in time trials however, outside of a second row effort in 2009 however has been more miss than hit. That will need to change if he is to claim a position this high on the grid.
Ed Carpenter, No. 20 Fuzzy's Vodka Chevrolet, Ed Carpenter Racing: The momentum gained by back to back Indy 500 pole positions seems to be slowly fading away for the hometown favorite. Although one could blame last year's practice crash for derailing his efforts to three-peat, the lack of presence shown on race day was tough to ignore. Carpenter will need to make a major reversal on Fast Friday if he is indeed among the potential high qualifiers.
Charlie Kimball, No. 42 Tresiba Chevrolet, Chip Ganassi Racing: The sudden emergence of the Honda runners has for now knocked Kimball outside the top nine on our projection. However, CGR's pace does not totally eliminate the chances of him getting there in the right scenario on Saturday.
ROW 5
Alexander Rossi, No. 98 Castrol Edge Honda, Andretti Herta Autosport: Welcome to the party rookie. Although a great deal of the credit has to be pointed towards the team for Rossi's sudden surge up the Grid-a-tology list from row eight to here, he is a definite dark horse pick to steal a spot in the pole day shootout.
Ryan Hunter-Reay, No. 28 DHL Honda, Andretti Autosport: The 2014 Indy 500 champion is not necessarily known as a particularly stout qualifier, his plummet from just missing the shootout to starting 19th the same year he won the race shows that concern in full view. Still though has one front row start at Indy, so a return to contention for the shootout is not totally out of play either.
J.R. Hildebrand, No. 6 Preferred Freezer Chevrolet, Ed Carpenter Racing: The numbers have been good for Hildebrand, however as mentioned above, the trending toward Honda closing the gap on Chevrolet in terms of pace at the Brickyard means a move down the list for the 2011 Indy 500 runner-up.
ROW 6
Townsend Bell, No. 29 California Pizza Kitchen-Robert Graham Honda, Andretti Autosport: Yes, Andretti is on the upward swing, however like RHR the Indy specialist is not known as a strong qualifier. With that in play, don't expect Bell to fully take advantage of the newly found pace shown by the five-car squad.
Max Chilton, No. 8 Gallagher Investments Chevrolet, Chip Ganassi Racing: Chilton's made a decent showing so far in Indy 500 practice, but has not quite made the same impact as his veteran teammates. He is not a likely challenger to make the shootout at this point, although a top half spot on the starting grid should be looked upon as a win for the ex-Formula One driver.
James Hinchcliffe, No. 5 Arrow Electronics Honda, Schmidt Peterson Motorsports: A great effort last Saturday in the Grand Prix of Indianapolis, however so far in Indy 500 practice Hinch has yet to make much noise. Needs a strong showing on Fast Friday if he is to have any shot at contending for the top nine.
ROW 7
Conor Daly, No. 18 ShirtsforAmerica.com Honda, Dale Coyne Racing: Daly is riding the wave of momentum generated from a career run last Saturday in the Grand Prix of Indianapolis. While making the top nine is still a major long shot, a better than expected run considering the semi-home court advantage could thrust the Noblesville-resident above where he should be in terms of starting position.
Mikhail Aleshin, No. 7 SMP Racing Honda, Schmidt Peterson Motorsports: The Russian second-year IndyCar entrant posted the fastest lap of the month at nearly 233 mph during 2014's month of May festivities, yet so far in 2016 top half position numbers have yet to be reached. Could struggle to avoid bringing up the rear for SPM with solid form shown by Oriol Servia in practice.
Gabby Chaves, No. 19 Boy Scouts of America Honda, Dale Coyne Racing: Coyne signs Chaves for Indy and then he stuns us all by posting the fastest lap on Thursday, albeit with drafting help. Despite that disclaimer, his unassisted laps from Wednesday were equally solid compared to teammate Conor Daly so a seventh row effort certainly is within his range entering time trials weekend.
ROW 8
Oriol Servia, No. 77 Marotti Racing Honda, Schmidt Peterson Motorsports: Servia did manage to out-qualify several full time runners last year at the Indianapolis Motor Speedway, and showed well at the St. Petersberg opener when called upon to replace Will Power. He is off to a solid start at Indy leading up to qualifying and certainly could jump at least his teammate Aleshin in terms of the starting lineup.
Sage Karam, No. 24 Gas Monkey Garage Chevrolet, Dreyer-Reinbold-Kingdom Racing: It is not completely all doom and gloom for the third-year Indy 500 participant, however there have been few fireworks so far approaching Fast Friday. Since dropping to an Indy-only runner, DRKR has not been known as a pace setter in qualifying mode and that will likely continue starting on Saturday.
Sebastien Bourdais, No. 11 Hydroxycut Chevrolet, KV Racing: The Frenchmen's slow outing at Phoenix has leaked into the practice week at Indy. A steady drop down the list has been the result and even falling in behind his rookie teammate Matt Brabham suddenly appears possible. Unless things flip flop on Fast Friday, a placing among the back markers is trending quickly for the former multi-time Champ Car World Series titlist.
ROW 9
Matt Brabham, No. 61 Pirtek Chevrolet, KVSH Racing: The third-generation driver has made steady progress and in fact could very well end up as tops among the KV trio after qualifying. Still faces an uphill climb to move further up the list on Saturday however.
Takuma Sato, No. 14 ABC Supply Company Honda, AJ Foyt Racing: Since his near victory at Indy in 2012, Sato's performances at the Brickyard have slowly begun to taper off. He did not factor last year in the Indy 500 and has been relatively quiet likewise in practice this month. A similar tale seems set ahead of Fast Friday.
Spencer Pigot, No. 16 Manitowoc Honda, Rahal Letterman Lanigan Racing: The crash on Wednesday did not help matters for the Mazda Road to Indy graduate, who actually has had two solid outings in his first two tries in IndyCar competition. Still, with the impressive numbers being shown by his teammate Graham Rahal, a further move up the ladder is still very much in play.
ROW 10
Stefan Wilson, No. 25 Indiana Donors Association Chevrolet, KV Racing: The story surrounding Wilson has been the bigger deal than his on track performance so far at IMS. The trend as mentioned above has not been in an upward fashion for KV and it will also affect Wilson's hopes for a higher spot on the starting grid, despite featuring Chevrolet power.
Alex Tagliani, No. 35 Al-Fe Heat Treatment Honda, AJ Foyt Racing: Like his Foyt teammates, nothing to write home about yet from the 2011 Indy 500 pole winner. Still could wind up out-qualifying his two returning teammates for a second straight year though come Sunday.
Pippa Mann, No. 63 Komen For The Cure Honda, Dale Coyne Racing: It's been a decent showing for the only female driver in Gasoline Alley this year, however not at the same level as her teammates Daly and Chaves. Still, she would do well to avoid being outperformed in time trials by dirt track racing ace Bryan Clauson.
ROW 11
Jack Hawksworth, No. 41 ABC Supply Honda, AJ Foyt Racing: Will the real Jack Hawksworth please stand up? We got the more competitive one during qualifying for last week's Angie's List Grand Prix of Indianapolis, unfortunately the British prospect is returning to his recent pace at least in Indy 500 practice so far.
Bryan Clauson, No. 88 Jonathan Byrd's Honda, Dale Coyne Racing: The switch from dirt track competition to asphalt, plus the faster speeds have proven difficult for the Hoosier-based driver to overcome last year and so far in practice leading to time trials action this year. Will be tough for him to top anyone outside of Lazier at this point.
Buddy Lazier, No. 4 Wynn Vision Research Chevrolet, Lazier-Burns Racing: Lazier has brought in a solid team manager in former Team Menard boss Larry Curry, however it does not seem to be influencing positively as the lack of pace shown last year by the 1996 Indy 500 champion has continued so far in 2016 at the Brickyard.
Disclaimer: Projection and thoughts on drivers and teams potential for this article are strictly those of the author and may not reflect views of others tied to OnPitRoad.com