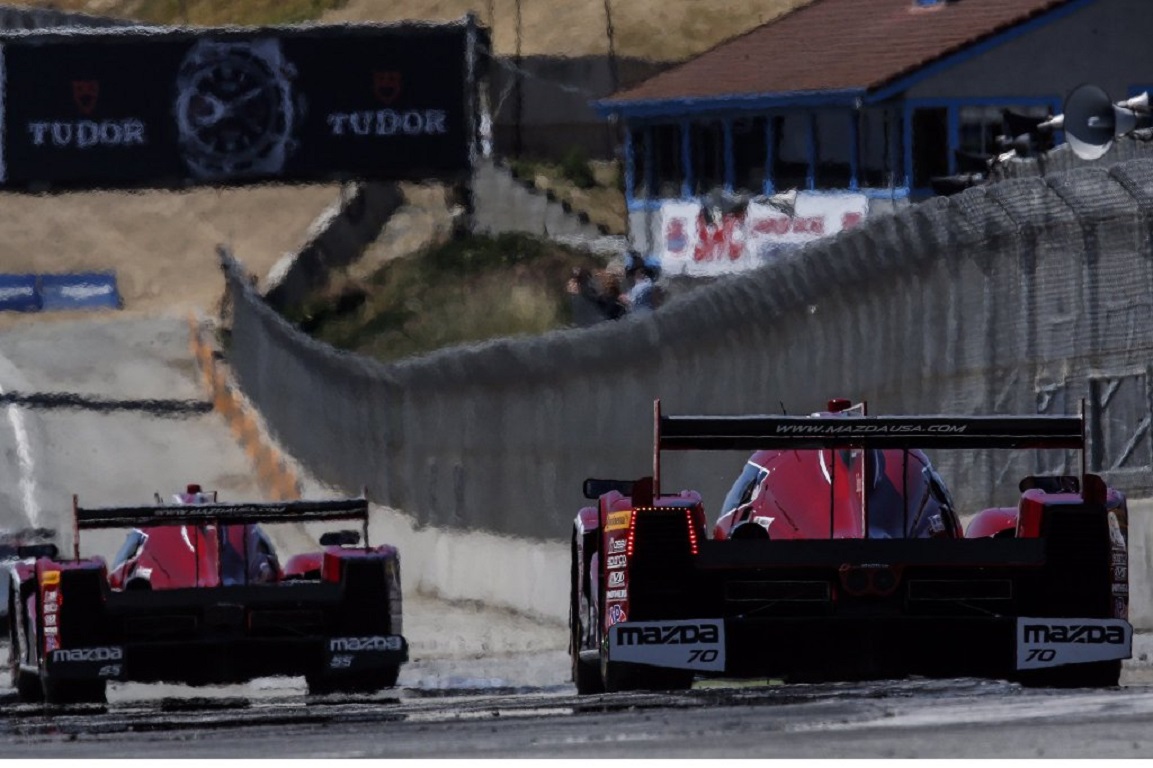 After an extended one month break, three of the four classes of the IMSA WeatherTech SportsCar Championship will return to action Saturday for the Chevrolet Sports Car Classic at the Raceway at Belle Isle in Detroit, Michigan. Although the 2.36 mile circuit is not known as a layout known for multiple passing opportunities, the drama in the headliner Prototype division has been present in each of the last two editions 0f this event.
In 2014, Wayne Taylor Racing's Jordan Taylor outdueled Action Express Racing's Joao Barbosa to secure the victory, while last year AXR's Dane Cameron returned the favor to claim the victory for himself  and co-driver Eric Curran. Even though the initial results in the Motor City seem to indicate a bias toward the Daytona Prototype-style of car, the recent improvements in performance from the LMP2-eligible runners this season, most notably from SpeedSource-Mazda Motorsports' new I4-engined Lola coupe that swept the front row in the most recent IMSA race at Mazda Raceway Laguna Seca in California.
In addition to the efforts of Mazda, led by Jonathan Bomarito and Tristan Nunez, Michael Shank Racing's Honda-powered Ligier is also worth following on Saturday. Despite showing a lack of pace pre-green flag a year ago, Oswaldo Negri, Jr.'s late surge did net a podium finish at Detroit. The driver lineup for the Chevrolet Sports Car Classic is slightly re-configured for MSR, as Negri will be joined by DeltaWing Racing regular Katherine Legge as the Ohio-based squad splits its efforts between Motown and Sunday's 24 Hours of Le Mans Test Day. Regular MSR pilot John Pew will be based in France all weekend and will be joined on Sunday by Negri and the team's third driver Laurens Vanthoor. Legge became available for Detroit, due to the fact that DeltaWing has elected to skip Detroit as their shorter wheelbase DWC12 coupe has not fared well in previous efforts on tight, street circuit layouts.
In Prototype Challenge, Starworks Motorsport looks to successfully defend its Detroit win from a year ago. Renger Van der Zande returns, however Mirco Schultis' spot is filled in 2016 by Alex Popow, a mainstay with Peter Baron's squad for several seasons. Starworks' also has a second ORECA FLM09 entered for Saturday's race with top female racing prospect Ashley Freiberg leading the way.
Although Starworks enters as reigning Detroit champions, Saturday's likely PC winner will come from one of three teams: CORE autosport, PR1-Mathiasen Motorsports, or JDC-Miller Motorsports. The dominant PC powerhouse, who also runs Porsche Motorsport's GT program at Le Mans in June, claimed the victory in the season's second race in Sebring, Florida, but has been curiously off target in the other three rounds of 2016. PR1-Mathiasen also started the year slowly, however Tom Kimber-Smith and Robert Alon are the most recent division winners, having taken the checkered flag at Laguna Seca on May 1. After having failed to win a race in its first two IMSA seasons, JDC has taken victories at both Daytona and Long Beach placing Stephen Simpson and Misha Goikhberg on top of the current PC points table.
Finally in GT Daytona, Team Seattle Porsche looks to backup its win from last year's Chevrolet Sports Car Classic and based on their current form entering IMSA's fifth round, the chances of success appear strong despite the reality that GTD represents the largest contingent for Saturday's 29-car grid. Mario Farnbacher led the charge to last year's Belle Isle triumph, and alongside co-driver Alex Riberas, the role of favorite should not add any extra pressure to their pursuit of a repeat performance as evidenced by their dominant performance at Laguna Seca.
Of course, there are other contenders to consider, including 2014 Detroit winners Scuderia Corsa, who once again feature Alessandro Balzan, but also include for 2016 the presence of Christina Nielsen. The teammates joined forces to win at Sebring in March. Magnus Racing's Audi R8 with Andy Lally and Andy Potter won the opener at Daytona, but will have their work cut out from them to regain their recent performance level after struggling at both Sebring and Laguna Seca.
Regardless of who runs upfront, with only 100 minutes to get the job done on Saturday, expect the action to be fast and furious from the drop of the green flag.
Stay tuned to OnPitRoad.com for continued coverage from the world of sports car racing, including a preview of the Le Mans Test Day in France coming later this week.