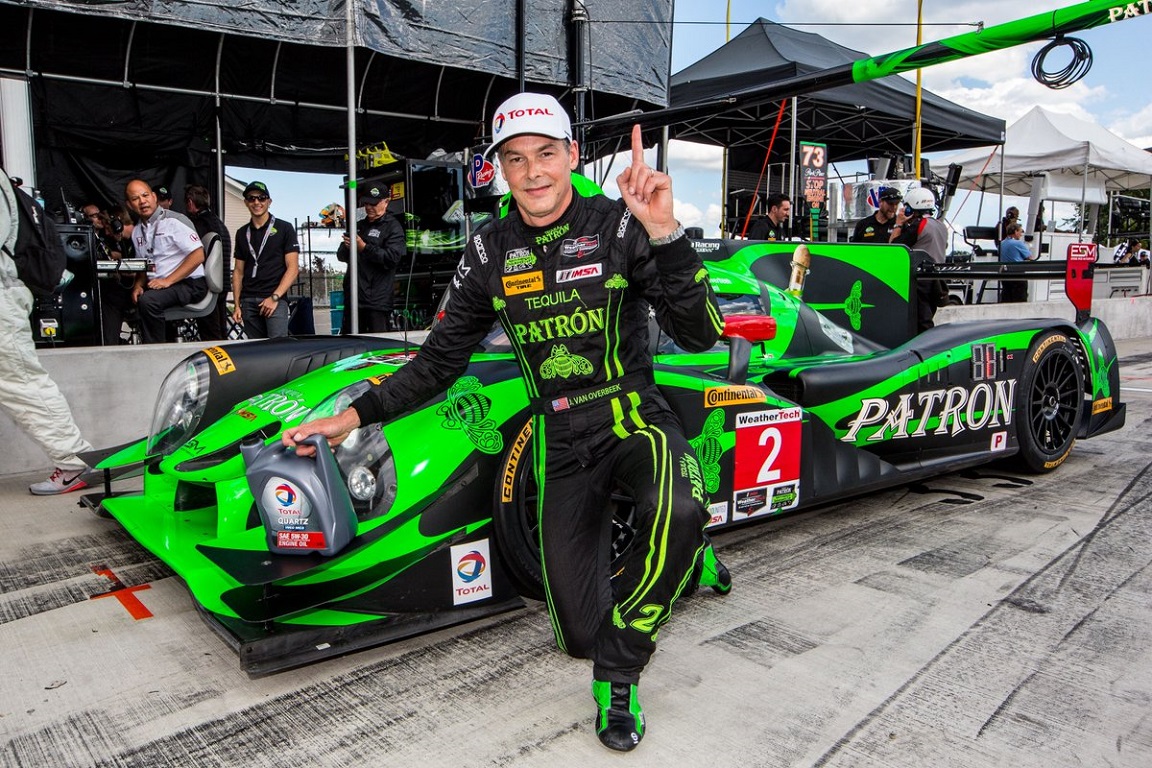 What seemed to be an impossible dream over the previous two seasons has suddenly turned into a more likely outcome as Extreme Speed Motorsports' Johannes Van Overbeek put his No. 2 Tequila Patron-sponsored Ligier-Honda coupe prototype on the pole position for Sunday's Sahlen's Six Hours of the Glen, the third leg of the North American Endurance Cup for the IMSA WeatherTech SportsCar Championship.
Van Overbeek's one minute, 35.207 second lap of the 3.40 mile long course version of Watkins Glen International in upstate New York, was good enough to secure the TOTAL Pole Award by just under two tenths of a second over SpeedSource Mazda Motorsports' Tristan Nunez, who will start on the outside of the front row. ESM who competes full-time in the international FIA World Endurance Championship is looking to stay unbeaten in NAEC competition so far in 2016 after having taken overall wins at the Rolex 24 at Daytona in January, followed by the Mobil 1 12 Hours of Sebring in March.
Mazda enters Sunday's main event still seeking its first prototype class win since the 2001 Rolex 24 at Daytona. The team's lead No. 55 entry in perhaps an attempt for inspiration will utilize a throwback livery used by the Japanese manufacturer to win the 1991 running of the 24 Hours of Le Mans.
Fresh off its first appearance at the 24 Hours of Le Mans last month, Michael Shank Racing placed its own Ligier-Honda on the inside of the second row with Oswaldo Negri, Jr. handling the qualifying duties. Despite having won the last two IMSA events at Watkins Glen, the Daytona Prototype teams will have its work cut out for them, as Jordan Taylor placed the Wayne Taylor Racing Chevrolet Corvette DP on the outside of the second row. WTR however, does have some momentum having taking the overall win in the most recent IMSA event at Detroit.
In Prototype Challenge, Starworks Motorsport continued its own recent momentum by taking the TOTAL Pole Award on Saturday. Renger van der Zande's one minute, 38.407 second effort was a full eight tenths of a second clear of its nearest rival, Robert Alon's PR!-Mathiasen Motorsports' entry. Van der Zande and co-driver Alex Popow also took the checkered flag at Detroit and in the Empire State on Sunday, they will seek a similar outcome.
After taking a dominating win last month in France, Chip Ganassi Racing's relatively new Ford GT project appears equally potent entering Sunday's six-hour enduro as Richard Westbrook claimed the top spot on the starting grid Saturday in the highly competitive GT Le Mans division. Westbrook's one minute, 41. 301 second clock-in was enough to deny the TOTAL Pole Award from being taken by a well-rested BMW Team Rahal squad, represented by Dirk Werner.
Unlike the other full-time competitors in GTLM, BMW did not participate in last month's 24 Hours of Le Mans as their BMW M6 GTLM is still not approved for action in FIA-sanctioned events. BMW and Ford will also share the second row of the starting order, with best of the rest going to Scuderia Corsa's Ferrari 488 GTE, albeit nearly a full second and a half off Westbrook's pole-winning performance.
Finally in a technically influenced GT Daytona division, Alex Job Racing/Team Seattle enters Sunday with the early advantage, thanks to the Saturday's returns from lead driver Mario Farnbacher. Known in the paddock as "Super Mario," the veteran GT participant secured the TOTAL Pole Award for the lower grand touring class with a one minute, 45.449 second run. The hot lap was just enough to take the top grid place over Lawson Aschenbach's Stevenson Motorsports Audi R8.
Since the most recent IMSA event in Detroit, GTD has witnessed a myriad of changes in terms of the Balance of Performance settings, yet Team Seattle seems unaffected as it hopes to add to its early season triumph at Mazda Raceway Laguna Seca in May.