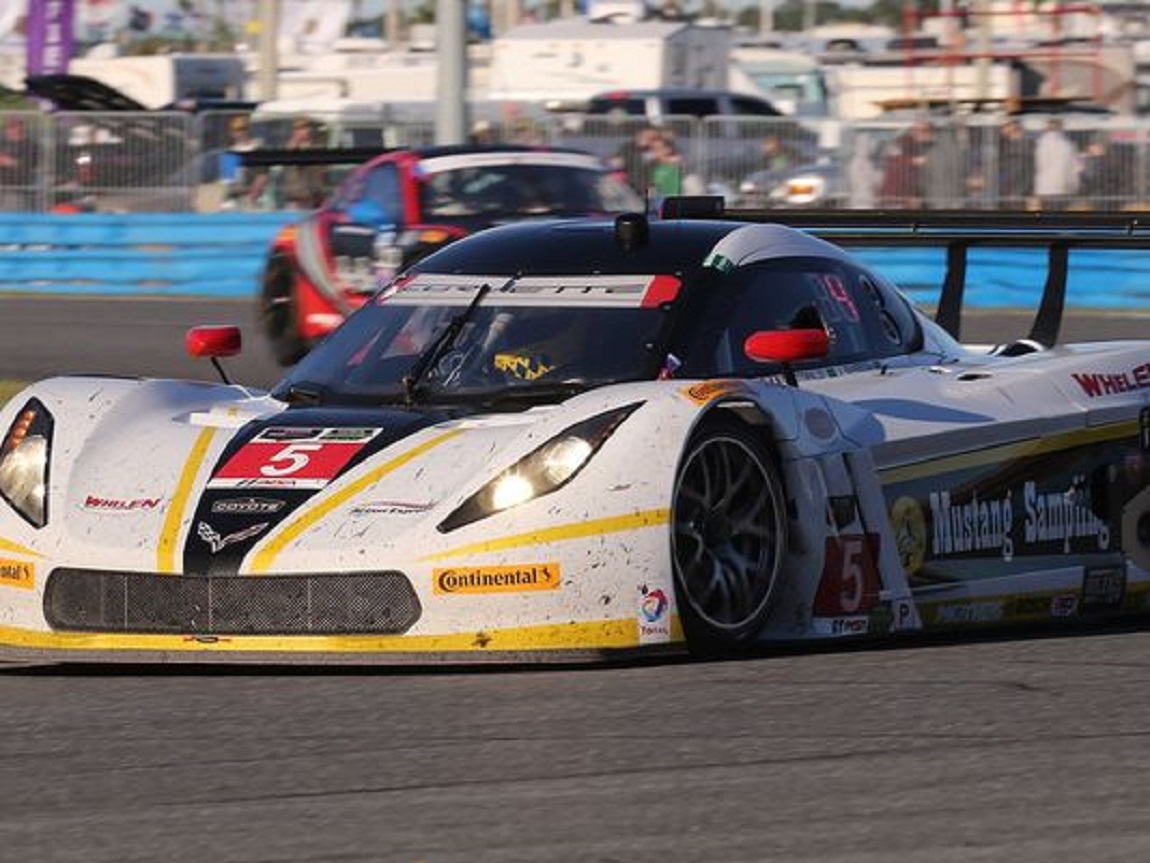 At the end of the day on Sunday, despite facing a noted performance disadvantage compared to their LMP2-eligible prototype rivals, Action Express Racing extended the Daytona Prototypes domination of the Sahlen's Six Hours of the Glen placing its pair of Chevrolet Corvette DPs first and second as the checkered flag just after 4 p.m. local time.
Two-time defending IMSA WeatherTech SportsCar Championship titlists Joao Barbosa and Christian Fittipaldi took home the top honor, securing in turn their first victory of the 2016 campaign. Despite taking the win at Watkins Glen International on Sunday, the Mustang Sampling-backed entry did not take command of the race in proper until the final two hours of the six-hour timed distance. A late full course caution flag meant a strenuous surge would be required to the finish, however Barbosa managed to hold off teammate Dane Cameron and Michael Shank Racing's Olivier Pla to secure the top step of the podium at the 3.4 mile upstate New York-based circuit.
Cameron and his co-driver Eric Curran held on to finish second, while MSR's Ligier-Honda coupe completed the podium. After taking the top three starting positions in qualifying on Saturday, the majority of the LMP2 half of the Prototype class grid could not hold up to make the long distance. This included Daytona and Sebring winners Extreme Speed Motorsports, who led the early stages of the race before falling by the wayside and also SpeedSource Mazda Motorsports who stayed among the leaders prior to their retirement from the race in the final half hour due to engine failure. The shortcoming continues Mazda's pursuit for their first prototype victory since 2001.
In Prototype Challenge, Starworks Motorsport's Renger van der Zande and Alex Popow represented a tour de force in the lower prototype class going nearly start to finish at the head of the PC field. Belgium's Van der Zande like Barbosa in the P class had to fight hard late to complete the shutout, yet he remained cool under pressure despite constant pressure from Performance Tech Motorsports' Kyle Marcelli, who alongside co-driver James French settled for runner-up honors on the day.
Starworks also claimed a second space on the podium, as Remo Ruscitti, Richard Bradley, and Mark Kvamme came home in third place. The Peter Baron-owned squad has looked bulletproof since claiming their first 2016 win last month in Detroit. That matter of invincibility has been present despite the dominant form showed by JDC-Miller Motorsports and CORE autosport to open the season.
Dominant form was also present in the usually competitive GT Le Mans class as Chip Ganassi Racing's first-year Ford GT program claimed its own 1-2 finish Sunday in New York, less than a month removed from placing three cars in the top four at the 24 Hours of Le Mans in France. Since winning their first IMSA race in May at Mazda Raceway Laguna Seca in California, CGR has shown an amazing turn of pace from their twin turbo V-6 powered challenger and on Sunday only BMW Team Rahal's M6 GTLMs managed to break any form of sweat from them.
In the end, Richard Westbrook and Ryan Briscoe teamed to claim the win, while Joey Hand and Dirk Mueller secured second when Hand outbroke BMW's Bill Auburlen entering Watkins Glen's 90-degree turn one. Auburlen and Dirk Werner held on to finish third, followed by Corvette Racing's Oliver Gavin and Tommy Milner who surged late to finish fourth, but never made a serious challenge for the top spot in GTLM from start to finish. It is the second straight disappointing run from the Pratt and Miller squad, who also were unable to feature at Le Mans last month.
Finally in GT Daytona, Scuderia Corsa continued their recent success in the longer sports car events by taking their third major race win of 2016. Alessandro Balzan and Christina Nielsen teamed up to win the Mobil 1 12 Hours of Sebring in March and on Sunday added the Six Hours of the Glen to their victory resume. A Scuderia Corsa-backed Ferrari 488 also won last month at Le Mans, but featured a different driving team.
Rolex 24 at Daytona winners Magnus Racing just missed out on claiming its second North American Endurance Cup winners by finishing second, while Laguna Seca race winners Team Seattle Porsche completed the podium.