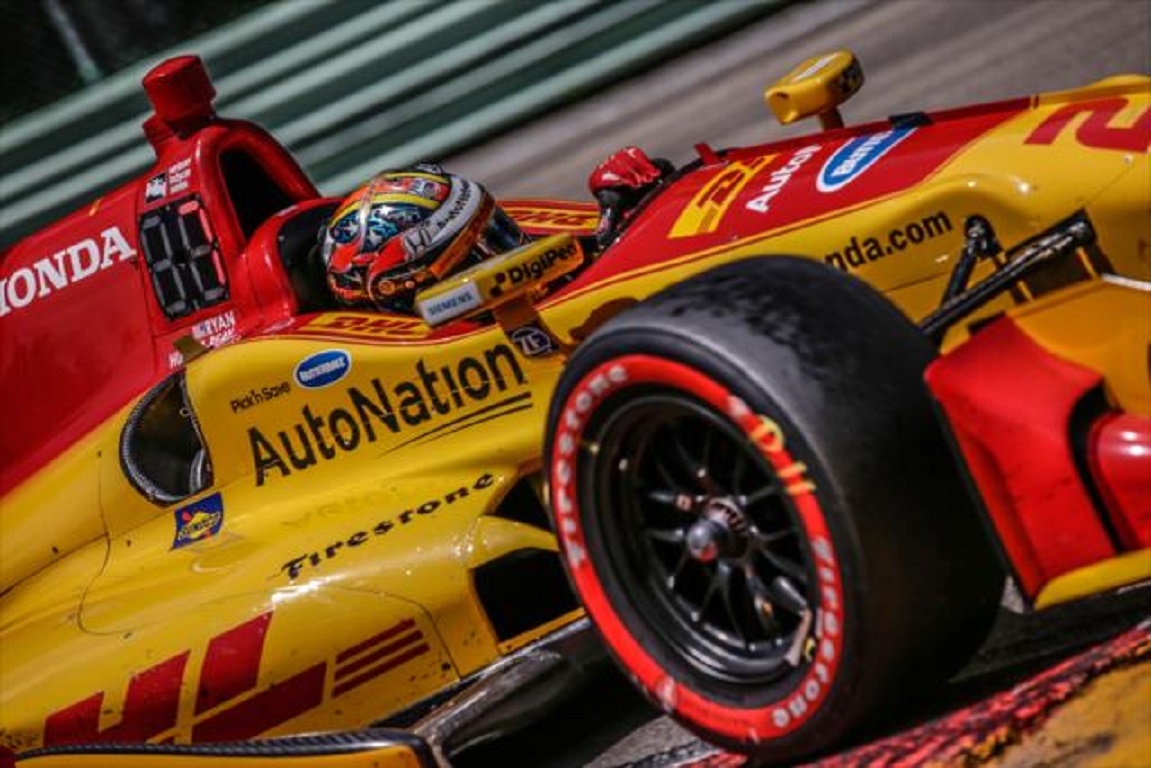 After a successful return of the Verizon IndyCar Series to Road America, the longest layout on the circuit at four miles in length, the open wheel championship moves to its smallest layout on the schedule, the under one mile Iowa Speedway for the Iowa Corn 300 on Saturday night.
In the nine year history of the event, the medium banked layout has seen fast speeds yet with its notable bumpiness, it has caught out many of the top IndyCar's top drivers since its inception. Although four former race winners will make up the 22-car field on Saturday night, none of the top three on the current championship points table are among them.
Team Penske's Simon Pagenaud, who has finished first or second in six of the first nine races in 2016  and enters as the championship leader, has had a mixed record in his four-race history at Iowa Speedway. After earning his first career top five on an oval in IndyCar competition here in 2012, he has finished outside the top ten in his last two efforts.
That fact could allow his two Penske teammates Helio Castroneves and Will Power to close further on what seemed to be an almost insurmountable cushion a few races ago. Although the Frenchman started the year by winning three races in the first five events, Pagenaud has only one top ten effort in the last four rounds. If that trend continues on Saturday night, Castroneves would appear to be in a good position to capitalize. The Brazilian, who has competed in every race at Iowa Speedway to date has yet to win the event, however he has finished outside the top ten on only two occasions in the first nine races at Iowa and has been running at the finish of all nine editions.
Power meanwhile, who is not known for his talents on ovals may be forced into survival mode on Saturday. In his eight efforts at Iowa, the road racing ace has only three top ten finishes, plus he has failed to finish in two of those events.
Outside of the fight for the series title, no one has a better record at Iowa Speedway than Andretti Autosport's Ryan Hunter-Reay, who will seek his fourth win in the past five runnings of the Iowa Corn 300. He has dominated the race from start to finish and has also won via a dramatic late charge on fresher tires. After starting the 2016 campaign with mixed success, the driver of the No. 28 DHL Honda has come on strong in the last three events finishing seventh or better in his last three efforts.
Schmidt Peterson Motorsports' James Hinchcliffe is also a former winner of this event, taking the checkered flag first in 2013. The Canadian star has a solid resume at Iowa Speedway, with three top tens finishes in four efforts in the 300-lap race. Two other popular drivers on the Verizon IndyCar Series circuit have also won here. Tony Kanaan was victorious here in 2010 and Marco Andretti was the winner the following year.
Although Kanaan has top ten finishes in eight of the first nine events in 2016, it was not until Road America two weeks ago, that the veteran made his first serious run at a victory. He finished second in the Kohler Grand Prix and could become a major challenger on Saturday. By contrast, Andretti has suffered through perhaps his most difficult season since his Verizon IndyCar Series debut in 2006. While Kanaan has been a solid high finisher, Andretti has only managed one top ten performance to date in 2016.