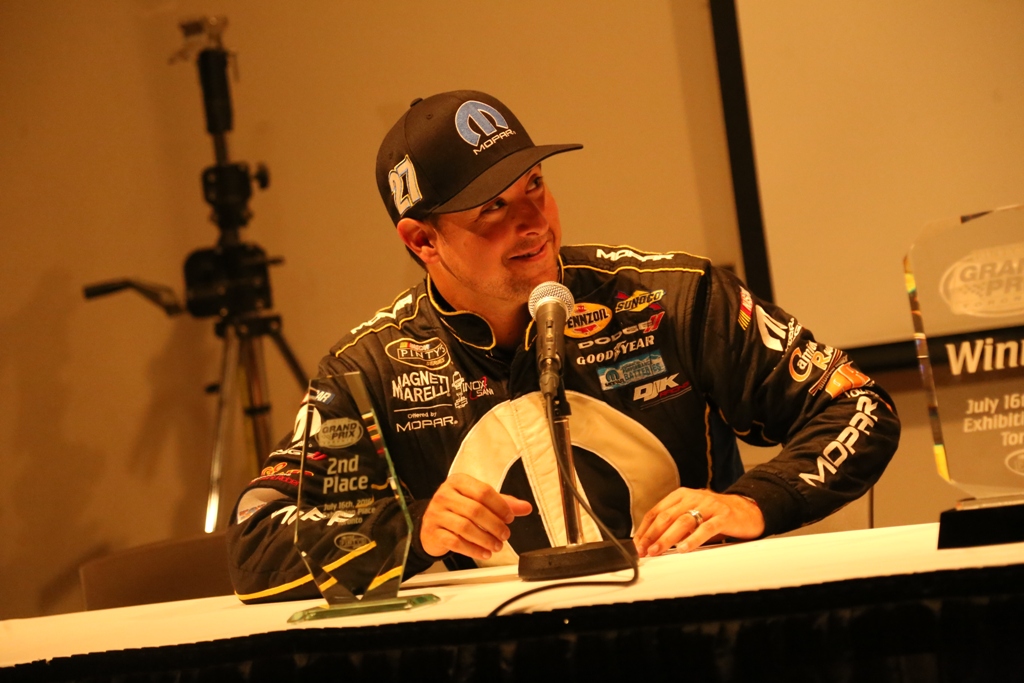 Coming into the weekend, Andrew Ranger was the only NASCAR Pinty's Series race winner at Exhibition Place. Although Alex Tagliani added his name to the winner's list, Ranger still left the Honda Indy race weekend as the point leader, and with a second-place run.
Ranger started on pole in his No. 27 Mopar/Pennzoil Dodge, and led 11 of 37 laps, but an early run-in with Daniel Morad and Tagliani in turn one nearly took him out of the race. Kevin Lacroix capitalized on the three drivers' misfortune, and took the lead. The polesitter and early race favourite passed Lacroix for the lead on Lap 9, and held on until Morad passed him on Lap 20.
"It was a great show," Ranger told OnPitRoad.com after the race on Saturday. "Everybody was close, and fighting for the lead – second-place, third-place. My car was pretty good. Just on the restarts I had a little bit of a problem, and some issues on the initial start. Overall, it was a great race for us. We are leading the championship, so this is what we need."
A caution late in the race for a crashed Patrick Dussault resulted in a green-white-checkered finish. As teams were readying for what could've been a chaotic finish, point leader Ranger was thinking big picture, even with a possible trophy staring him in the face.
"It's just with the green-white-checkered, you don't want to take too many chances, and I don't know why, but when I came to push hard on the first lap, we were just pushing loose," Ranger said. "When the pressures came up on the tires, I was able to attack a little more. That's why I was catching him a lot at the end. We missed maybe a lap, but racing is racing."
On a day where his biggest championship rival Cayden Lapcevich placed in the back half of the top-10, and his two other challengers in Alex Labbe and D.J. Kennington finished outside the top-10, a second-place result puts a bigger gap on the drivers behind him. Ranger now leads young Lapcevich by 13 points heading into the Western swing.