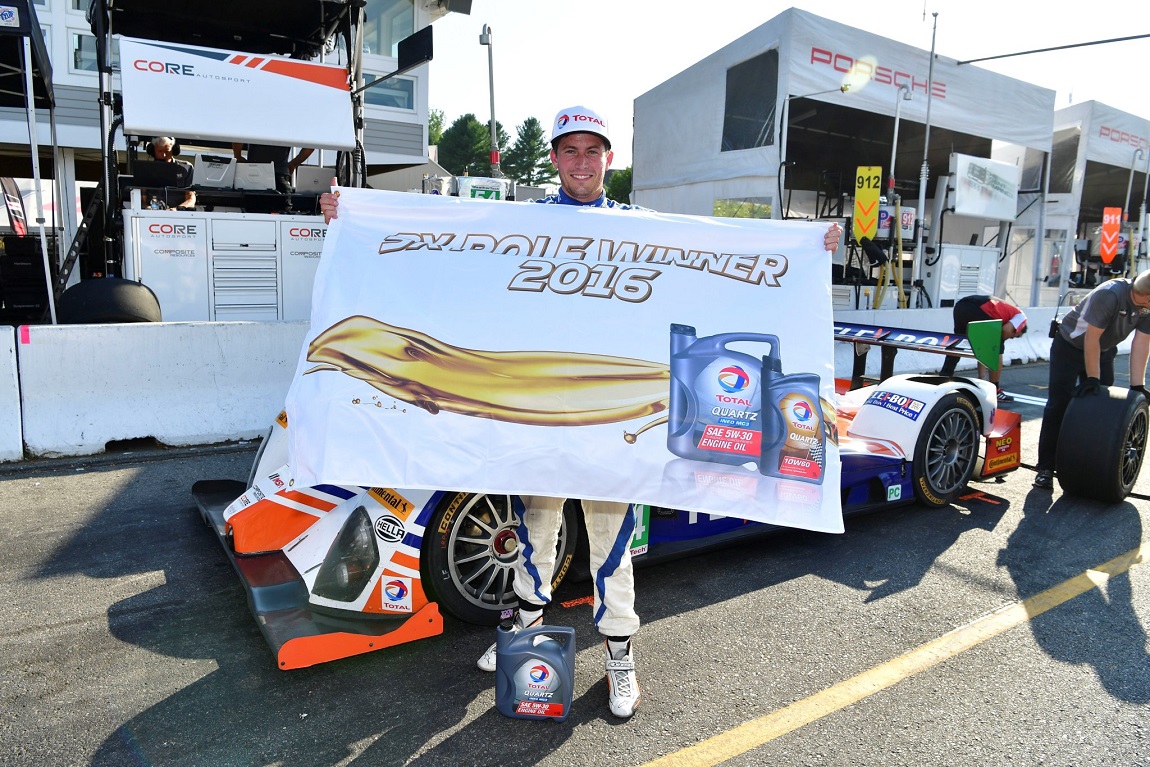 Whether it is an outright outclassing or a sign of depression based on an undesirable placement on the current Prototype Challenge points table, one thing is for sure looking ahead to Saturday's Northeast Grand Prix at Lime Rock Park in Connecticut, CORE autosport is once again in prime position atop the starting lineup.
For the second straight IMSA WeatherTech SportsCar Championship event, CORE's lead driver Colin Braun secured TOTAL Pole Award honors on Friday, making his way around the challenging 1.1 mile Lime Rock layout in just 48.824 seconds. This time around, as opposed to Canadian Tire Motorsport Park's time trials session two weeks ago however, the field was closer to the American veteran all out pace as PR1-Mathiasen Motorsports' Robert Alon came within 16 one thousandths of a second of snatching the inside position on the front row.
Despite coming up on the short end on Friday, PR1-Mathiasen may have greater flexibility in terms of its driving time plan for the two hour, forty minute timed event. Since Alon qualified the car, Bobby Oergel's squad can utilize its professional driver Tom Kimber-Smith in the all important second half of the event, an option which is not currently available to CORE, unless it opts to switch its starting driver as it did in Canada. CORE team owner Jon Bennett has usually started the race, run the minimum drive time required for  a PC team's lower level driver, then handed the driving chores over to Braun through to the checkered flag.
However, since Braun qualified the car and IMSA WeatherTech SportsCar Championship rules state that the qualifying driver must start the race, if CORE switches to Bennett to start on Saturday, CORE as it did in Canada would have to forfeit its number one starting position and move to the back of the grid. CORE managed to overcome the handicap two weeks ago, but could be harder pressed to do so at the tighter Lime Rock circuit.
Beyond the front row, Peter Baron's Starworks Motorsport squad is the main attraction in the Prototype Challenge class fleet, as the team will feature three cars on Saturday as opposed to its normal two-car assault. In addition to its regular entries for Renger van der Zande and Alex Popow and the secondary team of Remo Ruscitti and Mark Kvamme, Baron is fielding a third entry for Sean Rayhall and Jose Gutierrez as well. The Rayhall-piloted machine will be the highest starting of the trio, starting alongside the Performance Tech Motorsports entry of James French and Kyle Marcelli on the second row.
In the GT Le Mans division, Chip Ganassi Racing's new Ford GT continues to have the rabbit pace it has shown over the past three events as Richard Westbrook secured TOTAL Pole Award honors with a 50.748 second effort Friday. However, as was the case in PC, CGR's advantage on the rest of the GTLM field is still marginal at best. BMW Team Rahal's Bill Auburlen came within a tenth of a second of Westbrook's pole run to take second position on the grid, while championship leader Oliver Gavin of Corvette Racing was just over a tenth back of his ex-Corvette teammate in position three.
Gavin and co-driver Tommy Milner hold only a five point lead on Westbrook and his CGR Ford teammate Ryan Briscoe entering Saturday's event, an order that could flip flop if CGR makes it four straight wins and Corvette fails to finish on the podium.
Finally in the GT Daytona class, a new player will lead IMSA's largest by number field to the green flag on Saturday. Thanks to the efforts of Spencer Pumpelly, Lamborghini Huracan runners Change Racing secured the TOTAL Pole Award on Friday with the American maxing out at 53.148 seconds. The battle for P1 here was also a closely fought encounter as Pumpelly narrowly edged Stevenson Motorsports Audi driver Robin Liddell by just three one hundredths of a second.
Stevenson, the dominant force in the lower Continental Tire Sports Car Challenge series for the past two seasons has moved up to the WeatherTech Championship this year and has made steady improvement in the last several events with the new Audi R8 LMS and will have two of the German marques in the top three at the GTD start on Saturday.
Despite making a major splash in terms of all out pace in the season opening Rolex 24 at Daytona in January, Lamborghini has yet to secure its first GTD class victory, yet Pumpelly and co-driver Corey Lewis will be looking to change that after two hours and forty minutes of action on Saturday.